Sunday, January 28th, 2007
I've seen lots of stories about how various Indiana towns are split between Bears and Colts fans, but I didn't expect to see this one about split team loyalties in Danville, Illinois [dead link]. I suppose it shouldn't be surprising, though. Danville is about an hour or so from Indy straight down I-74. It's a circuitous interstate route or surface highway trip from Chicago that clocks in about 2 1/2 hours – depending on how long you get stuck in traffic trying to leave Chicago. Indy is by far the more convenient city to get to. I believe the airport draws quite a few passengers from Danville.
I mention this because it is interesting to see how Colts fandom has expanded in the Peyton Manning era. Indiana was probably a Bears state before the Colts, with a few Cowboys, Redskins, 49ers, and Bengals fans thrown in. The memory of the '85 Bears still runs deep in Indiana. So for the Colts, this is a huge game. They win, and they can start to solidify some of the loyalty in these outlying areas. Lose, and Bears fandom could make a comeback quickly.
What's more, I think Danville fits the same mold of small, struggling, industrial city I mentioned earlier. Vermillion County, Illinois is also losing population. While economic cooperation across state lines is certainly more difficult, there's no reason not to include Danville, Illinois in a more expansive view of the Central Indiana economic region. I should have mentioned it from the start.
Telestrian Data Terminal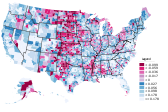 A production of the Urbanophile, Telestrian is the fastest, easiest, and best way to access public data about cities and regions, with totally unique features like the ability to create thematic maps with no technical knowledge and easy to use place to place migration data. It's a great way to support the Urbanophile, but more importantly it can save you tons of time and deliver huge value and capabilities to you and your organization.
About the Urbanophile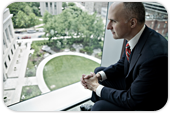 Aaron M. Renn is an opinion-leading urban analyst, consultant, speaker, and writer on a mission to help America's cities thrive and find sustainable success in the 21st century.
Contact
Please email before connecting with me on LinkedIn if we don't already know each other.
Twitter Feed
World Blogroll
Non-English Blogroll