Wednesday, May 16th, 2007
The long awaited refreshed design of the proposed Marriott Hotel complex in downtown Indianapolis was revealed yesterday. There had been a furor of anger erupt locally when the city picked this uninspired proposal over a more architecturally striking competitor. The city promised that the developer would go back and create a more striking design. You can read the background on this matter here.
I had both barrels of the shotgun loaded and was ready to lay into what I was sure would be terrible refreshed design. And yes, this isn't good architecture by any stretch of the imagination. But it is better than I expected in a number of regards and represents quite an improvement over the original proposal.
Click on any images to enlarge to full size.
Here is the original proposal:
[dead picture link]
Here is an aerial view of the new complex design:
As you can see, what was a single, almost square tower in the original is now a longer rectangular tower oriented along West St. And a shorter, mirroring tower is being built on the west side of the lot.
This mitigates one of the major criticisms of the original, which was the tower would be like a huge wall blocking the view from Victory Field. Here's an updated rendering showing the view from the ballpark.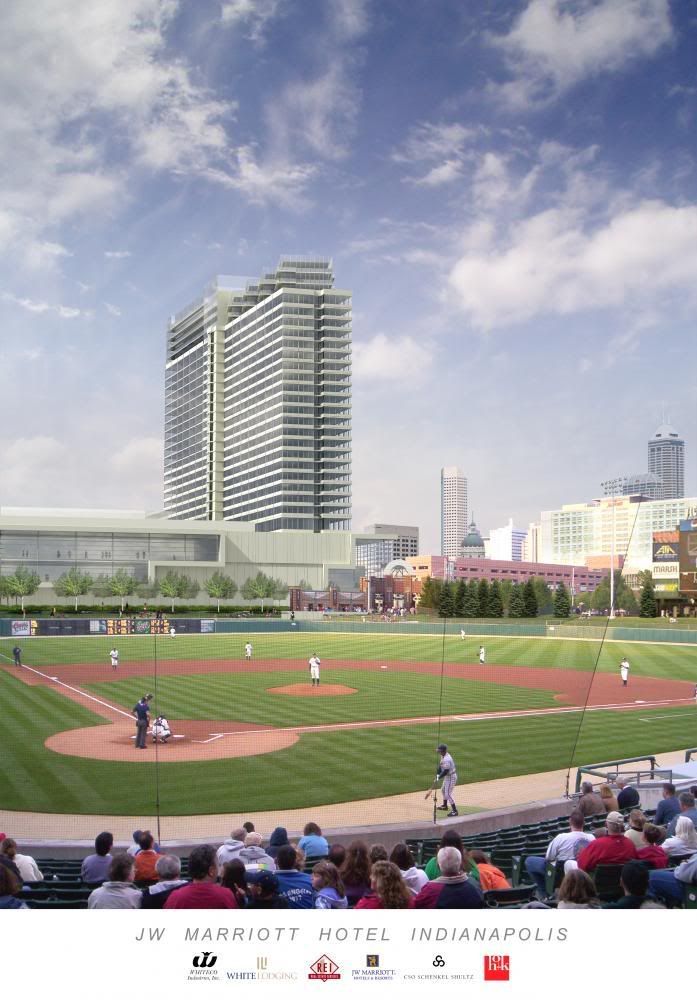 And lastly here's a site plan:
Let's start with the positives. First and foremost is that contrary to my predictions, the main JW Marriott Hotel is going to have 1,000 rooms after all. That's a big win given that the city had previously given Whiteco and out on building them. Upwards of 200 of these rooms will be higher standard than the rest. The ballroom was expanded from the original scope in order to generate additional demand for the rooms. There will be another 568 rooms in the complex, with a Courtyard and Spring Hill Suites in the west tower, and a Fairfield Inn rounding things out. With nearly 1,600 rooms all attached to a central ballroom, this creates a hotel complex that puts Indianapolis into different category altogether, capable of hosting much larger functions than previously, which would have been forced to look at cities like Atlanta. Also, while other peer cities are building 1,000 room hotels, I don't know any that have a 1,600 room complex. Assuming the investment pans out for the developers, this looks like an economic win for the city.

From a planning perspective, the positives of this are that is is far more urban in form, respecting the street grid and addressing both West and Maryland Sts. in a way its predecessor did not. The Washington St. frontage doesn't fare so well. The loading docks have to go somewhere, so it is difficult to complain about that, but the surface lot servicing the Fairfield Inn is probably not the best way to go. I'd like to see that lot axed, or at least moved behind the hotel. The developers would obviously complain that this would increase the length that guests would have to walk to the ballroom, but the Fairfield is hardly the upscale brand in the bunch. The water park, which would have encouraged a more self-contained complex, got the ax. And 24 condos were added to the top of the tower.

I have read some complaints that at 29 stories, the main tower isn't tall enough. I'm usually less concerned about pure height, than around what a building does at street level. This is probably a bit of an improvement over the previous complex. Still, there are some problems. Washington St. was mentioned. But the Maryland St. side also looks like it is just a blank wall along the sidewalk. This would be a major miss and something should be done there. Sidewalk cafes or other linkages across the street to the ballpark might be nice. But whatever the case, a blank wall for close to two city blocks isn't a good thing.

Architecturally, this is still as mundane as they come. Much like the refreshed design of the Simon Center, this is a very modest improvement at best. Again, it illustrates that Indianapolis has a long, long way to go to catch up even to its peer cities in understanding the importance of architecture and design to being a world class city. You can read my previous report on the original Hotel Mundane design and figure out pretty much what I would say about this one. It's disappointing. And as I've said repeatedly, sets down a marker to the educated, ambitious, and creative that Indy is a mundane sort of place of modest ambitions and no commitment to excellence. There's certainly no shame in that, but don't expect it to be an inspiration to people to want to move there.

-->