Tuesday, May 29th, 2007
Remember all those articles predicting traffic horrors and the general end of life as we know it as the result of INDOT's Super 70 project to reconstruct I-70 on the east side of Indianapolis? Well, as I predicted, the bark has proven to be far worse than the bite. I haven't seen much of anything written about this since the project kickoff, except notably an article talking about how some east side businesses were surprised to see an actual uptick in sales as motorists now diverted through their neighborhood and past their storefronts instead of whizzing by on the interstate.
The critics were clearly wrong here and INDOT right. Super 70 is a great project and an example of leadership and innovation. This road is the busiest in the state of Indiana. A traditional reconstruction would have taken 2-4 years, leading to headaches year after year. But with Super 70, all the pain will be over in one construction season. This will pay huge benefits for motorists over the forthcoming years as they sail into downtown on new, smooth, safer pavement without a cone or construction barricade in sight. INDOT should look to apply these same techniques to other major forthcoming projects.
Super 70 comes on the heels of the wildly successful Hyperfix, which closed I-65 and I-70 through downtown for a month and a half to reconstruct that road. Again, getting it done quick minimized motorist pain. Others are now following the Hyperfix recipe as a successful template, including Kentucky, with the Restore 64 project in Louisville. Heck, the term hyperfix has now become part of the local vocabulary, used whenever complete road closures are implemented in order to speed up projects.
More good news. Just today it was announced that the state of Indiana is earning more interest on its toll road lease money than originally planned. Who knows how long this will hold up, but to the extent that it does, it will help offset inflation in construction prices. Indiana is one of the few states with a fully funded 10 year transporation plan. The main challenge facing INDOT is figuring out how to ramp up construction to get all that money out the door faster. That's what I call a nice problem to have.
Super 70, Hyperfix, and Major Moves are all examples that show Indiana can be a national leader in transportation. Congratulations are in order to INDOT for making these great projects happen, despite a lot of opposition.
Telestrian Data Terminal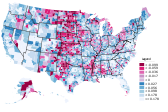 A production of the Urbanophile, Telestrian is the fastest, easiest, and best way to access public data about cities and regions, with totally unique features like the ability to create thematic maps with no technical knowledge and easy to use place to place migration data. It's a great way to support the Urbanophile, but more importantly it can save you tons of time and deliver huge value and capabilities to you and your organization.
About the Urbanophile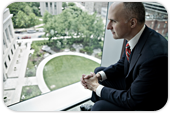 Aaron M. Renn is an opinion-leading urban analyst, consultant, speaker, and writer on a mission to help America's cities thrive and find sustainable success in the 21st century.
Contact
Please email before connecting with me on LinkedIn if we don't already know each other.
Twitter Feed
World Blogroll
Non-English Blogroll