Sunday, June 17th, 2007
The city of Louiville revealed initial plans for 27 miles of trails and parks along Floyds Fork in Eastern Jefferson County, Kentucky. This stretch of land between Shelbyville and Bardstown Rd. will be the centerpiece of the City of Parks initiative. It includes an 1,100 acre park that will be the city's largest. There is also a 450 acre park and a 420 acre park. Already 2,500 acres have been secured for use as part of this.
The timing is fortuitous for the city. I've long said that Jefferson County is looking at its last 10-15 years in the sun as the premier development area for the region. After that, the county will be largely full and the focus of development will move to the collar counties. This effort gives the city a huge amount of land to dedicate to park use prior to that buildout. What's more, by dedicating it as parkland now, the city will not be tempted to develop it when they are throwing up huge office parks in Oldham County. The only thing that raises my eyebrows on this project is its location in the East End. Already the richest area in town, the city should be careful not to devote too much of its emphasis to this area at the expense of less affluent parts of the city.
I'm not much of a park person myself. As I like to tell people, I'm a fan of the great indoors. The restaurant, the museum, the cafe, the theater – these constitute my milieu. But I know that lots of other people do like them. I'm not aware of any other city in America that has as aggressive program of parks as Louisville. I've mentioned it before, but it is definitely worth mentioning again. This will be a nice advantage for the city, especially as many other cities have already missed their chance to do something similar.
Telestrian Data Terminal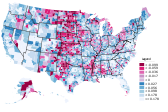 A production of the Urbanophile, Telestrian is the fastest, easiest, and best way to access public data about cities and regions, with totally unique features like the ability to create thematic maps with no technical knowledge and easy to use place to place migration data. It's a great way to support the Urbanophile, but more importantly it can save you tons of time and deliver huge value and capabilities to you and your organization.
About the Urbanophile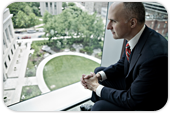 Aaron M. Renn is an opinion-leading urban analyst, consultant, speaker, and writer on a mission to help America's cities thrive and find sustainable success in the 21st century.
Contact
Please email before connecting with me on LinkedIn if we don't already know each other.
Twitter Feed
World Blogroll
Non-English Blogroll