Sunday, June 17th, 2007
It's not often that I point to good things people are doing in an article that is ostensibly about trouble, but this time I can't resist. According to this article, the Missouri Department of Transportation is facing problems with its $400-600 million plan to fix 80 percent of its substandard bridges by 2012.
What's good about this?
First, Missouri has a plan. Most states don't. Also, rolling the design, construction, and maintenance of fixes to these 800 bridges into one contract gets it done sooner and gets it done better. What's more, these's 25 years of maintenance included, which should incent the contractor to do it right.
Missouri has been taking the lead in these mega design/build contracts to get its major projects moving. Rather than dithering for decades, dribbling these projects out one by one, incurring major administrative overhead in the process, they have accelerated and streamlined their approach.
This is far from the only place this type of contracting is being done. It is also the case on the $535 million I-64 project that is completely redesigning and reconstructing that route through the city, with all new pavement and interchanges plus some added travel lanes in basically three years. (This also includes some Hyperfix type closures). They are also doing it on the $245 million Paseo bridge replacement in Kansas City. And probably elsewhere I'm not aware of. These are getting projects done faster and reducing the construction hassle costs to drivers.
The challenge with these projects is that they are huge and, as a relatively small state, it can be difficult to find contractors who are capable of bonding out these big jobs. This means there has to be be consortiums, which can be hard to assemble. The state requires at least two bids per project, and MoDOT has been having trouble finding two bidders in some cases. I'm suspect these consortiums also involve out of state companies, which must be giving MoDOT headaches with the local construction lobby. Plus with a limited number of bidders, the state is also vulnerable to game theory strategies, where two bidders tacitly collude to split the projects amongst themselves, or otherwise act as shill bidders. I'm not saying this has happened here, but it is certainly something to watch for. (Wasn't it in Freakonomics where there was an example of how this happened in the spectrum bidding process?)
Obviously there are challenges. But it is rare that things that are worthwhile come easy. MoDOT should be congratulated for this type of innovative contracting.
Missouri is also doing more too. It is developing a plan to improve I-70 throughout the state. And it spends $1.2 billion per year on highways, which is more than other similar sized states I'm aware of. All of this is why, in those graphs I showed earlier, it is the Missouri cities that will have comparatively low congestion in 2030, while competitors in Indiana and Ohio suffer in gridlock.
Telestrian Data Terminal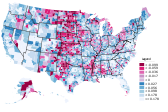 A production of the Urbanophile, Telestrian is the fastest, easiest, and best way to access public data about cities and regions, with totally unique features like the ability to create thematic maps with no technical knowledge and easy to use place to place migration data. It's a great way to support the Urbanophile, but more importantly it can save you tons of time and deliver huge value and capabilities to you and your organization.
About the Urbanophile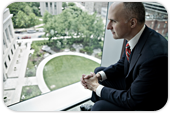 Aaron M. Renn is an opinion-leading urban analyst, consultant, speaker, and writer on a mission to help America's cities thrive and find sustainable success in the 21st century.
Contact
Please email before connecting with me on LinkedIn if we don't already know each other.
Twitter Feed
World Blogroll
Non-English Blogroll