Sunday, July 29th, 2007
The complete closure of I-64 west of downtown Louisville is now over, and the road has been reopened to traffic nine days ahead of schedule.
I never got a chance to drive in Louisville during this construction, but I get the impression that the congestion was manageable. There was certainly no firestorm of media coverage about outrageous backups and saying that 8664 would never work.
I think these sorts of hyperfix projects are the way to go whenever possible. Rather than restricting roadways for months if not years to complete projects, close them entirely for a shorter period of time, suck up the pain, and get it over quickly. This has the additional benefit of improving safety. You can't hit a construction worker if you can't even drive through the construction zone.
With notorious problems like the Kennedy Bridge painting fiasco, it is good to see the KYTC get a win here.
I think this project shows that 8664 is viable. First off, 8664 would include an eastern bridge, which would have given additional options to through traffic. It also doesn't not even close that much of I-64, and includes a surface parkway into downtown. So the connectivity options there are in fact even better. I'm not necessarily endorsing 8664, but there should be some serious analysis done of the operational characteristics it might cause, using Restore 64 as a real life field test. The 8664 people themselves might want to see, for example, if even more of riverfront parkway could conceivably be torn down.
Telestrian Data Terminal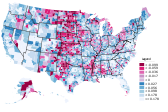 A production of the Urbanophile, Telestrian is the fastest, easiest, and best way to access public data about cities and regions, with totally unique features like the ability to create thematic maps with no technical knowledge and easy to use place to place migration data. It's a great way to support the Urbanophile, but more importantly it can save you tons of time and deliver huge value and capabilities to you and your organization.
About the Urbanophile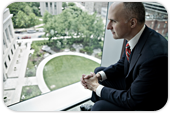 Aaron M. Renn is an opinion-leading urban analyst, consultant, speaker, and writer on a mission to help America's cities thrive and find sustainable success in the 21st century.
Contact
Please email before connecting with me on LinkedIn if we don't already know each other.
Twitter Feed
World Blogroll
Non-English Blogroll