Thursday, November 1st, 2007
The American Spectator, a conservative opinion paper, has an essay attacking restrictive land development policies in San Jose, and California generally. Apparently San Jose is now the third most dense urbanized area in the United States. Urban growth boundaries have prevented sprawl. However, they've also created a housing shortage, which, as anyone who has ever looked at real estate in California can attest, has resulted in some of the nation's most expensive and least affordable housing.
What has been the practical impact of this? One side-effect has been a steep decline in the number of black families, despite a general population increase. As the Mercury News reports, the number of black children and teenagers in San Jose has fallen by 25% just since 2000. That's not all due to outmigration, but some of it is.
I would not be surprised to see a wave of challenges to smart growth policies – as well as others that similarly affect minority home affordability, such as historic districts – on fair housing grounds.
I actually support modest densification in many cases, as well as urban area redevelopment, transit, etc. However, we also can't just convert our cities into playgrounds for the wealthy and yuppies. The broad middle class and lower income people need to be accounted for in the urban vision. I do have my concerns that traditional smart growth policies end up excluding people who shouldn't be, so we should look at ways to maintain a large stock affordable housing as part of the overall mix.
Telestrian Data Terminal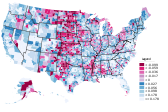 A production of the Urbanophile, Telestrian is the fastest, easiest, and best way to access public data about cities and regions, with totally unique features like the ability to create thematic maps with no technical knowledge and easy to use place to place migration data. It's a great way to support the Urbanophile, but more importantly it can save you tons of time and deliver huge value and capabilities to you and your organization.
About the Urbanophile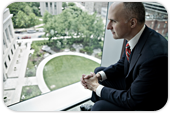 Aaron M. Renn is an opinion-leading urban analyst, consultant, speaker, and writer on a mission to help America's cities thrive and find sustainable success in the 21st century.
Contact
Please email before connecting with me on LinkedIn if we don't already know each other.
Twitter Feed
World Blogroll
Non-English Blogroll