Wednesday, December 19th, 2007
The Shepard-Kernan Commission examining local government reorganization in Indiana issued its report last week.
It is interesting to think about the implications of this in light of the "re-writing the power map" hypothesis of Savitch and Vogel. These reforms are presented as a typical "good government" reform designed to improve efficiency and accountability. But, if adopted, the very sweeping reorganization would no doubt result in a major shift in power in Indiana localities.
The most notable thing is the enormous consolidation of power under a single countywide executive. Almost all lines converge on this:
Consolidating three commissioners into one
Eliminating most constitutional elected officers such as sheriff and putting that responsibility in the hands of the county executive
Abolition of townships and the transfer of all their responsibilities, including fire protection and poor relief, to the county executive.
In most cases, this is likely to make the county executive by far the most powerful individual in any Indiana county. This could potentially lead to a major shift in who is viewed as the real leader in a community and dramatic changes in relationships between cities in counties.
Consider Ft. Wayne. It is the second largest in the state and by far the largest in Allen County. Yet the county government is already powerful as well. An even more powerful county with a single executive would raise the question as to who the real community leader is. Is it the mayor of Ft. Wayne or the "mayor" of Allen County? Similar things could play out in other counties.
Interestingly, we're already seeing outright wars in some counties over control of economic development. For example, Boone County is very unhappy about Whitestown's annexations. These reforms would clearly strengthen the hands of the county versus cities and towns. Again, I see a particular potential for conflict in counties where there is one dominant city, of which Indiana has several.
The other interesting thing is the fire protection transfer from townships to counties. This probably makes some sense for rural areas with many township volunteer departments. But in urban areas where a town is served by a township department, I can see where local leaders would not want to cede control of their local fire department and its associated service levels, particularly where this affects critical local safety services, insurance rates, etc. A good example is Avon, where a township fire department serves the town. Would Avon really want the Avon/Washington Township fire deparment absorbed into a single county-wide system? I don't know, but if I were them, I probably wouldn't.
Read the full report and consider the recommendations for yourself. And consider all the implications, not just the potential for efficiency gains.
Telestrian Data Terminal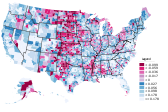 A production of the Urbanophile, Telestrian is the fastest, easiest, and best way to access public data about cities and regions, with totally unique features like the ability to create thematic maps with no technical knowledge and easy to use place to place migration data. It's a great way to support the Urbanophile, but more importantly it can save you tons of time and deliver huge value and capabilities to you and your organization.
About the Urbanophile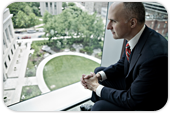 Aaron M. Renn is an opinion-leading urban analyst, consultant, speaker, and writer on a mission to help America's cities thrive and find sustainable success in the 21st century.
Contact
Please email before connecting with me on LinkedIn if we don't already know each other.
Twitter Feed
World Blogroll
Non-English Blogroll