Tuesday, January 1st, 2008
In a surprise move, the developers of the new JW Marriott complex in downtown Indianapolis announced another re-design. While there is insufficient detail to judge completely at this stage, and there are still some outstanding problems, this represents a significant improvement to the main tower of the complex, which is clearly the most prominent part of it. While some may not care for the architecture, I think one thing that is clear is that this is no longer a "Hotel Mundane". Here is a picture.

For reference purposes, here is the second iteration: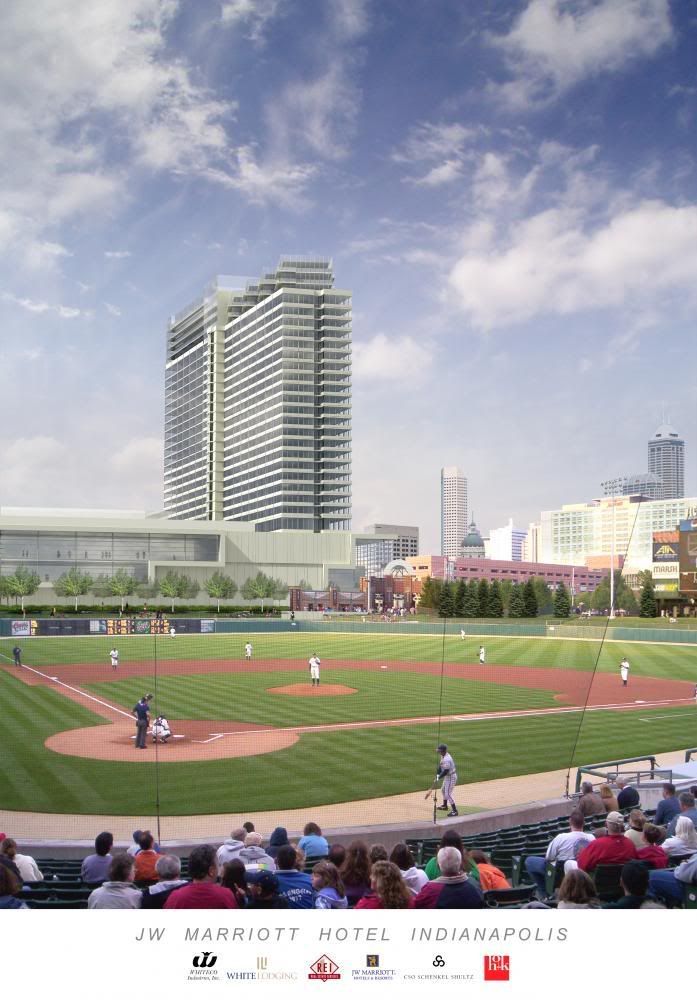 And here is the original design that was widely panned in the media.

As you can see for yourself, this is quite an evolution. The original design was a squat block. The second design featured a thinner tower, albeit one similar to many other hotels. The current design appears very unique.
There are a couple of things to note. First is the arcing design of the tower. In this regard, it acts as a sort of bookend to downtown on the west end. That design also echoes the Circle motif and other local designs such as the new library expansion, the Korean and Vietnam memorials on the mall, and the decorative railing on the I-465 northwest reconstruction project. This is design done right. It is a subtle nod that works, in start contrast to the facile Circle Truss design for example. This is a type of local architectural expression that I think could be more widely embraced.
Also, the hotel is now lacking condos, and the jagged extension at the top. Rather, the tower is a bit taller, about 300 feet, and is sheer. It will be covered in colored glass panels. It remains to be seen how this will look, but the design of the Sprint Center in Kansas City used glass panels to produce a mirrored effect that is very nice. There has been some concern about this proposal looking dated, which is certainly a risk, but on the whole I am positive on it. More detailed renderings are needed, and of course we'll have to see what it looks like when it is really build, but this is a big improvement in my opinion.
The design of the other hotels in the complex are not shown. It will be interesting to see what is done with them. I would suggest that they be designed to complement, not imitate the main tower, and most definitely should not use off the shelf hotel design, which would create a very jarring contrast.
There have also been changes to the site plan. Here is the new:

And here was the second iteration.

What has changed? The most obvious piece is the location of the Courtyard and Spring Hill Suites. These were originally in a boxy building attached to the west side of the ballroom. Now they are in an L shaped building moved to the northwest part of the site, and appear to be free standing.
One of the things this change allowed was another highlight of the redesign, namely the elimination of very prominent loading docks and a surface parking lot on Washington St. The surface parking appears to be completely gone, replaced by additional underground parking, and the loading docks are more discreetly placed. Very nice.
Also, the "future restaurant" is no more, replaced by open space. I'm not sure why that was removed, but the parkland addition is a nice touch as well.
So where are there still problems? Well, there continue to be a large number of prominent pull off areas for loading and unloading. Obviously a hotel of this size needs something like that, but I've seen larger hotels in other cities with much less prominent drop off areas. What this does is make sure that the complex is campusy, and does not address the street on three of its four sides. What I would like to have seen is the Fairfield get pushed out to Washington St., connected to the ballroom via the JW Marriott, and a single interior drop off area designed to serve all four hotels. As it is, there are three separate drop off areas plus a loading dock. That's too many.
If there current design is retained, something should be done to link the hotels to the streets on those three sides. Setbacks can be ok. There is no streetwall to preserve on West St. However, a building that shrinks away from its neighborhood in a standoffish way is not good. See the AUL Tower for an example of the wrong way to do this. Also, given that this complex is a key link between downtown and White River State Park, I would look to make sure that the design of the streets in that area facilitates that linkage. Extensive landscaping is already shown on the streets. Perhaps some type of extra wide promenade or Cultural Trail like crossing could be build instead of a standard five foot sidewalk. These are the details that make or break a project like this.
The big unknown at this point is the pedestrian level view of the complex, particularly along Maryland St. In the previous design, this was one of the absolutely worst elements as Maryland St. was a blank facade for a block and a half. Here is the closest we see to a rendering of that:

You can see the use of the colored panels on the base. This could be a good thing. Some type of transparent glass along the Maryland St. sidewalk, which again I'd suggest a wide promenade for, would be a vast improvement, particularly if there were permeable uses along its length such as the occasional cafe, a bar, an entrance to the ballroom, maybe a voyeuristic exercise room, some art exhibits, etc.
In sum, while there are still some unknowns and challenges, this latest iteration is another step in the right direction. I think a lot of my suggestions could easily be implemented within the context of this same basic design. Only the redesign of the site plan to reduce dropoffs might be problematic, but I think think it is worth investigation.
These latest changes are going to push the completion date until 2011, too late for the 2010 Final Four as originally cited as one of the justifications for picking this design over the Intercontinental. But as I say, if you can't do it both right and fast, at least do it right. This is a lot closer to right than before.
The cost of the project has also increased to $450 million. The original estimate was $250 million, so this project has grown significantly in scope, though the public subsidies will remain the same. The city also has a profit sharing deal similar to the Conrad, but any payoff from that would be well into the future.
One thing that hasn't changed is this complex's economic impact. The JW Marriott is still slated to have a full 1,000 rooms, which is critical. The other hotels in the complex push this up to 1,600. This is something that no peer competitor city has. Whiteco and REI also own the other Marriott downtown, with 600 more rooms they can package if need be. The only thing I'm not sold on is moving the convention center ballroom to this complex. Regardless, this hotel complex is likely to be an economic home run for the city.
I must also give credit to Dean White for his willingness to iterate the design once again. I admire him as a businessman, though have always disliked his projects. Whiteco is fundamentally a billboard company from Merrillville, and its style of development has always been generic interstate corridor quality (and highly profitable to boot). Architecturally distinct projects are not part of what they normally do, so I give Mr. White credit for his willingness to step up to the plate here, particularly after he already won the competition. Supposedly there were five potential redesigns and he hand-picked this one.
Here are the rest of the renderings that were released.

To me this particular redesign marks a milestone for Indianapolis. As recently as a week or so ago I was posting about how no one with clout protested this architecturally poor hotel. I've often said that once a decision is made in Indy, debate is over. That has been a huge source of strength, but has had the side-effect of a large number of low quality project. With this, while there was no public backbiting, it appears that behind the scenes a lot was going on. This is the first major redesign of a major project forced by purely architectural considerations. (The Simon tower was only a minor refresh). It joined another happening this year where a proposed National Guard memorial was relocated from the downtown mall because it was considered architecturally inappropriate. I consider these both very positive signs, though I do not like where the National Guard memorial ended up and would have preferred a more prominent site on the Canal. Hopefully they are signs of things to come an a new era in Indianapolis where quality is as important as quantity.