Tuesday, September 23rd, 2008
2009 marks the one hundredth anniversary of the publication of Burnham and Bennett's landmark "Plan of Chicago". Assuming the blog makes it that long, I intend to run a series in 2009 on this plan, including selected quotations from it. But to give you a taste of what is to come, I thought I would share this goody showing how the disdain for sprawl development was established long before the post-war automobile era.
"Occasionally a suburb grows up at some sightly point on the Lake shore, or gathers about some educational institution; or a group of people engaged in a common enterprise select a picturesque spot on river banks and their build home which, by the relations to one another, indicate neighborliness. In each of these instances a community of feeling pervades the place and finds expression in well-shaded streets, broad lawns, and homelike architecture. Too often, however, the suburb is laid out by the speculative real estate agent who exerts himself to make every dollar invested turn into as many dollars as possible. Human ingenuity contrives to crowd the maximum number of building lots into the minimum space; if native trees exist on the land they are ruthlessly sacrificed. The speculative builder takes matters in hand and in a few months the narrow, grassless streets are lined with rows of cheaply constructed dwellings, and with ugly apartment houses occupying the more desirable sites. In ten years or less the dwellings are dropping to pieces; and the apartment houses, having lost their newness, become rookeries."
Telestrian Data Terminal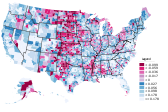 A production of the Urbanophile, Telestrian is the fastest, easiest, and best way to access public data about cities and regions, with totally unique features like the ability to create thematic maps with no technical knowledge and easy to use place to place migration data. It's a great way to support the Urbanophile, but more importantly it can save you tons of time and deliver huge value and capabilities to you and your organization.
About the Urbanophile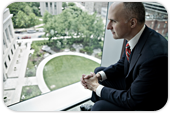 Aaron M. Renn is an opinion-leading urban analyst, consultant, speaker, and writer on a mission to help America's cities thrive and find sustainable success in the 21st century.
Contact
Please email before connecting with me on LinkedIn if we don't already know each other.
Twitter Feed
World Blogroll
Non-English Blogroll