Tuesday, March 3rd, 2009
With $9.3 billion in the stimulus for high speed rail, and the Obama administration saying it plans to make high speed rail a key part of building its legacy, there has been the expected rush of HSR articles. Here is a roundup of some of them.
In case you missed it, I previously posted my take on the topic.
In other news, President Obama picked Bronx borough president Adolfo Carrión as director of the White House Office of Urban Affairs. The New York Times profiles Carrión today.
Renzo Piano talks to the Guardian on many things, not least of which is improving the peripheries of cities.
The Design Observer carries an interesting piece on suburban design and the complexities of the suburbs. It's definitely worth a read. (Hat tip Christopher).
A Financial Times column by Christopher Caldwell that is making the rounds regarding highway policy and urban development patterns.
Catherine Tumber writes on America's small industrial cities in the Boston Review.
McKinsey released a report on innovation clusters around the world, "Building an Innovation Nation". Here's their money graphic. Check this out for yourself. Not exactly good for the Midwest.
Here's another interesting graphic. This one comes from USA Today (via Creative Class). It shows all counties with mortgages greater than 4x household income. Note the dark cluster around Minneapolis. I seemed to have noticed a lot of articles about foreclosures there, and this might explain why. It appears to be the market with the most troubled mortgages in the Midwest. Any insights on why this is?
Mayor Daley has selected 38-old Richard Rodriquez as the latest wunderkind to run the Chicago Transit Authority. Rodriguez was previously Aviation Commissioner. Some of questioned his experience in transportation, but I don't think that's a handicap at all and arguably comes with some benefits. After all, Ron Huberman had no transit experience either and he was a breath of fresh air at the agency. Let's hope Rodriguez stays the course with Huberman's program while working in some of his own ideas. Huberman was on the right course and one thing no organization needs is frequent changes in direction from the top. I say give Rodriguez a fair chance to prove himself.
The New Yorker turns its eye on the anniversary of the Burnham Plan.
The city of Indianapolis is thinking about raising sewer rates 66% to accelerate the next phase of the $3.5 billion combined sewer overflow fix in the hopes of getting stimulus money to help. This will no doubt be unpopular. However, the bill is coming due. The project is mandated under the federal Clean Water Act and the city has to comply. The Clean Water Act may yet end up bankrupting many of our cities, but as federal policy there is no choice but to spend the money. By accelerating things now, the other benefit is that it avoids construction cost inflation. As with many things, the city of Indianapolis traditionally kicked the can for compliance down the street. The result has been a huge backlog of infrastructure problems, the bill for which at some point must be paid. This is a problem that simply has to be addressed. The city literally has no choice but to implement this. The only question is the timing and the sooner the better in my books. It's cheaper and cleans the water up faster.
When I attended the ICVA annual meeting, one example someone gave of an ad tag line that would "pin the needle on the BS detector" was "Move over New York, Apple is our middle name." I thought this was a joke, but apparently not. Check out this button:
I'm told this is from circa 1984.
More News
Chicago
AIA-Chicago unveils Burnham Memorial design competition
Lynn Becker's March architectural calendar of events
CTA puts out 'for sale' sign (Tribune)
Foreclosure spawns neighborhood ghost towns (Tribune)
Cincinnati
Brent Spence Bridge might bring in $800 million (Enquirer)
Cleveland
Cleveland Rocks (on sustainability) (Joel Makower)
Detroit
Will city's next mayor continue death spiral? (Detroit News)
Indianapolis
Coverage of the North American Handmade Bike Show (Nuvo)
More NAHBS coverage (Bicycle Retailer)
2nd attempt made to save Rivoli Theater (Indy Star)
The Wigwam, and Anderson's Hoop Dreams, are fading (Chicago Tribune)
Kansas City
A $250 million renovation makes Kaufmann Stadium look new (KC Star)
Telestrian Data Terminal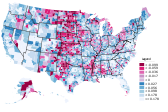 A production of the Urbanophile, Telestrian is the fastest, easiest, and best way to access public data about cities and regions, with totally unique features like the ability to create thematic maps with no technical knowledge and easy to use place to place migration data. It's a great way to support the Urbanophile, but more importantly it can save you tons of time and deliver huge value and capabilities to you and your organization.
About the Urbanophile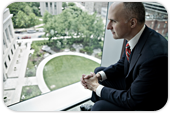 Aaron M. Renn is an opinion-leading urban analyst, consultant, speaker, and writer on a mission to help America's cities thrive and find sustainable success in the 21st century.
Contact
Please email before connecting with me on LinkedIn if we don't already know each other.
Twitter Feed
World Blogroll
Non-English Blogroll