Saturday, April 18th, 2009
I don't normally post this sort of thing, but I thought this Cleveland "tourism video" was priceless. WARNING: Not for the humor impaired.
On a more positive note, Cleveland is frequently victimized by lengthy analysis pieces in the national media. No places seem to get more bashing than Cleveland and Detroit. So it was great for Cleveland that the Wall Street Journal did a positive piece called "Artists vs. Blight" that used Cleveland as an example of how artists are coming back to the Midwest and, lured by almost free housing, are starting to turn around blighted neighborhoods.
I've seen this up close and personal. It happened in my Indianapolis neighborhood, Fountain Square. What I think is the most notable part of this is that unlike in bigger cities, housing is so ridiculously cheap that these artists are buying, not renting. This means it will be much harder for them to get displaced by gentrification.
However, I don't see many signs of gentrification hitting. Many years ago I worried that would happen to Fountain Square, but now it seems years off if it ever happens. Here's the dynamic. There is huge demand for urban living in places like New York and Chicago. So when artists start changing a neighborhood to make it yuppie safe, lots of people will move in, seeking the urban life at comparatively reasonable cost. There is pent up demand. In most Midwestern cities, however, there is very limited demand for urban living. There just isn't a sufficient inflow of people to redevelop much of these cities, sadly. Even a few thousand new residents moving into a city like Cleveland aren't going to move the needle in a place that has lost hundreds of thousands in population. So the pressure of gentrification is lower. This has its good and bad points. We'll see how it evolves.
There was more high speed rail news this week as President Obama outlined his national HSR strategy. Clearly, the President is upping the rhetoric. The question is whether this will become a reality. $8 billion peanut butter spread around the country won't accomplish a lot. And I think 110MPH service from Amtrak (instead of real HSR) could actually do as much harm as good to the cause. Plus, given the lead times, this isn't going to be a Spain like system before the next election. HSR has the potential to be a major presidential legacy for Obama the way the interstate system was for Eisenhower – if he has the staying power and perseverance to stick with it knowing the results will probably not be fully realized until after he's out of office. Of course, that's the case with almost all real legacies. For another view, take a look at Adron Hall's more negative slant.
CNN/Money is running a survey of city taxes (via Advance Indiana). Here is how the Midwest stacked up. The higher your ranking, the worse your taxes, so the worse your rank, the better you are. Think of this as the hall of shame.
#4 – Detroit
#5 – Indianapolis
#6 – Milwaukee
#8 – Louisville
#9 – Columbus
#13 – Kansas City
#23 – Minneapolis
#42 – Chicago
There were 51 cities surveyed. I don't think the results can be dismissed, but extraordinary claims require extraordinary proof. As someone who pays property taxes in Chicago, I don't know where they are getting that $1000 figure. That must either be the municipal rate only, or somehow factor in taxes on the large volume of rentals in the city, many of which are in vintage buildings. I'd like to see the methodology.
I talk a lot in this blog about cities knowing who they are and what they stand for. The folks over at 37Signals had a great blog post on this recently, on the difference between having a mission statement and truly standing for something. "Standing for something isn't just about writing it down. It's about believing it and living it."
The Chicago Tribune talks about tough times ahead in the Midwest in auto dependent areas.
Ohio wants $57 million in stimulus funds for highway studies.
More Midwest
Chicago
Express bus will use I-55 shoulders (Tribune)
Innermost workings of the CTA explained (John Hilkevitch @ Tribune)
New day dawning: It's a good time to be in Chicago (Site Selection Magazine)
Cleveland
Team NEO gives site consultants a tour of Northeast Ohio's assets (Plain Dealer)
Detroit
Retain grads, experts warn (Detroit News)
Michigan's best and brightest bailing out on state (Daniel Howes @ Detroit News)
Ann Arbor entices entrepreneurs (Free Press)
How Michigan is working to keep auto jobs (Gov. Granholm @ Newsweek)
Granholm: State budget in dire shape (Detroit News)
Indianapolis
Special Report: Simon says, city does (IBJ)
Price tag for I-69 growing (IBJ)
Ronald Reagan extension is a go (Indy Star)
US 31 construction sequencing plan (INDOT)
Web site of the week: Art Babble (San Francisco Chronicle)
Telestrian Data Terminal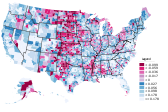 A production of the Urbanophile, Telestrian is the fastest, easiest, and best way to access public data about cities and regions, with totally unique features like the ability to create thematic maps with no technical knowledge and easy to use place to place migration data. It's a great way to support the Urbanophile, but more importantly it can save you tons of time and deliver huge value and capabilities to you and your organization.
About the Urbanophile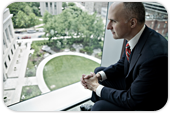 Aaron M. Renn is an opinion-leading urban analyst, consultant, speaker, and writer on a mission to help America's cities thrive and find sustainable success in the 21st century.
Contact
Please email before connecting with me on LinkedIn if we don't already know each other.
Twitter Feed
World Blogroll
Non-English Blogroll