Thursday, May 21st, 2009
[ If you have problems watching more than one of the embedded You Tube videos in this post, try re-loading, then clicking the next one - I'm seeing some odd behavior. Sorry ]
Rust Wire point us an extremely powerful narrated photo essay called Detroit: The Troubled City. Unfortunately, the player format is too large for this blog, so I cant embed it, but I definitely recommend checking it out.
Speaking of Detroit, the New York Times this week had coverage of how the troubles in the auto industry are affecting even upscale suburbs in its article "Gross Pointe Blues".
All these stories of woe, and the fetishization of decline and decay in Detroit have left many citizens defiant. Detroit News columnist Amber Arellano wrote a piece recently called "Why This Detroiter Stays". Per Arellano:

It's tough for some folks to understand that many of us want to be here. We didn't end up here by inertia or lack of vision or better options. We're educated and mobile; we can live anywhere. We choose to stay — or to return.

That is the case for my husband and I and many Generation Xers and Yers who are committed to Metro Detroit and the Rust Belt, even as the region struggles to get through this extraordinarily difficult economic crisis.

We return because we love the people and the culture. We stay because we're proud of our roots, of who we are. We're not naïve about this region's daunting challenges; we're choosing to tackle them. We're committed to our families and communities.
I admire the fighting spirit. Yet I can't help but wonder whether or not that fierce pride in roots and tradition isn't actually a cause of the decline. If they really want to turn around the fortunes of that city, its residents need to do some soul searching about their own culture and values and how they contributed to creating that mess. This is a lesson not just for Detroit, but for nearly the entire Midwest. That's an insufficiently backed claim I realize, but please stay tuned for a major post forthcoming on that topic shortly.
To end talk of Detroit on a positive note, Time Magazine has a photo essay of 13 people who explain why they love Detroit.
Over in Cleveland, the Plain Dealer tallies up the cost of inefficient government. Cuyahoga County jurisdictions have more employees and spend more money to provide similar services as other large Ohio counties.
And also via Rust Wire, the Washington Post runs a story on white collar jobs losses in Toledo.
Ok, I told myself that I wasn't going to post this, but I can't resist. The guy behind the "Hastily Made Cleveland Tourism Video" apparently had it rejected by the Department of Tourism, so he came up with this second attempt. I must say, it isn't half as funny as the first one.
In Cincinnati, officials are grappling with a projected $40 million deficit that took the city by surprise. Keep in mind this is on a city population of only about 350,000 – so a big amount
IdeaFestival Louisville runs a great blog. For those of you who haven't read it, check out this short two minute video clip they recently carried from Amy Chua about the strategic imperative of diversity. (If this video doesn't show up, click here):
Back up in the Windy City, Crain's Chicago Business did a major piece on the challenges facing the city's transportation infrastructure, and the threat it poses to a city that has long been the transportation hub of America.
Here's another video, this one a streetfilm overview of the McDonald's Cycle Center in Millennium Park, Chicago. Hat tip Broken Sidewalk. (If you can't see the embedded video, click here).
And lastly in the video department, here is a great video of Carmel, Indiana Mayor Jim Brainard talking about roundabouts and the benefits thereof. Hat tip to PPS's Twitter account. This is probably a good pay it forward moment, since I'm the one that told them about Carmel's roundabout program in the first place.
Ed Glaeser has a great piece about why globalization led to bigger cities.
And Joel Kotkin tackles the idea of the "Luxury City vs. the Middle Class".
And the New York Times reports on New York City's new street design manual. According to the NYT:

Imagine narrow European-style roadways shared by pedestrians, cyclists and cars, all traveling at low speeds. Sidewalks made of recycled rubber in different colors under sleek energy-efficient lamps. Mini-islands jutting into the street, topped by trees and landscaping, designed to further slow traffic and add a dash of green.

This is what New York City streets could look like, according to the Bloomberg administration, which has issued the city's first street design manual in an effort to make over the utilitarian 1970s-style streetscape that dominates the city.
More Midwest
Chicago
Major repairs to disrupt Ford (Tribune)
CTA complaints are down, agency says (Tribune) – good news
Mayor Daley takes blame for parking meter problems (Tribune)
IDOT's road plan focuses on maintaining the status quo (Daily Herald)
Columbus
Warehouse-building boom in Rickenbacker area produced big boxes hard to lease or sell in recession
Detroit
Court will hear credit scoring case (Detroit News)
Indianapolis
I-69 price tag now tops $3 billion (Indy Star)
Milwaukee
Out of the ashes (Journal Sentinel)
Telestrian Data Terminal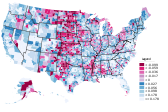 A production of the Urbanophile, Telestrian is the fastest, easiest, and best way to access public data about cities and regions, with totally unique features like the ability to create thematic maps with no technical knowledge and easy to use place to place migration data. It's a great way to support the Urbanophile, but more importantly it can save you tons of time and deliver huge value and capabilities to you and your organization.
About the Urbanophile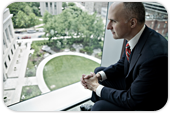 Aaron M. Renn is an opinion-leading urban analyst, consultant, speaker, and writer on a mission to help America's cities thrive and find sustainable success in the 21st century.
Contact
Please email before connecting with me on LinkedIn if we don't already know each other.
Twitter Feed
World Blogroll
Non-English Blogroll