Saturday, September 19th, 2009
The Urbanophile on Smart City Radio
I am one of Carol Coletta's guests on Smart City Radio this week. This is a great program and I'm happy to be a part of it. There are tons of archived segments online with all sorts of great guests and discussions. My episode page is here, and you can also listen via the embedded player below. I talk about many of my usual themes, including transit in Chicago, talent attraction, Detroit, and the impact of Generation Y. My segment starts around 25:30, but I'm sure you'll want to listen to the whole thing.
Federal Urban Policy
This week I attended the Metropolitan Planning Council's annual luncheon. Their guests were Adolfo Carrión, Director of the White House Office of Urban Affairs, Lisa Jackson, EPA Adminstrator, Shelley Poticha, a senior advisor at HUD, and Ray LaHood, Secretary of Transportation.
They made a number of wide ranging comments, but a few things stuck with me. One was Adolfo Carrión talking about how the Obama administration wants to establish more direct relationships between cities and the federal government. He particularly cited how federal funding routed through state governments often gets diverted to rural areas in amounts disproportionate to their population, need, and economic impact. I thought back to a situation earlier in the stimulus cycle where the Ohio Department of Transportation withdrew $100 million from a critically needed project in Cleveland at the same time it was sending $150 million to build a bypass around a town of 5,000 people. Clearly, if nothing else, states are just another bureaucratic layer, so bypassing it should be good for efficiency. Here's an article where Sec. LaHood talks about the same thing.
Another item was affordable housing and how cities, especially now that they are becoming more popular, are increasingly out of reach of many people who might want to live in them. The feds want to start measuring affordability using a combined housing + transportation cost measure. Again, we'll see. I would like to have heard more about the conundrum that progressive policies sometimes contribute to this unaffordability. Even in progressive Chicago, more than half of all renters pay more than a third of their income in rent.
Lastly, Sec. LaHood was fired up and enthusiastic about high speed rail. He was visibly animated when talking about it. At one point when asked a question on another topic, he said, "I want to talk about high speed rail, so I'm going to ignore that question." And, "High speed passenger rail is coming to America."
The MPC also gave two awards at the event. One of them was the Burnham Award for Excellence in Planning, which was given to Metropolis 2020. George Ranney accepted the award on behalf of the organization, and made a couple of interesting statements. One, he said that they would be unveiling a major and controversial proposal for overhauling public transit in Chicago. I look forward to hearing about that. He also issued a forthright condemnation of public corruption in Illinois, to which we can all add an amen.
America 2050 High Speed Rail Plan
America 2050 did some research around city pair demand to draw a phased map of high speed rail routes in the United States. Here's the static version. There is more on their site.
United States Bicycle Route System

Richard Layman pointed us at this cool map of a proposed national bicycle route system.
You might think cross-country biking is crazy, but keep in mind this was put out by the Adventure Cycling Association.
Brookings: Great Lakes Cities in the Recession
The Brookings Institution has a report out looking at how the 21 largest metro areas in the Great Lakes region are faring during the recession. Their conclusion is that the impact has been highly varied across the region. Here's their map of how the Great Lakes metros mapped into national performance quintiles:
The map shows what the report stresses, namely that Pittsburgh is a particularly good performer in this recession, as is Des Moines.
The Top Urban Thinkers of All Time
Planetizen ran an extended poll asking their readers to vote for the top urban thinkers of all time. They just published the final results and the top 100 are here. I'll include the top ten below.
Jane Jacobs
Andres Duany
Christopher Alexander
Frederick Law Olmsted
Kevin A. Lynch
Daniel Burnham
Lewis Mumford
Leon Krier
William H. Whyte
Jan Gehl
This is a user vote poll, so YMMV. Also, I saw some organizations campaigning for people, so I'd take any result for a living person with a grain of salt. I saw that someone actually added me to the ballot as a write-in and I got seven votes. While I wouldn't put myself in the top all time list, I appreciate those of you who expressed your support. Thank you.
City Visions
CNN had an interesting segment called "City Visions" where a few architects and others gave their ideas for what future environments might look like:
Personally, I thought the first dude's city looked like an overgrown, abandoned city from one of those dystopian sci-fi flicks. (h/t @Bright_Builder)
Changing Occupations
If you don't read GOOD magazine, you should, and you should be. The do some interesting graphics that, if sometimes you'd like more clarity and less frosting (Tufte:minimize non-data ink), are nevertheless super-cool to look at and make some great points. This isn't one of their originals, put they pointed us to it anyway. It shows the change in percentage of people working in various occupations over the last 150 years or so. The change itself is the message.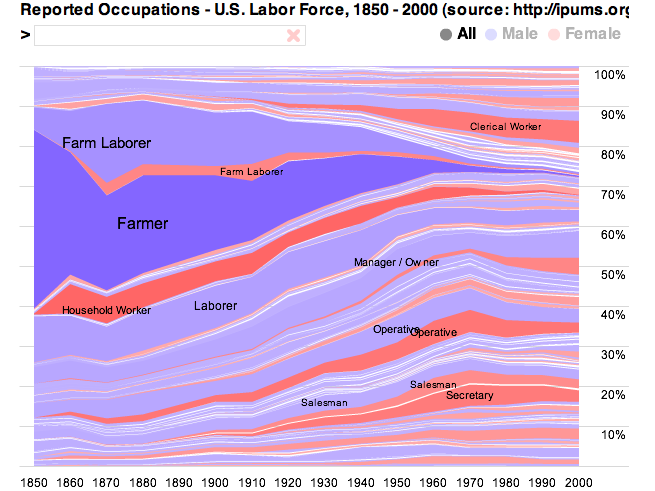 National and International Roundup
Big Cities Bear Brunt of Cuts (WSJ) (via @OtisWhite)
David Byrne talks about his perfect city. (WSJ)
Witold Rybczynski makes the green case for cities in the latest Atlantic Monthly.
The Guardian reviews "Wrestling with Moses" and gives a balanced view of the Jane Jacobs legacy.
The EU picks 30 cities to lead the world on smart energy. (via @GenslerOnCities)
Legislation on a 21st century transportation system doesn't come easy (NYT)
Seven cities that surprised in the recession.
The Infrastructurist put up a collection of super-cool bus stops. My only quibble is with their CTA bus stop, which is actually boring not cool, as I documented previously. (via @twiliteprincess)
@sarstar dug up this older piece with pictures of super-cool sewers in Japan. Another example of the "everything's cooler in Japan" principle.
Rust Wire looks at Rust Belt cities learning from Europe in revitalization. Torino is profiled.
San Francisco gets smart with technology. (via @OtisWhite)
Dallas opens the first phase of its Green Line light rail.
The Columbus Dispatch looks at the 3C rail line proposal.
More Indianapolis Roundabouts
The Indianapolis region is a national leader in the deployment of roundabouts. The Carmel program to build six roundabout interchanges on Keystone Ave. is the biggest deployment of these to date in the United States. Now, Hamilton County apparently wants to get in on the action with SR 37.
This project is a no-brainer and I've advocated it many times on this blog in the past. INDOT plans to, at some point in the far future, widen SR 37 to six lanes in Fishers and Noblesville. Rather than that, I propose that:
INDOT re-route SR 37 along SR 13 to I-69
INDOT relinquishes the current SR 37 route to Hamilton County
The segment of SR 37 between I-69 and SR 32/SR 38 inclusive is converted to a limited access parkway with roundabout interchanges.
INDOT funds 50%, and Hamilton County, Fishers, and Noblesville equally split the other half.
I estimate the cost of this, assuming no mainline reconstruction, at around $150-$175 million if done like Carmel. I say do it now, do it fast, get the benefits, avoid the inflation. Have INDOT issue negotiable IOU's if it has to. The current plan will have this road as a total parking lot future. Fix it before inflation makes it cost prohibitive.
Missing the Bigger Picture in Cincinnati

@_miller pointed me at this article in the Cincinnati Business Courier about talent attraction. A consultant hired by the city says that "affordability" is the city's biggest asset and that "Tri-State's message should be that the region has big-city amenities, and young people can afford to live here."
Ugh.
This misses the mark badly. Yes, affordability is part of the equation for cities in Cincy's size class. But you can't hang your hat on that. Riddle me this, how does affordability convince someone to pick Cincinnati over Louisville, Indy, Columbus, St. Louis, Milwaukee, Nashville, Charlotte, Austin, Kansas City, etc., etc., etc. all of whom can offer the exact same value proposition of "big city amenities at low cost". If Cincinnati were the only low cost city in America, this might work, but it is merely one among a huge number.
Maybe Cincinnati should instead look to areas where it can really differentiate itself: the combination of geography; top notch high culture institutions; a San Francisco-like mix of density, hills and historic architecture; the unique regional culture, etc. And look at what it a) needs to change and b) add to the mix to be attractive. And of course this says nothing about the actual market Cincinnati is trying to address.
I've seen this movie way too many times before. A balanced scorecard type benchmark is conducted that finds some pluses and minuses but overall decides that the community in question is somehow the best, notwithstanding that there is really very little materially separating it from the others on the list.
Cincinnati's got a spectacular story to tell, but "affordability" isn't it. Time to go back to the drawing board. Agenda 360 would be better served simply perusing the archives of Urban Cincy.
More Midwest
Here's some globalization and industry restructuring in action. American Airlines is cutting 50 flights from St. Louis at the same time it is adding 50 flights at O'Hare.

Chicago
City peddles $40 million bike path (Crain's) – fixing the lakefront bike path problem at Navy Pier and the Chicago River.
Chicago high speed rail bid going well officials say (Greg Hinz @ Crain's)
Chicago's technology future falling short on focus, leadership (Greg Burns @ Tribune) Related: Illinois's so-called tech leaders have failed the state.

Cleveland
Meeting on proposed passenger rail from Cleveland to Cincinnati (Plain Dealer)

Columbus
Train fares paramount (Dispatch)
A $1 billion magnet (Dispatch)

Detroit
Michigan's year of reckoning isn't over (Daniel Howes @ Detroit News)

Indianapolis
Lilly pain could be shared by Indianapolis (Indy Star)

Kansas City
Tour sizes up sites for downtown convention hotel (KC Star)

Milwaukee
Green Bay roundabout proposal raises fears tipsy fans will fumble (JS) – First time I've heard the "drunk drivers won't be able to navigate it" argument. Only in Wisconsin
Will economic crisis breed government innovation (Milwaukee Talkie)
Streetcar plan aims at eastside commuters (JS)

Pittsburgh
August Wilson Center for African American Culture opens its doors (Post-Gazette)

St. Louis
Highway 40 workers see fewer jobs ahead (Post-Dispatch)

Twin Cities
St. Paul prepares for land grab along Central Corridor route (MPR)

-->