"All the local and regional economic development groups throughout the Midwest are in a fierce competition with one another. My favorite advantages touted in Indiana are: 1). The cost of doing business is less expensive, and 2). 80% of the population of the U.S. and Canada can be reached within a one-day drive. Do these Indiana officials realize they have accepted commodity status? Low cost is the best we have? I suspect other states tout similar messages." – Jon Speer
Attention non-US/Canada readers. If you read this blog from outside the United States or Canada and we don't already know each other, I'd love to make contact with you. Please send an email to arenn@urbanophile.com. Thanks.
Vacant Parcels In Chicago
I was privileged to be on WBEZ 91.5 FM Chicago Public Radio this week with the incomparable Lee Bey discussing vacant properties in Chicago such as the Michael Reese Hospital site, the old Cook County Hospital, and the Uptown Theater. It's a 12 minute segment embedded below, but if you don't see it, click here.
Lee also blogged about this topic in A Way to Fix That Empty Feeling….?.
Brookings Metro Monitor
The Brookings Institution issued their most recent Metro Monitor report looking at the top 100 metro areas in the country. Here is the map they put together showing their current economic performance (via Map Scroll)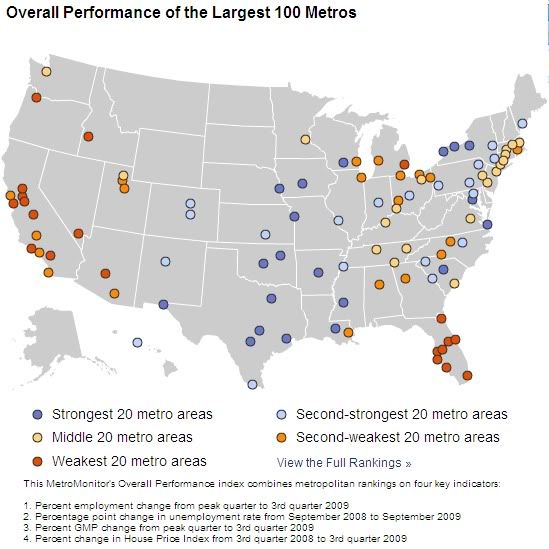 Manufacturing Follow-Up
As a follow-up to my recent piece on manufacturing, I want to highly a New York Times story this week on China's rules hurting foreign companies that want to do business there. This in the wake of Google's threat to quit China over its restrictive regulations and a series of hacker attacks.
Google is far from alone among Western companies in its growing unhappiness with Chinese government policies, although it is highly unusual in threatening to pull out of the country entirely in protest.

Western companies contend that they face a lengthening list of obstacles to doing business in China, from "buy Chinese" government procurement policies and growing restrictions on foreign investments to widespread counterfeiting.

These barriers generally fall into two broad categories. Some relate to China's desire to maintain control over internal dissent. Others involve its efforts to become internationally competitive in as many industries as possible.
…
Doing business in China has never been easy. Foreign companies have long complained of being cheated by joint venture partners who set up parallel businesses on the side or abscond with assets. Many other countries also have policies that favor home-grown companies, although the opportunity for industrialized countries to do so is limited because they operate under tighter W.T.O. rules than China.
See also from the FT: Frustrated foreign groups in China rethink their position.
Education Week State Ratings
Education Week magazine released its Quality Counts 2010 ratings of state school systems. Click through for details if interested, but here's a map:
Note: This map differs from the version you might have seen at GOOD. Mine is the overall scores. For some reason they elected to create a map based on a subcategory.
Transit Projects USA in 2010
The Transport Politic has a great roundup of planned transit projects for 2010, including a great map:
Cost, Residents, and Jobs in the City
Chris Briem, writing about the impact of a proposed prevailing wage law, takes a digression to look at the curious fact that while Pittsburgh's population has plummeted, the job base in the city (if not the region) has remained constant for decades, despite many disadvantages one might expect to cause jobs to leave.
I really swear that everyone in their psyche keeps confusing the story on the city's population (down in the past, going down now, probably going down in the future) with the story on the number of jobs located in the city of Pittsburgh which really are as stable as the rock of Gibraltar. Again the factoid: 300K jobs located in the city in 1960… same as today give or take some noise. If you realize the two trends are different then you get to some very different policy conclusions on just about every issue in local public finance.

The city honestly has lots of things that could make it a disadvantage to many a business. Parking fees of any kind are a killer for folks who like to drive to work and parking is nominally free for most suburban locations. In Downtown and Oakland that will never be the case. Other fees and taxes, inherently more restricted zoning in dense urban environments and innumerable other reasons make it hard to attract a new business to locate in the city proper.

Yet the jobs have remained. Go figure. Understanding that is the key to understanding most everything about the future of the city. Why do jobs act so irrationally and stay in the city? One could argue in Oakland it is a preponderance of tax exempt investment that anchors them to their location. A fair enough argument, but not something anywhere near as true for Downtown which continues to be one of the densest jobs centers in the nation.

So again.. Why? There are lots of details, but when you get to the core of it there must be something valuable in the location that makes businesses willing to put up with all the unique costs of doing business in the city.
Other Top Stories
Since I know I include a lot of links in these Midwest Miscellany posts, I wanted to inaugurate a feature of including a brief list of just the top stories I've selected. If you are limited on time, these are the ones I would recommend reading the most.
1. Ada Louise Huxtable @ WSJ: Eero Saarinen, Shaping the Future, at the Museum of the City of New York.
2. oobject: Top 15 Modernist Gas Stations (great pictures)
3. Der Spiegel: Squatters Take on the Creative Class: Who Has the Right to Shape Hamburg? (in English)
4. LA Times: Vancouver Engineers Its Own Urban Dream
5. NYT: Stadium Boom Deepens Municipal Woes
World and National Roundup
NPR: China aims to ride high speed trains into future
LA Times: Freight trains make big comeback in nation's transportation network
NYT: A trainspotter's guide to the future of the world – TNR/Brookings responds.
McKinsey study: The Economic Impact of the Achievement Gap in Education
NYT: Factoring Walkability Into Home Values – Nice coverage of the CEO's for Cities research on this topic.
Proper Scale: Cracks in the Building Blocks of Mixed Use
The American Prospect: The Ruse of the Creative Class – A critique of Richard Florida. Ryan Avent posted a rebuttal.
NYT: Ambitious $4.2 billion transit hub in San Francisco
WCVB TV-5 Boston: Mayor Menino Inaugurates 'New Era of Shared Innovation' (via Brewed Fresh Daily). Also, NYT: Biopharmaceutical industry is banking on Boston – $2.3 billion in manufacturing plants under construction.
Human Transit: Portland – A Challenging Chart – transit market share not increasing.
More Midwest
A task force says Ohio urban centers should have more incentives to keep businesses and residents
Cleveland
Indian immigrants value entrepreneurship and education (Plain Dealer)
Columbus
Columbus Is a City With a Lot to Celebrate (Experience Columbus)
Detroit
Michigan: The Dark Ages (The Economist) – via Jim Russell
Detroit entrepreneurs opt to look up (NYT)
Detroit Skids from Dream Machines to Bailouts in Vivid History (Bloomberg)
Poll of residents finds grim but optimistic outlooks (WashPo)
What to do about Detroit? (Richard Layman)
Kansas City
New convention hotel might also expand Marriott complex (KC Star)
Milwaukee
Lagging research puts city behind (J-S)
Twin Cities
Funding change worries suburban transit systems (Star Tribune)
Post Script
Colonel Sanders delivers some finger lickin' good fire extinguishers to Indianapolis Mayor Greg Ballard: