"Sustainable urbanism doesn't have to carry the weight of the overhead and egos of mega developers, starchitects, and all the myriad fixers — lobbyists, lawyers, flacks, event planners, consultants etc. — that live off their wake. It doesn't put the public purse at risk on speculative real estate ventures. The public isn't jolted with yet another over-the-top effort to shock and awe them with ever-larger and more lavish excess. Instead, sustainable urbanism thrives off both the synergy and the competition that comes from appropriately sized and scaled additions to the cityscape." – Rick Cole
Top Stories
1. The Atlantic: How a New Jobless Era Will Transform America.
2. New York Observer: The Man Who Closed Times Square to Traffic – A great profile of Mark Gorton, who is the backer of Streetsblog.
3. Richard Longworth: Who Cares? and The Ax Falls on Academia. Two more great reads from Longworth. You should be reading this blog.
4. Kansas City Star: Reorganization of school district would involve closing half of buildings. Kansas City schools enrollment has dropped from 75,000 to 17,000. This is a story probably relevant to many urban school districts.
State Pension Woes
One trillion dollars. That's the cumulative gap in state pension funding according to a new study from the Pew Center on the States. It is scary stuff.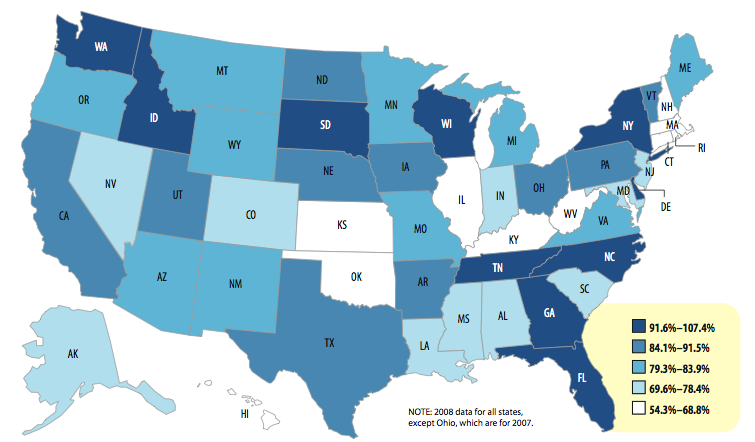 Here are the unfunded liabilities they have for Midwest states:
Illinois – $54.4B
Ohio – $19.5B
Kentucky – $12.3B
Michigan – $11.5B
Minnesota – $10.7B
Indiana – $9.8B
Missouri – $9.0B
Iowa – $2.7B
Wisconsin – $0
Obviously this is total, not per capita, so caveat emptor.
Best Airports
JD Power just released their 2010 list of top airports for customer experience. When it opened, I called the new Indianapolis International Airport terminal the best airport in the United States. Apparently the public agreed with me, since it received the top score of any airport and also earned top honors in the small airport category.
Here's a picture I took during a preview tour. The skylight in the background is over a Great Hall like civic plaza and is the same diameter as the dome at the West Baden Springs hotel.
This is arguably the most environmentally friendly airport terminal in the world as well.
The Midwest got a clean sweep in these ratings as Detroit took top honors the large airport category and Kansas city in the medium category. Congrats to the winners.
For those who are interested, I published a seven part in depth review of the Indianapolis airport terminal that was excerpted by the airport authority chairman at the dedication ceremony. It has over 50 photos covering every aspect of the terminal.
World and National Roundup
NYT: Cities prepare for life with the electric car
Seed: Urban Resilience
TNR/Brookings: Amazon's Kindle: A Symbol of American Decline?
John Austin: Enhancing Venture Capital to Drive Innovation.
BBC: Did immigration transform Britain by accident? (h/t Jim Russell)
NYT: China sees growth engine in a web of fast trains.
So many bikes, so little space in the Netherlands. (h/t @gosner)
Human Transit: An independent inquiry on transit in Sydney.
The Winter Olympics have prompted a spike in urbanists writing on Vancouver. Human Transit has an Olympic transit preview and NRDC's Kaid Benfield talks about the medal worthy Olympic village.
New York is planning to keep Broadway in Times Square and Herald Square permanently closed to traffic. Coverage is available from Streetsblog and from New York Magazine (h/t @OtisWhite) and from the New York Times.
Joe Cortright: 'Keep Portland Weird' makes sense as a jobs strategy.
Houston mayor considers fareless transit. As I've said, for smaller transit operations, fareless transit is an excellent idea.
Transport Politic: Nashville considers light rail but the city's unfit for it.
WSJ: A profile of architect Shigeru Ban
NYT: A contrarian's lament in a blitz of gentrification.
More Midwest
This is probably the topic of its own post at some point, but the Brookings Institution just released a report on restoring prosperity in Ohio that I wanted to make sure people saw (h/t RustWire).
WSJ: Great Lakes States face tough choices in carp battle
Chicago
Subrban sprawl, meet suburban tall (Blair Kamin @ Tribune)
Cincinnati
Planning commission approves new bicycle parking requirements (Soapbox) – all new garages must include bike parking.
Cleveland
The Cleveland Model (The Nation)
Detroit
Survey finds one third of Detroit lots vacant (Free Press)
Blueprint America: Moving Detroit Forward (Rebuilding Place in the Urban Space) – Richard Layman takes a skeptical view on transit by itself renewing Detroit's fortunes.
Robert Bobb's biggest challenge: Create a new Detroit Public Schools (Free Press)
Detroit auto suppliers branch out to other industries (NYT)
Budget woes put big road projects in jeopardy (Free Press)
Indianapolis
Infrastructure is key to a successful City Market (A Place of Sense)
Clarian, IU plan $100M neurosciences center (IBJ)
Local convention activity warming up during winter months (IBJ)
Kansas City
Switch in federal policy could help plans for rail in KC (KC Star)
Louisville
750 Humana workers in Louisville to lose jobs (C-J)
Abramson releases details of public art plan (Business First)
When Louisville, NE trumps Louisville, KY (Broken Sidewalk)
Post Script
Wind turbine wake effects (via Treehugger)