Saturday, March 20th, 2010
I don't normally post on Saturdays, but am compelled to put out this "Urbanophile Extra" to highlight this absolutely beyond must-watch video of NYC Transportation Commissioner Jannette Sadik-Khan explaining to an audience in LA what it takes to implement progressive transportation policy in our cities. If you care about transportation in our cities, you must watch this relatively short piece.
It's not just that I'm sucking up to Sadik-Khan here. I mean, don't get me wrong, I am sucking up to her, but more than that, she says more about this in about one total minute of talking than most people do in a lifetime. (If the video doesn't display for you, click here).
Want to change the game on transportation in your city? Here's Sadik-Khan's workplan for you:
It starts with strong leadership from the top (i.e., the mayor) with a long term vision of the city.
Then you need a policy framework to make it reality. "The public needs to know why you're doing what you're doing. What's the plan?!"
You need a team of great people, and the institutional capability to deliver.
Move fast, don't get bogged down in endless debates, and don't be afraid to experiment. The results will speak for themselves. (I'm reminded of Jaime Lerner's dictum: "If you want to make it happen, do it fast.")
It's really that simple folks. If you don't have these basics – if you don't have leadership, don't have a plan – you might as well hang it up.
Like Sadik-Khan, I think you've got to give major credit to Mayor Bloomberg on this. As a CEO and guy who built a major business, he instinctively gets what it takes to make it happen on all these fronts.
And it was great to hear Sadik-Khan give some props to the folks at Streetsblog and Streetfilms. Way to go!
Update: Since I see this post went out on a number of transit lists, I thought maybe you'd like to read my award winning paper on boosting public transit ridership in Chicago.
Related:
New York: Leadership in Transportation Design
Another Epic Public Space WIN in New York
15 Quick, Easy, and Cheap Ways to Make a Big Urban Design Impact in Indianapolis Right Now
Telestrian Data Terminal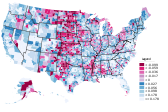 A production of the Urbanophile, Telestrian is the fastest, easiest, and best way to access public data about cities and regions, with totally unique features like the ability to create thematic maps with no technical knowledge and easy to use place to place migration data. It's a great way to support the Urbanophile, but more importantly it can save you tons of time and deliver huge value and capabilities to you and your organization.
About the Urbanophile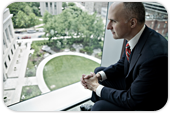 Aaron M. Renn is an opinion-leading urban analyst, consultant, speaker, and writer on a mission to help America's cities thrive and find sustainable success in the 21st century.
Contact
Please email before connecting with me on LinkedIn if we don't already know each other.
Twitter Feed
World Blogroll
Non-English Blogroll