Why is it that so few small cities end up with truly world class design? Getting great design is tough for a small city, even one that wants to do it right. Consider the question of who to hire. There are two basic choices: a national firm or a local firm. Both have pitfalls.
Hiring a National Designer
National and international firms, either larger, institutional designers or boutiques, often feature world class or even world famous designers. It might seem that getting the best design is simply a matter of hiring the best talent, but this is not always the case.
The difficulty in hiring a national firm is whether or not that firm will bring its best work to a smaller city. If a firm has a particularly talented designer or powerful concept, is it likely to provide that to a second tier client? Or will it do its best work for more marquee clients, ones that already have powerful and positive brands that the firm hopes will reflect positively on it?
There is certainly a danger that a smaller city would receive a design that, while competent, is not top caliber. Often these designs appear stylish because they are reflective of current fashion, but will quickly become dated.
As an example, consider the recent rebranding undertaken by the Indianapolis Museum of Art, which was performed by the high profile New York design agency Pentagram. Graphic design is a good example because cost is not a quality driver. As Alex Rawsthorn noted in the New York Times, "A well-designed logo isn't necessarily more expensive than a bad one, and promises to 'earn' much more over the years."
With that, here's the IMA's new logo:
This is actually a good logo. It's certainly nothing to be ashamed of. But it's not a great logo.
This is can be easily shown by comparing it to a recent advertisement that appeared in the Financial Times: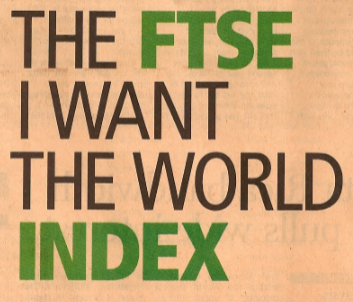 (Note that the salmon color of the newsprint is the standard color of the FT – itself representing a powerful branding choice – not the chosen background color of the ad.)
This is not exactly the same, of course, but is conceptually and stylistically quite similar, even incorporating a more subtle version of the word break. The IMA has not even finished rolling out its new logo, and it has already been commoditized.
Actually, it was commoditized before it was even delivered because it is just yet another logo "of the now". This is discussed at length in the comments to a review posted at Brand New, where many other similar logos are referenced, right down to the split "A". If you look at the 800+ votes cast in grading the design there, the general consensus was "fine". So it's not just my opinion that this logo is competent, but not distinctive.
This shows that even design savvy institutions like the IMA are not immune from getting trend driven work from top design firms. Because this was executed in a current fashion, it lacks staying power and will likely date quickly. In fact, in some regards it already looks tired.
The IMA certainly didn't need to go to New York – or pay Pentagram prices – to get this.
Pentagram has designed visual identities for many museums, including the Museum of Modern Art in New York, the Whitney Museum of Art in New York, the Museum of Arts and Design, and the Museum of Film and Television in Berlin. Notably all of these appear in their online portfolio – the IMA does not.
This shouldn't be a surprise. Pentagram receives significant branding benefits to itself from being able to list MoMA and the Whitney as its clients. The IMA as a client does not have nearly the same benefit to them. Thus Pentagram has a structural incentive to provide its best work to others who do, as would any similarly situated firm.
In my opinion, if you are anything other than a true A-list client who wants great design, you're not likely to get it from the Pentagram Museum Identity Extruder™ .
I generally prefer the "don't hate the player, hate the game approach," but in this case much was made of the fact that Abbott Miller, the Pentagram partner who oversaw this project, is originally from Indiana. Brand New said, "[he's] an Indiana native, for those looking for authenticity." That's a head-scratcher to me. There's nothing authentically Indianapolis in that logo. It is clearly designed to send the message that "we're in the club," not express local character. I generally eschew that approach in favor of more local authenticity. However, art is a fundamentally international game, so going the way the IMA did is certainly a valid choice for a museum with aspirations. Notwithstanding, it isn't clear to me what Miller being from Indiana has to do with it.
This made me curious, so I decided to look into the matter. I googled in vain looking for any instance in which Abbott Miller talked about how being from Indiana influenced or informed his work anywhere. Nothing. I sent off some probes into the creative community of Northwest Indiana, Abbott's original home, trying to find out if he visited there, was active in the community, etc. Nobody had seen him. It appears like Miller skipped town as quickly as he could and never looked back. It doesn't seem like Indiana played much role in his life or work after he left – until it was time to cash in, that is.
When Abbott Miller gets together with his buddies in Manhattan for a drink after work before heading off to Penn Station, and the topic of Indiana comes up, I can't help but wonder what he has to say. I'd love to be a fly on that wall. Want to know what Abbott Miller really thinks of Indiana? Look at that logo. Message received.
Hiring a Local Designer
Back to the topic at hand, hiring a local designer has its own challenges. There are reasons to believe local designers should be better. They know a city better than anyone. They also have to live with the results of their work and the public reaction. They don't have an international client base to fall back on if they ruin a local assignment. Everyone will know.
But on the other hand, if local designers can do the job, why don't most small cities already have a world-class design? Indianapolis is not exactly dripping with good design, graphic or otherwise, despite local designers winning the majority of the contracts. If local designers have not produced what is needed before, why will they now? That's the question that must be answered. Maybe in some ways local designers are too close to the city to effectively create something new and aspirational.
Also, the choice to go with a local designer is often made out of a desire to have a solution that is perceived as safe. That is, to go with a known quantity versus a newcomer. It expresses a lack of desire for change. It's a vote for the status quo. And, most importantly, commissions to local firms are often driven by political considerations. That is, the person with the best connection to the decision maker has an inside track to winning the work. That may not be the best designer.
How To Do It Right
This starts to highlight the important role played by the client – that is, by the city – in creating a strong identity. Important considerations in selecting and engaging design firms include:
There must be a top level commitment to creating a world-class design.
Similarly, there must be a commitment to brand authenticity for the city, something that is true to the place. As I said before, it's about "world class Indianapolis", not "world class in Indianapolis". There is a big difference between the two. Insert your city name here. (Again, for a field like art, however, I'm open to a more international approach).
Scrutinize the results to ensure a design that will stand the test of time. In particular, independently verify that the design is not trend driven. While only time itself will really determine the staying power of a design, you can at least try.
Commit to a forward-looking, aspirational design. Most people are rightly proud of their past and heritage. However, this often leads to design concepts rooted in the past and nostalgia. This is a design approach that locates the apex of a civilization in the past. Unless the city believes its best days are behind it, this approach should be avoided. You can be both forward looking and express your terroir.
One possible approach to achieving good results is to seek out a highly talented rising star designer from out of town, overseen by a local steering committee that includes top local designers who are paid for their participation. This allows your to source top talent from anywhere, but also seeks to find someone for whom the account will represent a major opportunity. This person or firm might even come from Europe or Japan. And local designers would both participate on the a professional basis and provide both local insights and quality assurance.
Hiring an up and coming designer is a bold choice not without risk. But it should be noted that some of the best designs have come from doing just this. Maya Lin was a student when her design was selected for the national Vietnam Veterans Memorial in Washington, DC, albeit in a blind competition. A first year architecture student recently won a design competition in New York City to design standard scaffolding to protect pedestrians in construction zones. Even the most established cities have often seen the wisdom turning to younger talent for the designs.
Of course, if you've got great young local talent, you can go that route too. In my experience, it is rare that such people ever get a prime commission, but it has been known to happen.
An alternative, perhaps most suitable to architectural commissions, it is to select a diverse shortlist first and pay them something to develop concepts. This makes it possible for more innovative and smaller firms to economically bid on projects.
I won't claim to have solve the problem completely. But the keys are to bring the right attitude as the client, select a great designer, and make sure that designer has a structural incentive to provide you with their best work, which could mean they are young and hungry.
The Indianapolis City Flag
I said it was rare for young locals to get commissions. But I'll give you one example where it did that paid off big time. The Indianapolis city flag was designed by Roger Gohl, a student at the Herron School of Art, in 1963:
This is what I mean by "world class Indianapolis". It is probably the best piece of graphic design ever created for that city. This flag is better than that of a lot of countries. What's great about this?
It's top quality. This flag was ranked 8th out of 150 city flags by the North American Vexillological Association. Frankly, it is probably better than that taken as a pure graphic design object.
The design is a representation of the primary intersection of the city at Monument Circle, the physical and spiritual heart of the city. Even a child in Indianapolis would instantly recognize this and make the local connection. I haven't studied the history, but I believe this flag was hugely influential in shaping the way locals think about downtown and especially its division into four "quads". This design has been adapted for other uses as well, including downtown wayfinding, demonstrating its power.
It also symbolizes the city's motto of being the "Crossroads of America".
Red, white, and blue is perfect for a patriotic city with more war memorials than any in America outside Washington. The primacy given to blue makes it play nice with the Indiana state flag.
Its layout and use of primary colors and basic shapes give it a masculine and unpretentious character perfectly fitting the city.
The star symbol is often used as a map symbol for a capital city, and the star in the center of the flag (as Indy is in the center of the state), reminds us of its status as a capital city.
The cross symbology also has faint but not inappropriate religious feel, a good fit for a state like Indiana where commitment to God runs deep.
The design is crisp, clean, timeless and classic. It looks as fresh today as it did in 1963.
This is a design that would hold its own with any city flag in the world. (It's better than New York City's flag).
This is what small cities should aspire to achieve in design. Again, this was designed by a student. It's an example of why I think small cities might best be suited to try to pair up with young designers. Find the good ones before they become famous – and certainly before they make partner at Pentagram.