Friday, June 18th, 2010
"It took many decades for neighborhoods and commercial districts to decline, so we have to recognize that it will take a long time for these places to be improved. It takes even longer when we don't know what we are doing, and we fail to learn from previous practice, not to mention best practice, and we put in minimal amounts of money so that it makes improvement very hard to come about, and we don't direct money in ways where it can have great impact so that money gets wasted." – Richard Layman
Top Stories
Next American City: Who Says What's Livable? – Vincent Valk explores the issue of livability in transportation planning.
NYT Magazine: The Freegan Establishment – A very interesting look at squatters in Buffalo trying to live without using money by choice. There is definitely some creative ferment going on in that area.
WSJ: Rivals Secretly Finance Opposition to Wal-Mart – As it turns out, a lot of the "grass roots" opposition to Wal-Marts is really astroturf.
James Sanders/Design Observer: Adventure Playground: John V. Lindsay and the Transformation of Modern New York – Long, but very interesting take on the transformation of New York from gritty workshop to glamorous playground.
Locals vs. Tourists
Eric Fischer, using the geocoding information on Flickr, created maps of photographs loaded by locals vs. those loaded by out of towners, presumably tourists. Here's the San Francisco one:
There are many, many more cities, so check out the complete set if you are interested. (h/t The Map Room)
World and National Roundup
NYT: India's Clogged Rail Lines Stall Economic Progress
Egypt Today: Downtown Cairo's Extreme Makeover
Jim Russell: The best talent escapes gravity
Ryan Streeter: City State
Politico: Pols turn on labor unions
NYT Economix: Saving money by slashing prison spending
The Atlantic: Gentrification and Its Discontents
True Economics: Organizational systems and uncertainty
Michael Hicks: An education-related economic model
Terry Teachout: The Pasadena Symphony and the Zero Option – Do regional orchestras still make artistic sense?
Brain Pickings: A (Type)Face for Every City in the World – some very cool typographic logo designs.
NYT: Licensed and Illegal Vans Fight It Out in New York – sometimes literally!
Incredible pension craziness from New York state: State wants to borrow from pension fund, to pay the pension fund
Technology and the City: Minneapolis about to surpass Detroit as the Midwest #2 metro economy
A UIC study shows that intersections with red light cameras in Chicago have more crashes than those without.
Detroit News: Suburbs struggle with industrial blight
Joshua Jamerson: Who controls Detroit's image?
Lastly, here's a trio on demographic change in our cities: Atlanta: Minority populations make strides in metro Atlanta demographics; Dallas: 'Black Flight' Changing the Makeup of Dallas Schools; Detroit: Black flight is the new worry for Detroit
More City to River
Daron over at St. Louis/Elsewhere takes a look at the idea of removing I-70 through downtown St. Louis to reconnect downtown with the Gateway Arch and the Mississippi River. To show the absurdity of having I-70 in that location, he asks us to imagine Chicago cut off from its lakefront parks by an interstate viaduct on Michigan Ave. It's ain't pretty.
Of course Chicago does have Lake Shore Drive…
Gorgeous Chicago Travel Video
Signal vs. Noise linked to two phenomenal videos about Chicago. Dating from 1948 and shot in gorgeous Technicolor, these were part of an MGM series of shorts called Traveltalks. Here's one of them. (Click the previous link if it does not display for you).
Detroit 187
Apparently ABC is going to be running a new series in the fall called Detroit 187. Time's Detroit blog posted the trailer for this thoroughly embarrassing concept. (If the video doesn't display click here).
Julio the Sewer Guy
BLDGBLOG pointed me at this very interesting interview with a Mexico city sewer diver. Apparently, Mexico City has a group of these guys who dive into the sewers to clean them out and do repairs. Yes, there are photos: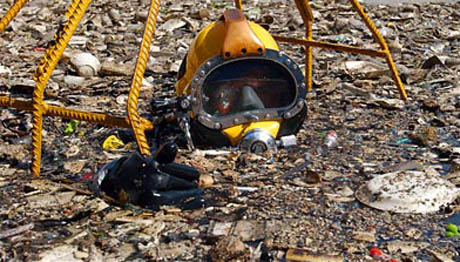 Post Script
I was recently privileged to take part in a VIP architecture tour of Columbus, Indiana, which I'll note in the interest of full disclosure was partially sponsored. For those who don't know, Columbus has one of the most important collections of modern architecture in the world, including six National Historic Landmarks. While there I got to see a preview of one of them, the Miller House and Garden. It was acquired by the Indianapolis Museum of Art and will open to public tours next year.
Alas, photography is still not allowed at the Miller House yet, but I can share in the next few Urbanoscopes a few interior and other photos of spaces not generally open to the public. Here is one of the First Baptist Church, designed by Harry Weese, also a National Historic Landmark:
-->