Thursday, August 5th, 2010
We see in a lot of places – Indiana, Illinois, elsewhere – various tax revolts centered on property taxes. Property tax caps are a frequently proposed policy these days. Gov. Christie in New Jersey has just proposed them, for example.
A friend of mine had an interesting take on this related to demographics. He observed that there has been an increase in anti-property tax sentiment as the population has aged. Think about the various major categories of things that are taxed to raise funds at the state and local level – income, consumption, property. People who are coming up on retirement are going to see drops in income and consumption, but they own lots of taxable property. In fact, they probably have more wealth, much of it in the form of taxable property, than the younger families who are out buying clothes for their kids, furniture for their growing families, etc. Younger people are also those who are more likely to see their incomes go up, not down over time. Older households are also less likely to consume services, such as schools, typically funded by property taxes.
This person suggested that property tax caps are basically tax shelters for older people, and act to shift the tax burden towards the young. I'd be very interested to see some actual research around this topic, as the matter of demographic impacts on public policy, apart from some national level concern over entitlements, hasn't gotten much airplay. It strikes me that the personal preferences and spending/saving behavior of people changes quite a bit over the course of a lifetime, and appropriately so. If that's true, why wouldn't there be policy preference changes as well? And what might that mean for an aging society? It's an interesting matter to think about.
Telestrian Data Terminal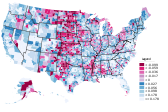 A production of the Urbanophile, Telestrian is the fastest, easiest, and best way to access public data about cities and regions, with totally unique features like the ability to create thematic maps with no technical knowledge and easy to use place to place migration data. It's a great way to support the Urbanophile, but more importantly it can save you tons of time and deliver huge value and capabilities to you and your organization.
About the Urbanophile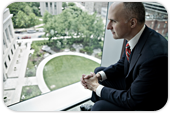 Aaron M. Renn is an opinion-leading urban analyst, consultant, speaker, and writer on a mission to help America's cities thrive and find sustainable success in the 21st century.
Contact
Please email before connecting with me on LinkedIn if we don't already know each other.
Twitter Feed
World Blogroll
Non-English Blogroll