Friday, August 13th, 2010
British street style is without a doubt the most influential in the world. London is like a mysterious laboratory where new cultural movements are perpetually invented. You find people copying Londoners in every country, but you will never see a Londoner following the aesthetic of another capital city. – Yvan Rodic aka Facehunter
First a brief update on my Metra story. Commenter Alex B. raises a good point that the right of way is not being sold off or built on for something else. That's true as regards the actual property lines. My concern is with the elevated embankment on which the rail line runs. This embankment was constructed and previously ran with three active tracks. After this project, there will only be two and to restore the third track will require extending the retaining walls. A few months ago I was given a major nine figure price tag to do that, meaning it would likely never happen, though it's worth noting that in Metra's response to my post, they give a lower figure today. I wanted to clear that up.
Speaking of Metra's response, they copied me on one they wrote for someone else and I told them I'd post it here. I'm not going to do a line by a line analysis or anything because I don't want to make this blog into "Aaron vs. Metra" and I don't think it would be productive. But I will link to the complete, unedited document so you have a chance to read their position. I do want to respond to one item in it, which is where I got the idea that the grade raising on the bridge was the city's idea. I attended a public meeting on the project and when I asked a Metra representative why they had to raise the grade, he said, "Because we couldn't get permits from the city if we didn't." Apparently this was in error. I still continue to believe that highway funds should be used on projects that improve truck clearances. And while it's not my primary concern with the project, as someone who lives in the area I'm confident the neighbors would strongly oppose anything that brings more and bigger trucks into their neighborhood, especially on residential streets.
Thanks to everyone who helped with this.
Top Stories
1. The Guardian: Cyclists vs. Drivers? They are often the same people
2. Human Transit: The Case for Frequency Mapping
3. Urban Cincy: The Urban Differences of Cincinnati and Chicago
The Real Megabus
You probably saw this craziness already, but China is looking at giant buses that can pass over top of cars: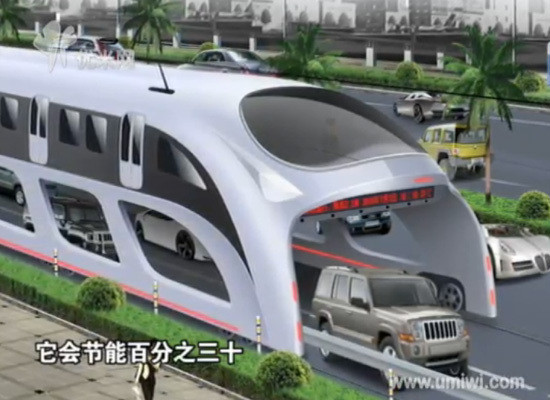 It's probably nothing, but it's good to explore ideas.
Food Trucks
Food trucks are all the rage, but in a brief piece on his blog, Payton Chung takes a contrarian view:
I'm know it's so very trendy, but I really don't understand the fascination with littering Chicago with food trucks. I've found them quite annoying in NY and LA:

they don't pay rent for the valuable public space they take up
they unfairly compete with fixed-premise restaurants, particularly since Chicago suffers from many miles of empty storefronts
they only go to trendy areas which already have lots of shops and foot traffic, thereby merely overcrowding existing transient hotspots and potentially preventing new areas from emerging
they leave clouds of diesel fumes and noise in their wake, since they run generators even when idling
they generate mountains of trash in said areas' already-overflowing trashcans, since there's no capacity for onboard dishwashing and few sidewalk recycling bins
they'd be yet more unwieldy vehicles careening through the streets, killing people in crashes.

I certainly don't dispute the overall goals to have broadly available, inexpensive food and easing the way for entrepreneurs to open foodservice businesses. However, these goals frankly have nothing to do with adding more smelly trucks to already choked streets.
World and National Roundup
The Philadelphia Inquirer has a special section on high speed rail
A group of public radio stations has created a web new project called Changing Gears: Remaking the Manufacturing Belt. I haven't dug into it yet, but thought I would pass the link along.
WORLD Magazing, Christian themed publication, has a special issue on cities. It looks interesting. It's subscriber only, but looks like it's only $5 to get a one month pass.
NYT: Outsourcing to India draws Western lawyers – In my recent post about Chicago and professional services, I noted that law was just starting to get hit the way technology did with offshoring. Here's an interesting story on those lines. You don't think it can happen to you? I can happen to you.
Global Urbanist: A city doesn't need a center, but it does need realistic planning
WSJ: Parisians Find Playground Under the Streets
Richard Florida: Roadmap to a high speed recovery
NYT: The Coming Class War Over Pensions
Wendell Cox: US leads the world in per capita greenhouse gas reductions – according to a Dutch government study.
Richard Reep: A localist solution
Urban Out: Midwest urban forms present varying challenges and opportunities
NYT: Wringing art out of rubble in Detroit
Jason Tinkey: I Won't Share You – a look at Chicago's bike share program.
Time Detroit Blog: Detroit's Model Train – Can a new light rail project help solve Detroit's mass transit woes?
Cincinnati Enquirer: City's pensions a disaster scenario
Chicago Magazine: Raising Chicago: An Illustrated History – raising the street grade in the city.
Replacing a Rail Bridge
I mentioned that rail bridges can sometimes be replaced by simply hoisting a new one into place over the weekend or something. Here's a video of just that being done on a passenger bridge in Oyster Bay on the Long Island Railroad. (If the video doesn't display, click here).
This was a small project at only $3.4 million, paid for by an FTA grant. It's interesting that this project involves raising the vertical clearance as well. I wonder what the incremental cost of this is? And how much FTA money around the country has actually ended up going to make life better for road users. In an era of ultra-tight capital funding, America can't afford to be spending precious transit dollars on trucking. The US DOT ought to take a look here. I'm not saying we shouldn't raise bridge grades, but highway funds ought to make a contribution proportionate to the benefits.
Post Script
Free Basket (or as I like to call it, the Jungle Gym) by Los Carpinteros at the Indianapolis Museum of Art's new Art and Nature Park.
-->