Tuesday, August 17th, 2010
[ It's no secret I'm a fan of Jim Russell, who is doing simply the most compelling writing out there on the geography of talent on his blog Burgh Diaspora. He's also the best at stating the case for why Pittsburgh is positioned to shine in coming years. If you want to know why the Pittsburgh story is real, read Jim's blog. He graciously agreed to share a bit of the case for Pittsburgh today, focusing on its reputation as a demographic disaster zone - Aaron. ]
Prima facie, Pittsburgh is the picture of demographic dysfunction. Both the metro area and the city are perennial population losers. The core county of Allegheny is home to some of the highest concentrations of elderly people in the entire United States. As for domestic in-migration and immigration to the region, calling it anemic might be too generous. Shrinking cities scholars Justin B. Hollander, Karina Pallagst, Terry Schwarz, and Frank J. Popper sum up the Steel City, "Demographically, Pittsburgh consistently ranks as one of the worst performing U.S. cities in terms of poverty, crime, employment, income, and housing abandonment."
This sad story is the basis of what the above authors term the "Pittsburgh paradox". Why are cities across the country trying to figure out how to copy such a miserable place? Pittsburgh is legendary in urban planning circles. But don't take my word for it:
Paul Farmer's reputation as a visionary planner is what first caused Minneapolis officials to seek out and court him in 1994. Farmer had already served 14 years as deputy planning director in Pittsburgh when he accepted the Minneapolis post. He'd worked as a planning consultant in Canada, India, and Germany. He'd taught urban planning at several universities. In Pittsburgh, Farmer led the charge to redevelop 35 miles of waterfront, install busways and a light-rail transit system, and transform contaminated land into parks, businesses, and residential neighborhoods–all projects that city leaders have long been anxious to see happen in Minneapolis. …

… When you came to Minneapolis, it was clear why the city wanted you working here. Projects you steered in Pittsburgh–light-rail transit, the riverfront, downtown improvement–have had city councils across the country drooling.
Minneapolis wanted to be the next Pittsburgh. Given the lousy data associated with this Rust Belt backwater, all the interest in the economic redevelopment going on there is curious. Pulling a Pittsburgh would appear to be a bad idea.
Downtown revitalization is one thing, but stimulating a regional economy is quite another. Did Farmer's efforts really spark a renaissance? The jury is still out on that question. But during the depths of the current economic downturn, Las Vegas looked at Pittsburgh as a model of a way forward. A reporter from the Las Vegas Sun called me, inquiring about the positive changes in my favorite city. What might Pittsburgh teach devastated Las Vegas?
I'm under the impression that most people don't believe the good press that Pittsburgh receives. But I also think that few appreciate how far Pittsburgh has come, particular when one considers the lack of inmigration and immigration that has favored so many other cities, such as Las Vegas. The city has done much more than "redd up". As I see it, the transformation of the regional workforce is more worthy of celebration. Pittsburgh is a demographic dynamo.
If you are familiar with my blog (Burgh Diaspora), then you know I'm fond of linking to this post from the Federal Reserve Bank of Chicago titled, "Growth and Great Lakes Cities". As you might expect, Pittsburgh sports poor job creation over the last 40-years. Weighing per capita income, Pittsburgh is a hands-down winner. Words from the Fed:
The two local leaders in 1970 college attainment, Columbus, Ohio, and the Twin Cities also experienced the fastest employment growth. While Pittsburgh ranked low in college attainment in 1970, its gains in this metric since then have been the most rapid. Perhaps not accidentally, Pittsburgh's growth in per capita income also outpaced other cities in the region.
Concerning the 1970 baseline, we would expect Columbus and the Twin Cities to do well over the next four decades. Smart cities tend to get smarter. Pittsburgh bucks the trend, unique among large metros (and not just Rust Belt cities). The result is some of the highest concentrations of college educated young adults in the entire country. (here and here) As the Boomers leave the workforce, Pittsburgh will emerge on par with Boston, Austin, San Francisco, and Washington, DC In terms of the availability of talent.
The strong performance numbers have been there all along, for anyone who cared to look past the shrinking city title. The fallacy is that population growth indicates economic growth. This is industrial era thinking. New metrics track educational attainment and the migration of the college educated. Pittsburgh does very well on both counts.
Then why aren't people moving to Pittsburgh? As detailed above, Pittsburgh prosperity isn't tied to attracting new residents. During the most recent recession, that has proved to be a point of economic resiliency. Thus, there is interest from boomtowns such as Las Vegas in learning how Pittsburgh did it. Improving the urban core didn't bring back the people who left in the early 1980s. Nor did the title of "America's Most Livable City" do anything to entice outsiders to relocate there. The declining population said all that needed to be said. No one, from there or elsewhere, wants to live in Shittsburgh.
As Aaron Renn himself has noted, all of that is beginning to change. More impressive to me is the improving jobs picture. I'll bring your attention to two graphs from Chris Briem (Null Space), "Pittsburgh MSA Labor Force, 1970-present" and "Difference Between US and Pittsburgh MSA Unemployment Rates: 1970-Present". The recession of the early 1980s was a demographic disaster for the Pittsburgh region. Relatively speaking, the most recent recession is the best of times. The progress over that 25-year time period is astounding, the reversal of fortune jaw-dropping. That change will get the attention of other cities. That's what all the fuss is about, not the gloom and doom stereotype that has dogged Pittsburgh for the better part of half a century.
Pittsburgh is accelerating into the Great Reset like no other city in the Great Lakes megaregion. It's a strong performer hiding in the Rust Belt, the manufacturing legacy still the dominant image. The usual numbers remain unimpressive, for now. The real story is lurking just beneath the surface. Pittsburgh, a former world class city, is a rising star.
Jim Russell is a talent economic geographer whose mission is to help shrinking communities benefit from outmigration. He can be reached at E-mail: jimrussell@globalburgh.com
Telestrian Data Terminal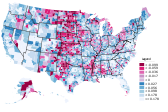 A production of the Urbanophile, Telestrian is the fastest, easiest, and best way to access public data about cities and regions, with totally unique features like the ability to create thematic maps with no technical knowledge and easy to use place to place migration data. It's a great way to support the Urbanophile, but more importantly it can save you tons of time and deliver huge value and capabilities to you and your organization.
About the Urbanophile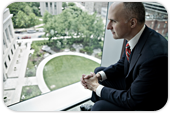 Aaron M. Renn is an opinion-leading urban analyst, consultant, speaker, and writer on a mission to help America's cities thrive and find sustainable success in the 21st century.
Contact
Please email before connecting with me on LinkedIn if we don't already know each other.
Twitter Feed
World Blogroll
Non-English Blogroll