When I started this blog I promised to call them like I see them, and not adhere to any particular dogma or policy blindly. In this case, while I know many won't agree, in my latest piece over at New Geography I argue that Yes, We Do Need to Build More Roads.
The root of this is demographic, as the following chart shows, comparing city population (a proxy for transit friendly areas) versus just the population growth in the US in the last 10 years, a notably slow decade of growth at that.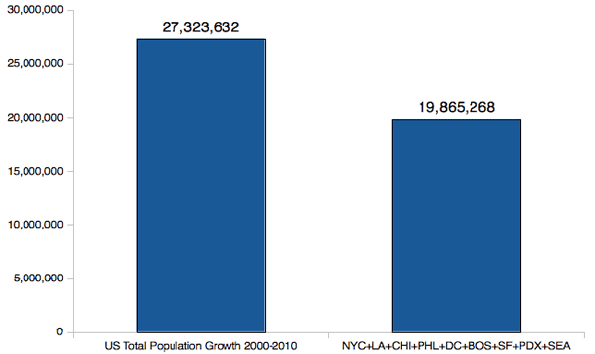 And there's 90 million more where that came from projected in the next 40 years. The numbers just don't add up. I'm all in favor of more dense urban neighborhoods, more transit investments, and even "road diets" where it makes sense. But the reality is that even if we expand roads at a slower rate than population growth, we've still got to build.
By the way, that doesn't apply in slow or negative growth regions like Detroit. The last thing they need is more infrastructure they can't maintain. But that's a story for another day.