Wednesday, February 16th, 2011
I know I've been on a negative streak about Chicago lately, and here's another one. But rest assured good news is coming soon, starting with a post tomorrow. I've got several others in the hopper, but they still need some development.
At any rate, the census results just released for Illinois were bad news for Chicago. I discuss this over at New Geography in my post "Chicago Takes a Census Shellacking."
The city had a negative downside population surprise, losing 200,000 people and coming in well under the 2009 estimates. It particularly bled black population, but the non-Hispanic white population declined too. Hispanics increased, but Chicago actually added fewer total than Indianapolis, a city less than 1/3 its size.
More troubling is rampant exurban growth, with Cook, DuPage, and Lake all struggling a bit while places like Kendall County explode. Is it any wonder we're broke and our traffic congestion is so bad?
Here's the Illinois population percent change map: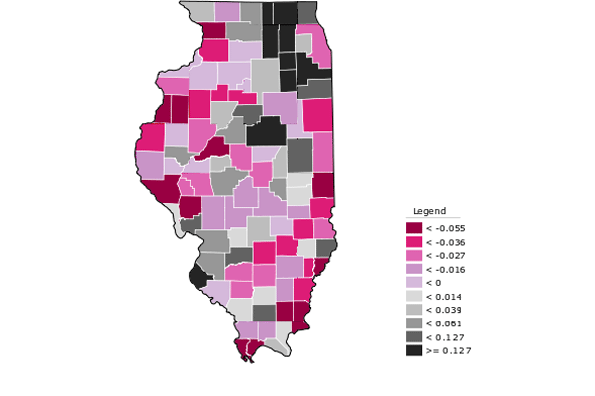 -->