Jim Russell pointed me at an interesting paper over at the Brookings Institution's Hamilton Project. It is a proposal to create a "mobility bank" that would assist people in relocating to find greater economy opportunity in another part of the country.
I've previously written about this with some approval as a concept in the past. The idea is that a lot of people are effectively stuck in economically depressed communities because they are underwater on their house or simply can't afford to move. They can then become a drain on their community for social services, along with depressing wages through boosting the labor force. But more importantly, the people who can't find jobs or only find underemployment are robbed of the dignity of what they could otherwise achieve through their own work and efforts. If we could help them move to a location where the economy is better or better matches their skills, such as by getting them out of their mortgage, this could be a win-win-win.
It's easy to understand why this would be a controversial policy to say the least. We don't have a tradition of just writing off places, and those that stand to lose people under such a program would no doubt be offended that the feds or others were actually helping to rob them of what they see as their most precious resource: their people.
There's a huge debate out there over helping people vs. helping places. From what I see, most commentators say that we should do both, but we should more emphasize people. But this is a difficult concept to operationalize in practice. This Brookings study by Jens Ludwig and Steven Raphael takes one crack at what favoring people might mean.
The idea is that people who are in communities in the top third in terms of unemployment would qualify for mobility loans from the federal government of up to $10,000. The amounts could be used for moving related expenses for moves over 50 miles, but also for things like traveling to cities to scout out opportunities and interview for jobs. These would be administered like student loans and run by the same agency. As with student loans, repayments would not start until the person who borrowed the money was gainfully employed. But to reduce the disincentive to work, repayment amounts would be capped at a maximum of 3% of the borrower's income, and would fully be considered paid off after 120 payments, even if the full principal amount was not yet repaid. Yes, this means there could be a subsidy, but the authors consider that worth it.
Part of their rationale is mobility overall has been declining, as they show in the cart below: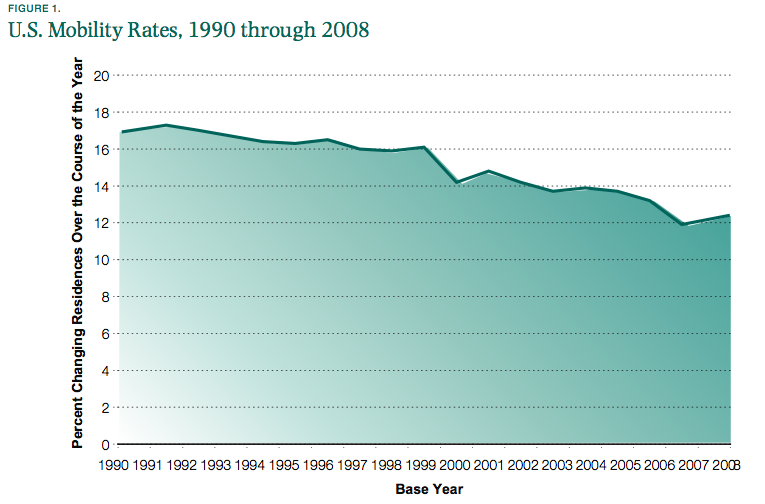 Also, mobility has been lower for people with lower educational attainment, unsurprising given their generally lower earnings power to fund moves, interview in other cities, etc.
Some of these mobility declines likely resulted from non-economic factors. But no doubt today's terrible economy and housing market have kept people from moving who might otherwise want to. By putting in place a program targeted at only struggling cities, this Mobility Bank plan would seek to bring the migration engine back to a more normal baseline, assisting people to better their lives and helping communities (even if some would no doubt not consider it such), while minimizing disincentives to work and required subsidies. I think this is an interesting proposal very much worth a look. While it might not be something everyone could personally endorse, it shows some serious thought into what a federal program for assisting people vs. places in economic recovery might look like apart from direct education/training or some such.