I hope you'll indulge me a "throwback" post in the style of the early days of the blog, when I was more or less covering Indianapolis in detail.
I was looking at INDOT's web site for the I-465 northeast corridor expansion project and noticed that there was an updated schedule graphic posted that deleted any parts of the project post-2012, including the reconstruction of the I-465/I-69 interchange: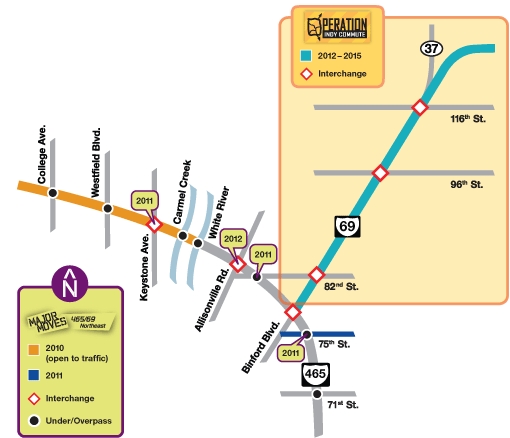 Notice that they added a huge box for something called "Operation Indy Commute", but this is a separate tactical and much smaller project. (Looks like a distraction tactic to me). According to the FAQ, the work that's been dropped from the schedule is now postponed until after Operation Indy Commute. That is, until post-2015, after Major Moves expires and there's no more money for major capital expenses.
Possibly this was covered previously, but I certainly didn't hear anything about this major deferral on the real project in the area when INDOT was rolling out Operation Indy Commute. Instead, I recall it touted in a manner that implied it was net new spending. (See this article for example among some other coverage I went back and looked at).
I tried to email the listed contact for this project to get an official response but the email bounced.
I also took a quick look at the 2012-2015 Indianapolis Regional Transportation Improvement Program and there's no money for construction on the deleted segments. (You should at least glance at that document for some comic relief).
As a general rule, when agencies put out a plan to do something, they trumpet it to the heavens, call the papers, etc. When they kill something you half the time only find out by reading obscure documents no one's ever heard about. Or by engaging in some Clintonian parsing of what the agency tells you. I'm not saying they for sure did that here, but it certainly warrants investigation. Keep in mind, in Indiana, projects are almost never actually officially killed, they just keep getting indefinitely deferred.
It wouldn't surprise me in the slightest if "Operation Indy Commute" was never anything more than a smoke screen for canceling a project INDOT ran out of money on. I think there's a pretty good chance you can color this one dead. The local media should be asking themselves if they got snookered on this one.