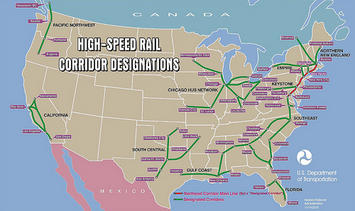 My latest blog post, and one sure to make some people unhappy, is up over at New Geography and is called "Let's Face It, High Speed Rail Is Dead." In it, I argue that a mix of a fiscal crisis, Republican takeovers in the US House and in state houses, a poorly executed HSR program at the federal level (such as frittering away the HSR stimulus and not addressing regulatory hurdles), and unseriousness by most advocates has basically doomed the HSR project. A serious rethink is required.
Some have pointed to a bit of already in the pipeline money such as that which is earmarked for a short Central Valley segment in California as proof that HSR isn't dead. But as in flight funds drain out of the system, it doesn't seem likely any significant amounts will be forthcoming. Hopefully at least the Northeast Corridor investments will proceed in some way.
This isn't to say that there isn't potential value in high speed rail. It's clearly needed in the Northeast Corridor for example, and perhaps some other places. (A lot of the proposals are outright boondoggles, however). But I don't see how any major national system like the one envisioned in the map above gets off the ground any time soon.