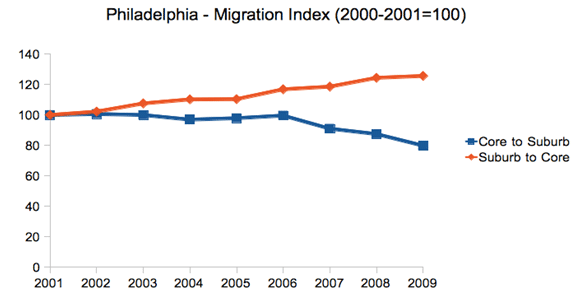 Update: The NYT just ran an interesting story called "In Shift, More People Move In to New York Than Out" that provides further info on this trend using recent Census data.
My latest post is online over at New Geography. It is called "Back to the City?" and examines the question of whether in fact there has been a movement back to the city. Census figures suggest that while many downtowns flourished, albeit often showing large percentage gains on a small base, cities generally underperformed in the 2000s vs. the 1990s.
In this piece I look at intra-metro migration to measure people moving from the city to the suburbs and vice versa. Because data is only available at the county level, I selected four cities where counties offered a good proxy for the urban core: New York, Philadelphia, San Francisco, and Washington, DC.
As you can see from the chart above, there has been a shift in trends in the 2000s, with out-migration falling off late in the decade, while in-migration remained steady or even increased. The most striking trend was in Philadelphia, as shown above. That chart shows the migration values plotted as a index to render them in the same scale. There is still a net out-migration to the suburbs, but the gap has narrowed in these places. Here we see that on the chart with raw numbers: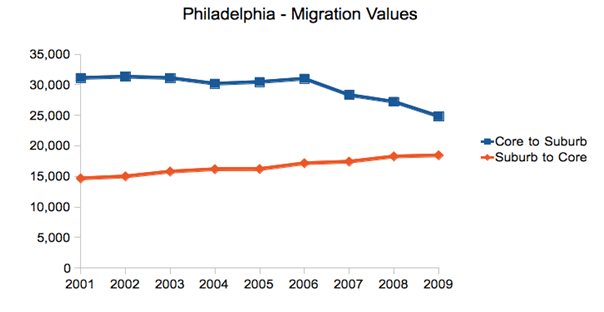 Obviously with the late decade featuring a steep recession and housing bust, migration has been affected. It remains to be seen what will happen in the future. But these numbers do clearly show improvements for core cities in the underlying migration trends.