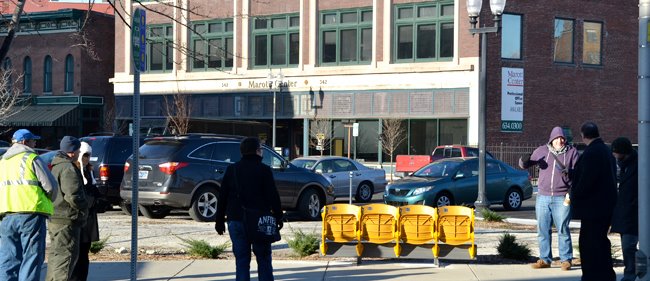 [ You may remember an older post of mine about how an independent urbanist group in Indianapolis called People for Urban Progress undertook a super-cool recycling operation for the roof the of the now demolished Hoosier Dome. Well, they've done it again. PUP has partnered with Indianapolis Fabrications and Ecolaborative to re-purpose the seating from the now closed Bush Stadium minor league ballpark for bus stop seating and other purposes. This might seem inferior for places that have honest to goodness bus shelters. But in Indianapolis there is very little in the way of furnishings at bus stops, so this is an upgrade. Kevin Kaster of Urban Indy provides this update. If you are interested in seeing more pictures and learning more about what PUP is up to, check out their Facebook page – Aaron. ]
The first Bush Stadium seats have been installed at the corner of Alabama and Vermont Streets. The official unveiling was took place at 10:00, and I was fortunate enough to be invited to attend the event. I chatted with Michael and Jessica Bricker from People for Urban Progress, as well as Bryan Luellen, Annette Darrow, Jessica Mitchell', and Samantha Cross from IndyGo in the hopes of finding out some more information about the project.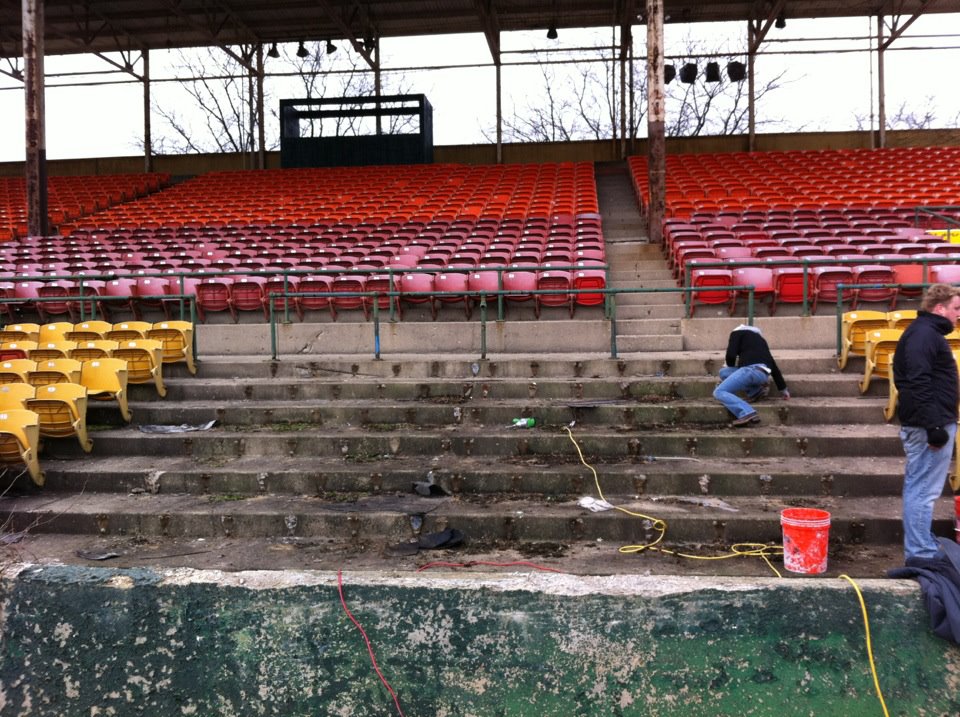 Urban Indy: How did this opportunity happen?
Michael Bricker: Ryan Fitzpatrick and his brother Kevin (from organization called Ecolaborative) were working with the Bush Stadium reuse people and came up to us with the idea for salvaging the seats. We also had an intern named Ryan Gallagher, whose college thesis was based on increasing bus ridership, and he believed that increasing amenities would help towards that goal. Basically, our organization was the facilitator that brought these two ideas together.
UI: Which bus stops are next in line?
MB: College and Alabama is the pilot. There are 4 other bus stops proposed. They will be at 10th and College, 86th and the Monon, Broad Ripple and Carrollton, and Fall Creek and Meridian. After that, other organizations can sponsor their own bus stops through the PUP Stop program.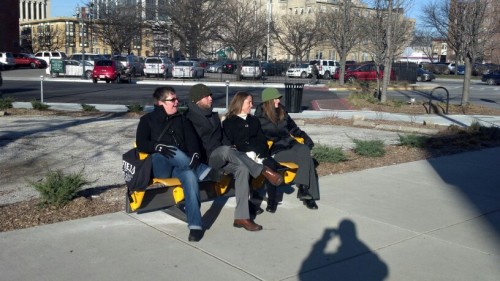 UI: Is there funding in place for maintenance?
Bryan Luellen: IndyGo will maintain them. It is possible that they might become part of the adopt-a-stop program. But the seats are pretty sturdy, and they are designed to be outside, so they will not need much maintenance.
UI: Has anyone else done this?
MB: Not that we know of. Other stadium seats may be in the private domain, but these are the first to be re-purposed for public use that we know of.
UI: How did you get the city to buy off on the project?
MB: It was pretty easy, actually. We worked with Develop Indy and the developer of the Stadium. Develop Indy helped us quickly secure access to the stadium and the seats. We have to get them out of the stadium by March 2nd.
BL: Also, IndyGo pursued a license from the city to place the bench in a public Right-of-Way.
Indianapolis Transit Expansion Proposal
This week Indianapolis business leaders also unveiled a $1.3B proposal for a major transit expansion, including doubling the footprint of the local bus system and building a commuter rail line. This faces many hurdles in getting through the state legislature and then a referendum. We'll see if this fares any better than most transit proposals in similar sized Midwestern cities, most of which have failed. Urban Indy has the story. Here's a map of the proposed system:
Thanks so much to Kevin Kastner and Urban Indy for this contribution.