Subscribe/Feeds
Posts By Topic
Thursday, March 1st, 2012
My latest blog post is online over at New Geography. It's called "Commuting in New York City, 2000-2010." In it, I examine some of the trends in commuting over the last decade in New York, discovering that transit use and commute mode share rose strongly, while commute times (including the percentage of people with ultra-long 90+ minute commutes) declined. I'm not sure we can draw a direct causal link between the two, but the trends are encouraging generally. I would expect future ridership gains to be constrained by the overcrowded state of much of the system and the high cost and extreme difficulty of adding mainline capacity. Some of the current mega-projects may help though, albeit at ruinous prices.
Here's a look at transit commute mode share:
Here's a look at the percentage of commutes that are 90 minutes or longer:
There's a lot more charts in article, include a look at mode share for biking and walking, vehicle ownership, etc. So check it out.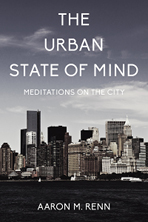 The Urban State of Mind: Meditations on the City is the first Urbanophile e-book, featuring provocative essays on the key issues facing our cities, including innovation, talent attraction and brain drain, global soft power, sustainability, economic development, and localism. Included are 28 carefully curated essays out of nearly 1,200 posts in the first seven years of the Urbanophile, plus 9 original pieces. It's great for anyone who cares about our cities.
Telestrian Data Terminal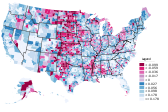 A production of the Urbanophile, Telestrian is the fastest, easiest, and best way to access public data about cities and regions, with totally unique features like the ability to create thematic maps with no technical knowledge and easy to use place to place migration data. It's a great way to support the Urbanophile, but more importantly it can save you tons of time and deliver huge value and capabilities to you and your organization.
About the Urbanophile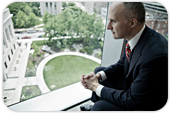 Aaron M. Renn is an opinion-leading urban analyst, consultant, speaker, and writer on a mission to help America's cities thrive and find sustainable success in the 21st century.
Contact
Please email before connecting with me on LinkedIn if we don't already know each other.
World Blogroll
Non-English Blogroll