Wednesday, May 9th, 2012
For my email subscribers who missed this update, the OECD report on Chicago actually now is available online. Thanks to Jim Russell for pointing this out.
Livehoods
Researchers at Carnegie Mellon University have developed a new way of looking at neighborhood definitions they call livehoods that determines de facto neighborhoods using an algorithm that looks at Foursquare checkins. It's pretty cool, especially as the maps they generate are interactive. Here's a static shot of San Francisco though to show you want they look like: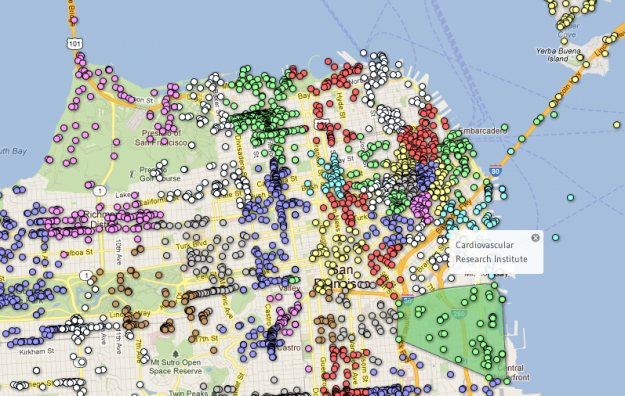 Maps are currently available for San Francisco, New York, and (of course), Pittsburgh, with more to come.
I found this via the excellent Flowing Data blog that I'd encourage any data visualization geeks to check out.
Think, Act, Impact Indianapolis
Another interesting infographic comes to us from the folks at People for Urban Progress. They put together an infographic showing how things get done in Indianapolis city government. If the zoomable image embedded below doesn't display, click here to check it out on PUP's site.

-->