Friday, July 6th, 2012
In a post on Cincinnati called "A Midwest Conundrum" I noted the apparent disconnect between a place that has probably the best collection of assets of any city/region its size in America, and the long term stagnation the region has experienced.
What's caused that? The reasons are complex, but something that I've long noticed is that Cincinnati is one of the most socially fragmented cities I've seen, and among other things has one of the worst city-suburb divides in America. I've rarely seen a place where suburbanites so openly brag about how they never come into the city like they do in Cincinnati.
We see this "Cincinnati vs. Cincinnati" dynamic playing out in the debate over a new $95 million streetcar system downtown. Transit proposals always sharply divide people along philosophical fault lines and are very controversial. And honestly, I'm not 100% sold on the Cincinnati streetcar itself. Nevertheless, the city government decided to move forward with it using a mixture of local, state, and federal money. The state approved its share under the previous administration. The feds had likewise approved a large grant.
Opponents of the streetcar have done everything possible to derail it. A local organization called COAST – Citizens Opposed to Additional Spending and Taxes – took the lead. They brought a long string of successes in using ballot initiatives to defeat various things they didn't like. They tried twice with the streetcar. The first time was a charter amendment that would prohibit the city from spending any money on streetcars. After that overly broad amendment failed, a second initiative narrowly focused on the streetcar also failed.
The benefit of this for streetcar supporters is that the project had now passed the test of clear democratic legitimacy. Put directly to the voters of the city of Cincinnati – twice – they endorsed it both times.
Democracy, however, is apparently not good enough for some people, particularly of the Tea Party Republican variety. In a curious move, US Rep. Steve Chabot inserted language into the House version of the transportation re-authorization bill that would prohibit any federal funds from being spent on any fixed guideway system. His target was the streetcar. This was not something done in the dead of night, but rather something he openly bragged about on his web site:
Rep. Steve Chabot (R-OH) authored an amendment to prohibit any federal transportation dollars from being used for the Cincinnati streetcar project….The amendment itself is only 25 words and would stop in its tracks the federal grant money sought by the city of Cincinnati for the streetcar project. The primary funding for this project came in the form of an Urban Circulator Grant from the U.S. Department of Transportation for $25 million. Then, earlier this year, city of Cincinnati officials were on Capitol Hill seeking even more federal assistance.
As we'll see in a moment, Steve Chabot is actually the representative for downtown Cincinnati. This is a curious reversal. Where in the past Congressmen would do everything possible to secure earmarks to bring home the bacon for their district, Chabot has decided instead to produce an "anti-earmark," preventing the federal government from spending money in his district. What a novel concept.
Chabot claims his move is about priorities, saying that highway projects like the Brent Spence Bridge are more important. It's interesting that even noted transit skeptic Wendell Cox has suggested that Cincinnati is over-freewayed, reporting that "Few American urban areas have better transport infrastructure and fewer still have as much potential for expansion. And few urban areas of 1.5 million have so many miles of 8-lane freeway. Except for part of the Ronald Reagan Cross County Highway and portions of the I-275 ring, virtually all freeway that is not eight lanes is six lanes." Regardless, Chabot clearly knows that cancelling the streetcar won't have any impact on any highway project in the region.
Chabot has hardly been the only political enemy of the streetcar who is nominally supposed to be representing the interests of Cincinnati. Republican Gov. John Kasich, after taking office last year, rewrote the state's transport funding list and deleted all the funding the state was going to commit to the streetcar. Not satisfied with that, Kasich then had a provision inserted into the state budget by State Rep. Shannon Faulkner Jones (from far north suburban Cincinnati) that would prohibit the state from even administering federal grants on behalf of the Cincinnati streetcar system. (I'm not certain if this provision was adopted in the final budget).
Here we have three conservative Republican officials, the governor, a suburban state legislator, and the actual US representative for downtown Cincinnati, all attempting to kill this one streetcar project, one that passed two local votes and that is not even expensive compared to most other rail transit projects around the nation on a total price tag basis.
I hope this explodes the notion that the Republican party has any true interest in decentralizing government power. They love to rant and rave about Washington and states rights, but as I've noted before, when they run state governments, they gleefully set about micro-managing local governments. In fact, I'd even go so far as to say that dis-empowering local governments, particularly big city governments they see as likely to be forever Democrat controlled, is a core political objective of the Republican Party. The fact that they are happy to run roughshod over the voters of Cincinnati to do so shows how little these Republicans at least respect local democracy. (Not that the Democrats are any better. They'll happily cheer any one of their policies getting mandated by the Supreme Court if they can get it. But the Republicans like to pretend that they care about democracy and liberty more. In reality, both parties have agendas that they view as self-evidently correct and which should be imposed regardless of what the people think).
In any event, this sort of in-fighting is a classic example of why it is so difficult to do almost anything in Cincinnati and why it struggles so badly demographically and economically. The culture is broken. I was in downtown Cincinnati recently and it is really doing great, but with things like this it's hard to get too excited about the city and region's prospects. It's not that I suggest a streetcar is critical to the future – as I said, I'm not even sure it's a slam dunk project myself – but that the streetcar shows what you have to do through to get almost anything done there.
I'd like to end this with a map that shows part of what is going re:Chabot. It's map of his newly gerrymandered district: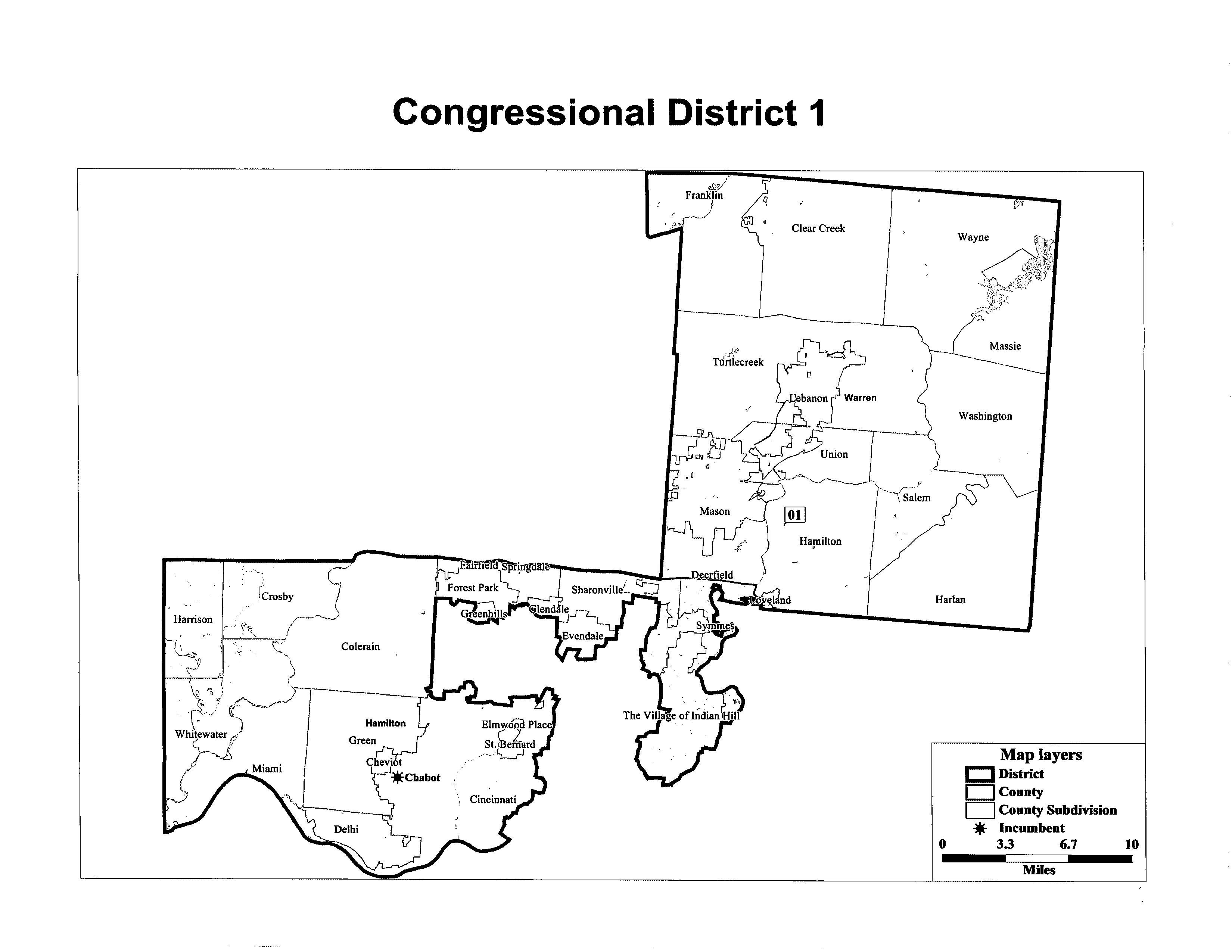 As you can see, his district takes in downtown and the west side of the city, then snakes around to include heavily Republican Warren County. I haven't studied congressional maps that closely, but from what I've seen, generally cities tend to get to put into one district. This both helps create minority districts, but also keeps the city together as a community of interest. Especially in a place like Cincinnati, the people downtown and those in Warren County, while they should view themselves as sharing a region in common, often express outright hostility to each other. They certainly have very different outlooks and concerns. If the map was drawn to favor affluent suburban Republicans, then its effect is really to try to neutralize the voters of much of the city of Cincinnati. Maybe good electoral politics for Washington purposes, but bad policy in terms of making local regions thrive.
Contrast Cincinnati with the 7th Congressional district in Indianapolis.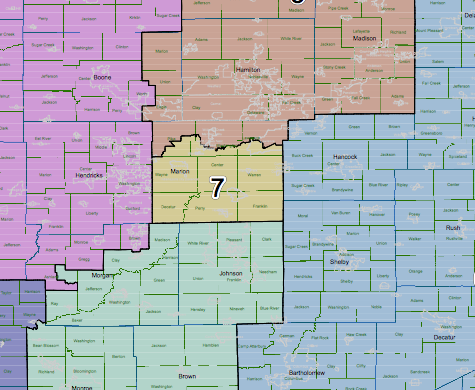 That district outlines the city-county boundary except on the north, because the city is too big to fit into one district. Note that the affluent northern tier of the city is included with a Warren County analog to the north where it has a lot of commonalities.

In any event, when your own US and state representatives are trying to actively undermine the policy of the city government – regardless of policy or party – that's a recipe for regional trouble. A house divided against itself cannot stand. Alas, that seems to describe Cincinnati all too well.

-->