Friday, July 13th, 2012
Let's see. California's cities are going bankrupt. The state's finances are a shambles. Everything from safety net services to state universities has been experiencing cutbacks. K-12 education is about to get whacked with major cuts unless voters approve a large tax increase. Your jobless rate remains high. What do you do?
If your answer was, "Borrow $2.6 billion we don't have, towards a total cost of $68-100 billion, to build a segment of high speed rail between San Francisco and Los Angeles that connects neither SF nor LA," we have a winner.
Unsurprisingly, the polls show the public (which voted to authorize the bonding a couple years ago when they were told the price tag would be much lower) have taken a strong turn against the project.
I once asked whether there was any highway boondoggle big enough that even the most fiscally conservative governor would reconsider it. Sadly, I haven't found one yet. But likewise, there doesn't seem to be any project anywhere with the label "high speed rail" attached that mainstream HSR advocates won't support, no matter how dumb it is.
I explore this a bit in a piece I'll admit writing while annoyed called, "High Speed Rail Advocates Discredit Their Cause – Again." I hope you'll check it out.
I don't think we need a nationwide network of high speed trains, though they are appropriate for some places. I do believe we need genuine high speed rail, not the Amtrak on steroids solutions that have been pushed in most place. The Northeast Corridor is the logical place to start.
But the way high speed rail has been handled by its major supporters, ranging from the Obama administration frittering away $8 billion to mainstream supporters who seemingly have no concern about cost effectiveness or practicalities (or even if we are really talking high speed rail or not), high speed rail doesn't need any enemies. Its friends are doing quite enough work to make Americans turn against HSR on their own.
Telestrian Data Terminal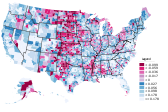 A production of the Urbanophile, Telestrian is the fastest, easiest, and best way to access public data about cities and regions, with totally unique features like the ability to create thematic maps with no technical knowledge and easy to use place to place migration data. It's a great way to support the Urbanophile, but more importantly it can save you tons of time and deliver huge value and capabilities to you and your organization.
About the Urbanophile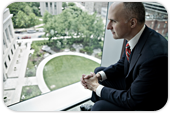 Aaron M. Renn is an opinion-leading urban analyst, consultant, speaker, and writer on a mission to help America's cities thrive and find sustainable success in the 21st century.
Contact
Please email before connecting with me on LinkedIn if we don't already know each other.
Twitter Feed
World Blogroll
Non-English Blogroll