Thursday, September 13th, 2012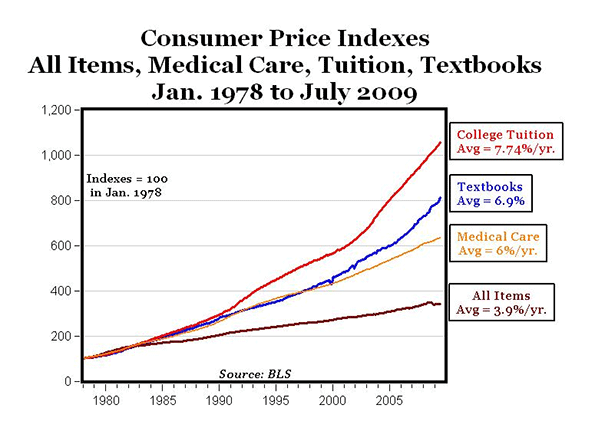 Inflation: Overall, medical care, tuition, textbooks. Via Carpe Diem. Think this can go on forever?
If you live in a city, then you probably live in a city that has "eds and meds" as a core part of its economic development strategy. Likely a very big part. Which is perhaps understandable, given how those sectors have continued to grow year after year regardless of what the rest of the economy did.
Yet if you look at it at the macro level, it's clear that we're likely reaching the end of the great growth phase for eds and meds. I'm not saying these sectors will crash and burn, but I can't see how every city and state in the country could achieve its growth objectives in these sectors – not without bankrupting the country and its next generation at least.
I explore this topic in more detail over at New Geography in a piece called "The End of the Road for Eds and Meds." It's been getting quite a bit of coverage already, and I hope you'll join in.
The vast bulk of cities are likely to be disappointed in their long term eds and meds growth. I strongly advocate cities to look at other sectors where they can grow and thrive unless you think you've got something very special going, as with Boston and biotech.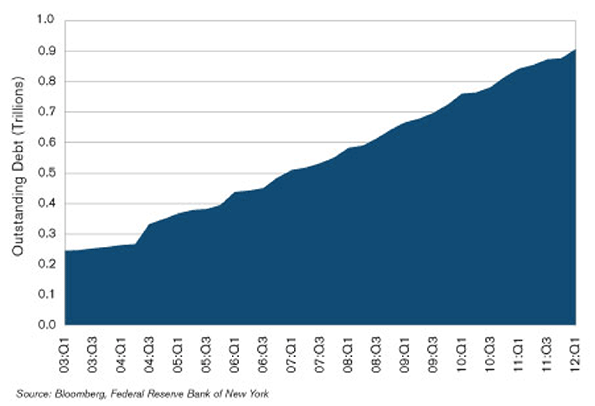 Total student loan debt outstanding. Via Bloomberg. Think we can keep piling more debt on the backs of students?

-->