[ Robert Munson is a long time Urbanophile reader who has long been developing his own ideas about how Chicago should be conceptualizing its future. In the wake of my State of Chicago series, he wrote this up and sent it to me. I'll be rolling this out over the next five weeks. I hope you enjoy this first installment – Aaron. ]
Chicagoism: Are we developing "The Third Way" for the sustainable century?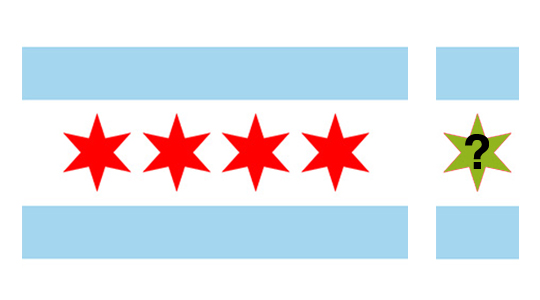 Each of the four stars in Chicago's flag represents a pivotal event in the City's development. This series argues that the decisions we make during the next few years could entitle us to a fifth star.
What Is Chicagoism?
The Economist magazine in 2011 ran a story titled "Londonism and Its Adherents." A key point argued that the city's unique combination of best policies from both the left and conservatives was arriving at a new synthesis. Then before the 2012 Olympics, the magazine ran a major report about what made London so successful in the global economy… and how it risked slipping based on decisions that must be made in the near future.
The magazine also published a major report in 2006 about Chicago's success story relative to the Rust Belt. To define better the elements needed for a new synthesis for American cities, this series in The Urbanophile now suggests how Chicago similarly is updating its policy set, Chicagoism if you will, that will help it prosper in the sustainable economy.
Chicagoism is two concepts. First, there is our historic ambition to be the nation's commercial and transportation center. This ambition only will be a 21st Century reality if we vastly improve our infrastructure and supporting public services while achieving fiscal sustainability.
Second, today's update of Chicagoism serves as an urban "Third Way"; a new synthesis to help governments discard their dysfunction so each metropolis can solve its challenges.
The Big Picture Looks Bad and Requires Big Solutions.
Acutely true in Illinois, today's surge of 'de facto' fiscal failures result, mostly, from an inability to perform local public services economically. This chronic fiscal condition prevents us from investing in the infrastructure needed to compete in the 21st Century.
This series targets the following three core obstacles to overcome and proposes their respective Big Solutions.
First, many local governments are approaching insolvency far faster than their ability to respond. Due to lateness of the fiscal hour, their collective Big Solution requires an initial — and, then, radical — reinvention of how services are delivered, often on a regional and sub-regional basis.
Second, taxpayers essentially have gone on strike against new taxes; rightfully viewing increases as "throwing good money after bad." Before taxpayers will open their wallets to the degree required to restore solvency and invest in the future, there must be a new deal in which new tax dollars are protected by accountability reforms.
Third, Illinois law restricts innovation and local and regional initiatives to solve problems. Therefore, government's powers — particularly taxing — must be realigned.
In brief, this series proposes updating Chicagoism for the sustainable century with a Third Way that reinvents services, protects a new social contract with greater accountability to taxpayers, and realigns government's powers regionally.
This series uses a simple problem-solving process: analyze our strengths and weaknesses, synthesize a complete vision for sustainability and, within that context, experiment with solutions. This series does this in five parts.
1) The 20th Century: What We Did Right… and What Needed Work (today).
2) Daley's 2nd Decade Begins The Transition To Sustainability… and What Still Needs Work.
3) Progress And Perils In Rahm's First Two Years: Reinventing Services; Expanding Accountability
4) How Chicagoism Works Again: Shape the Transportation-Commerce Synergy; Give Hope to Fiscal Sustainability.
5) Conclusions For Now: A Review of Chicagoism Series; The Flag's Fifth Star; Next Steps To Meld A Sustainable Chicagoism and (most important) … What "Third Way" Works For Your City?
Let me stress that this series will not produce specific programs for change. Rather, it will analyze the conditions that make a new Chicagoism possible and imperative. We also will suggest the key elements of a new social contract for local and regional governance in the emerging era.
A Note on "The Third Way" and Our Times
When ideological warfare made 20th Century politics ineffective, someone would offer a new synthesis; often calling it a "Third Way." The most recent notable Third Way expounders were Bill Clinton and Tony Blair, who both re-synthesized their nation's politics with some success. This effort was echoed in President Obama's 2009 Inaugural Address suggesting the debate "is not about bigger or smaller government, but better government."
But, reality can be unkind. Recall the 2012 national campaign in which some 80% of its advertising was negative; pounding on old dogmas and, like a formula, producing yet another divided government. We do not seem destined for an immediate national synthesis.
But, why wait? To avoid further lost time, this series proposes prototyping a local path to remake services and their social contract. Besides, what choice have we? Illinois is essentially insolvent and the federal government has largely abandoned its funding for urban updates.
Since Chicago's current mayor previously served as Chief of Staff for both Presidents Clinton and Obama, Mayor Emanuel is likely to adjust governance that can serve as an example for all metropolitan areas. While every metropolis will have to develop its specific ways, this five part series suggests a way consistent with our history.
Part One: Lessons From The 20th Century: What We Did Right and What Needed Work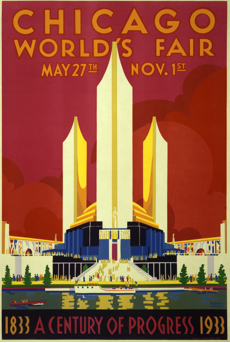 The Past As 21st Century Prologue
Boasting the fourth star of Chicago's flag, the 1933 Chicago World's Fair broadcast the positive — and almost improbable — message that we could break the stranglehold of the Great Depression. Sketching a new American Dream with such exhibits as "Dream Cars" and "Homes Of Tomorrow," the Fair was a genesis showplace for capitalism's consumer economy that emerged in the 1950s. This Fair was extended from six months to twelve and turned a profit with essentially no subsidy. Its success and effect has not had an American rival since.
Not coincidentally in 1933, Roosevelt coined "The New Deal;" packaging the emerging welfare state as the political component that would stabilize the consumer economy through capitalism's inherent volatility. Largely, the dynamic collaboration of this consumer Fair and the political New Deal played out its logic until the 1980s when the deal entered a two decade adjustment period… not unlike Chicago and the Rust Belt.
This section of the "Chicagoism" series helps us understand why that logic worked so well and gives us strategic clues for the synthesis suitable to the Sustainable Century for Chicago and, we hope, your city, too.
Chicago's Twentieth Century Formula For Commercial Leadership
Chicagoan's entrepreneurial zeal added value better than most Midwestern cities. Having more vibrant businesses here also helped make and keep Chicago as the continent's transportation center. Adapting through the century, Chicago's entrepreneurs diversified its economy largely because its transportation networks could deliver a cost advantage. Chicago's 19th century role as broker of raw resources from the continent's interior helped Chicago become the nation's center for 20th Century heavy manufacturing. Because of Chicagoans' knack for jumping at opportunity, our entrepreneurs made consumer products and giant retailing operations followed.
Chicago's entrepreneurs finished the century on the high-end of the service economy as the center of consulting services for the Midwest and, arguable, the nation. This synergy between enterprise and transportation helped Chicago become a global center while other Midwest cities struggled with their Rust Belt status.
Two Things Needed Work
However, all was not perfect. Two problems in particular grew acute and require resolution.
1. Misalignment of authority. The Illinois Constitution and many subsequent laws are biased against Chicago. While this countered Chicago's power, it led to a city-suburb struggle for which the suburbs got the upper hand by the 1970s. This distraction resulted in Chicagoland's urban engine needing a major tune-up — and the suburbs needing an overhaul — if the region is to compete in the modern economy.
Chiefly, the complete delegation of land use decisions to 244 municipalities helped hollow out the region's urban economic engine and permitted an inchoate sprawl of single family homes and businesses that created an infrastructure that, now, is too expensive and ineffective for municipalities and households to maintain.
The other chief imbalance is that Illinois radically restricts innovations in how the metropolis taxes and, hence, governs itself.
2. Corruption. While Chicago's corruption worked into the popular mind, citizens forgave many indiscretions because Chicago was "The City That Works." However, the same end-results and public forgiveness do not apply to Illinois. Its true cost of corruption ultimately resulted in a general inability to update state laws, programs and taxes for a changing economy. Often symbolized by four recent governors who went to jail and the near-dictatorial rule by the same Speaker of the Assembly for almost three decades, these true costs became a pattern that made Illinois insolvent and an ugly albatross around our metropolitan neck.
A Daley returned to power in the last decade of the Century and led the revitalization of the city his family loved and made amends for his father's shortcomings. But this redemptive story gets richer in the first decade of the 21st Century. The son pioneered a new regimen that some observers are starting to call sustainable urbanism as we shall see in the next posting.
Chicagoism Series Index
Part 1: Lessons from the 20th Century (this post)
Part 2: Starting the Transition to Sustainability
Part 3: Reinventing Services, Starting Accountability Reforms
Part 4: How Chicagoism Works Again
Part 5: Where Do We Go From Here?
Robert Munson sharpened his interest in regional planning while serving on the Citizens Advisory Committee for the metropolitan plan released in 2010. Out of that experience, he started the website CCC or Chicagoland Citizens Central where you can find his profile. Readers can contact him directly at robertmunson@earthlink.net.