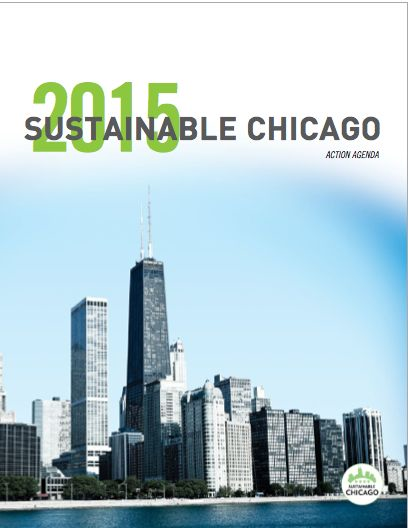 The October 2012 publication of "Sustainable Chicago 2015" shows how much Chicago has changed under new management. In the Land of Clout (fairly or unfairly reputed), sustainable opportunity became the new operative.
Daley did his job well as Chicago's booster-in-chief to global corporations. However at the other end of the spectrum, he knew his emphasis on "green" technology was being integrated too slowly to grow the enterprises of the new economy. Amidst all Daley's enormous energy, Chicago still seemed to lack a clear strategy. I'd argue this let diversions creep in and contributed lots to Chicago's reduced economic growth as revealed in the 2010 Census.
In the above 40 page booklet, Rahm clarifies this strategy by elevating economic sustainability to serve as policy partner to the environment. This Action Agenda has reasonably specific goals and synthesizes into a coherent whole many innovations of the Daley administration and those Rahm started to implement or propose.
The result: this Agenda paints The Big Picture and positions "Chicago as a hub for the growing sustainable economy." With one key phrase, everyone gets it.
Rahm merges what Daley probably wanted to merge, but couldn't given the distractions of fiscal fires and his Olympic quest. Rahm better seems to be persuading firms to expand offices here because he offers a more integrated vision. Pioneering a key part of the Chicagoism update, Rahm has prioritized finding the synergy in environmental and economic sustainability.
This concept's rubber meets the road (or rails) in Rahm's reshaping Chicago's transportation-commerce nexus for the 21st Century. "2015" outlines several innovations, but gets back to basics by emphasizing upgrades for Chicago's systems to move people and freight. Four of the 24 goals in the "Action Agenda" enhance mobility directly and a few more goals do so indirectly. This is key to serving as the Midwest's commercial center and portal to the global economy.
To continue earning that role requires helping make products and services more sustainably. For that, Chicagoans must rekindle their entrepreneurial zeal and retool its consulting industry.
As a telling example of our post-Daley progress, recall the critique in this series' second post: ten years of the Chicago Center for Green Technology had not developed traction that created jobs. So in July 2012, the City hired startup business consultants as part of CCGT's new management team. Judging from CCGT's December "Sustainability News", the change is working well. This issue packages into the CCGT seven transit and energy innovations; including Chicago's latest ambition to become a center to manufacture electric vehicles. Tell me if you know, does the City of Detroit have that platform to solve its job problems ?
Yet, the real debate in Chicago's economic strategy is between specializing and staying diverse. I think the transition to sustainability can transcend this argument.
On the side of specificity creating value-added profits, an Urbanophile post argues how Chicago needs a calling card industry. Without this specialized high-profit edge, Chicago's role in a global economy has fewer competitive rewards.
On the other side and describing a traditionally diverse economy, World Business Chicago's "Plan For Economic Growth" has lots of something for everyone; offering ten strategies. To me, the document lacks strategic focus; reflecting Chicago's economic diversity and its role in serving as transportation and commercial center … but minimizes our strength as an entrepreneurial problem-solver.
This dilemma of balancing higher-profit specification with diversity starts to get resolved in the "Action Agenda." Of its twenty-four goals, ten add to economic opportunity and several more do so less directly. Not in the "Agenda" but serving as a more specific and transcendent resolution, consider converting Chicago's 1990s role as the consultancy center that helped corporate America into the information economy and, now, re-tool those services to help corporations with the environment better. Largely, this point was made by the Urbanophile 30 months ago.
What About That Budget?
The second panel I see in Rahm's Big Picture gives us hope: the Emanuel Administration has turned around a largely insolvent City (one that cannot pay its bills) and improved its chances of avoiding bankruptcy.
Since the City's fiscal abyss was finally becoming public knowledge, Rahm's January 2011 campaign promise of fiscal sustainability had its skeptics … including the author of this series. But the clearest bottom-line progress came with the September 2012 announcement (and fanfare) that the projected 2013 budget deficit would be 20% less than expected and the smallest since 2008. This was followed with a new budget that crowed about no new taxes or fees. (While "no new taxes" acknowledges the 'de facto' tax strike among even one of the nation's most liberal citizenry, the "no new fees" is a promise to be watched before it can be believed.)
However, this fiscal progress should not conceal how the last penetrating recession exposed fatal flaws in most municipal budgets everywhere. The Daley Administration responded initially by treating a surface wound; by applying band aids, such as the sale of assets (as in parking meters.)
The Emanuel Administration has a more correct analysis; allowing for a more productive strategy. Yet, they have not gone public with a full prognoses: that the organs of government have been badly infected with unsustainable obligations and we need to rework radically those services and how they are paid for.
While some politicians and civic leaders have taken the easy route and pointed at pension obligations, the bigger truth should not be lost: facing chronic deficits, local government must actively develop alternatives to serve the public's will and maximize tax dollars.
Even though Rahm reduces Daley's deficit by more than 50%, he doesn't solve the problem; he just sews up the hemorrhage. The slower bleeding from deficits still continues. This combines with the psychological pain of agencies failing to do better with less. Worse, another recession with a gridlocked federal government and its chronic fiscal cliff could re-open the hemorrhage and accelerate our day of reckoning.
Rahm's partial progress toward fiscal balance is only a prerequisite to future growth. We also need to find the new investment that is required for us to compete. In this long, hard road back to health, fiscal sustainability's middle steps must overcome these three forces: first, key costs are mostly contractual; second, bureaucracies resist improvements; third, policy remains corrupted. Let's take a quick look at each force in order to reckon with it.
1. Controlling personnel costs requires near-constant focus. Since 78% of the City's budget is personnel costs and most are contractual, the Emanuel Administration has an insufficient chance to convert a string of seven years of red ink into a surplus. To improve their chances (and ours), there are two options. First, they drastically cuts services and risks quickly becoming unpopular. Or second, labor contracts will need to be routinely renegotiated to facilitate the reinvention of services.
Without contract flexibility, the older and more bureaucratic services (which also are more likely to have expensive contracts) are more difficult to update. Suspecting that they are backing proven losers, taxpayers resist.
Worse… with personnel costs still voraciously eating the future at almost the same rate as Daley's last years, there is no money to invest in the infrastructure required to compete.
2) Reinvention of services has a limited track record of producing fiscal savings required to avoid bankruptcy. To start that reinvention, Rahm early on told public employees that "competition" would be the operating principle for public services. Words like these seemed to improve City employees' quality of work. But such talk also put unions on guard. Their tactical push-back seemingly meets most Mayoral moves. When these little resistances get taken to scale, anticipated or touted labor savings shrink to insignificance as tools to change century-long habits of spending more, yet getting less value for citizens.
Limits became obvious to me when teachers struck for a week last September, largely to minimize the discipline of poor teachers. Worse, teachers got a contract in which taxpayers will pay a premium to raise Chicago's classroom hours closer to those of other large systems.
My question is: what caused Rahm's lieutenants to take this bad deal? And specifically, did too many parents make the short-term complaint about losing their day care system for a week? Wouldn't children be better if a longer strike resulted in teachers meeting real-world performance standards and, thus, reflect those that teachers are supposed to be preparing children for?
Today's labor contract could be viewed as poison from a taxpayers' standpoint. Over half the property tax goes to schools and is nearly their exclusive revenue source. Yet, this tax still bears no guarantee to get rid of the bad apples who lower the system's standards. And of course, our fiscal reality is property taxes will have to go up to cover the premium cost of longer-hours which, again, carry no guarantee of improved performance. To boot, those taxes will go up on properties that have just lost 25% of their value.
Caught in this wasteful trap, who can believe that higher taxes will be invested well in our children's education… or, even, our future? With our schools as a primary example, only radical reinvention leads to the belief that money is well spent.
3) Illinois' 20th century corruption hangover went from worse to broke. While citizens and the media wag fingers at politicians for ethical improprieties, none cost as much as the decades-long deal for labor peace. There are multiple true costs; some discussed above. But the big one here is we have had decades of abusing democracy by letting public employee unions deliver campaign reelection funds and workers to legislators. Instead of protecting taxpayers and citizens, legislators have become dependent on public employees for reelection.
This political power gave leverage to employees that yielded generous benefits; often protecting them within the Illinois Constitution. These reelection gifts also bought their way into Illinois' political hierarchy; best represented by the same man ruling the legislature for almost three decades.
This lack of political competition creates corruption and produces today's lose-lose-lose situation: retirees cannot be paid the benefits promised; agencies will have to reduce benefits using disruptive insolvencies; and the resulting dysfunctional agencies inevitably hurt citizens and corporations who depend on public services.
What Is the Way Out of This Fix?
Rahm's tactics worked well enough to get him through his sophomore year and still be popular. Despite his tremendous energy, substantial force of personality and genius at political maneuvers, I'm guessing Rahm has shown us his best stuff.
Look at his rebuilding the commerce-transportation nexus. This is at the heart of Chicagoism's ambition for central status. Rahm put some of his best stuff into The Chicago Infrastructure Trust (CIT). He had to. Facing a broke state and a two decade backlog of fixing what we have, Rahm decided to raise private capital via the CIT. This is America's first municipal experiment of such a Trust. And determined to make this work, Rahm used his best pay-back chips by bringing The Big Dog (President Clinton) to announce CIT over 11 months ago. CIT even got some seed capital from Clinton's Sustainable Initiatives Foundation.
Since then, little of substance has happened. Talk and expectations remain high. They have to. We have paltry alternatives; given taxpayer resistance to fund these vital updates. Today with money scarce, expectations are muted.
The CIT is important for other reasons. The key one is CIT will require lots of public "buffer" capital to do the riskier, but needed, deals. With an expensive two-decade backlog of updates merely to put yesterday's infrastructure into "a state of good repair," taxpayers soon will have to back the riskier side of deals. Getting that public capital is an opportunity to strike a new deal with taxpayers; to give them a contract with the future.
How the CIT — and other initiatives — actually get going in earnest depends on how the above three obstacles start getting resolved in 2013. And that depends largely on Rahm's level of citizen support. Will we tolerate the inconveniences when services get cut and labor peace gets frayed? Is our threshold high enough to tolerate a garbage strike in summer? To cut to the chase: Will those among us who squawk alot restrain ourselves enough for the common good and, instead, at least not squawk too much while better rules are written?
These inconveniences could be a tough test for a citizenry seemingly bred to bellyache.
But the bellyache, while not thoughtful, does indicate we are not getting our money's worth.
So, the core question now becomes: how do we give citizens and taxpayers value?
Instead of Antiquated Labor Contracts, Focus on Future Social Contracts
Harken back to Chicagoism's first installment which started with the 1933 Worlds Fair. This symbolically launched the consumer economy in the same year that Roosevelt coined its political complement, the New Deal.
How the 21st Century crafts a Sustainable Deal depends on the genius of someone like Rahm. For example, the CIT and its need for public capital is Rahm's opportunity to craft prototypes that convert our 'de facto' tax strike into a deal in which we willingly invest in again… because we have to. What is more, investing well is our new civic responsibility.
Despite Rahm's impressive progress in two short years, distrust of higher taxes is the primary obstacle to Chicagoism's update. Distrust breeds from the lack of accountability to taxpayers. Hence as part of their contract to invest in future infrastructure, we should include Reforming accountability measures as key to the deal.
Think of the annotated graphic below as a guide to how Sustainability's 3Rs serve as principles of the tripod that steadies a deal so taxpayers see that their investment in the next generation of infrastructure is money well spent.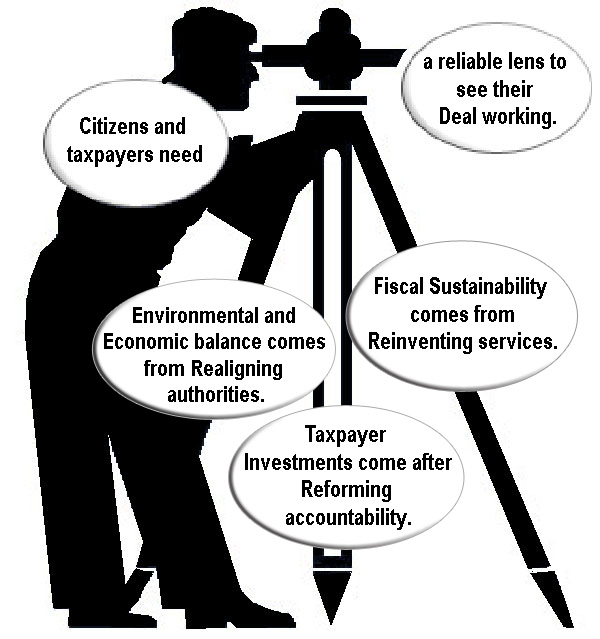 As we define the terms of a sustainable social contract for Chicago (which also can serve as prototype for Chicagoland), we can probe into how a contract serves the common good; that quaint notion that made our nation… and the one that "The Greatest Generation" understood so well that they pulled together great responses to the crises of their times.
To respond well to ours, Americans will need to transcend today's un-civil war between the reds and the blues. I'm not betting that happens soon. In the meantime, we can be a beacon in our little corner around Lake Michigan. In the next and final article, we will review Chicagoism and see how it applies to where you live and to what your fellow citizens need.
Chicagoism Series Index
Part 1: Lessons from the 20th Century
Part 2: Starting the Transition to Sustainability
Part 3: Reinventing Services, Starting Accountability Reforms
Part 4: How Chicagoism Works Again (this post)
Part 5: Where Do We Go From Here?
Robert Munson sharpened his interest in regional planning while serving on the Citizens Advisory Committee for the metropolitan plan released in 2010. Out of that experience, he started the website CCC or Chicagoland Citizens Central where you can find his profile. Readers can contact him directly at robertmunson@earthlink.net.