Friday, February 8th, 2013
My latest blog post is online over at New Geography. It is called "Why Are There So Many Murders in Chicago?" In it I take a look at why Chicago has so many murders compared to other large global cities.
Some commenters already pushed back saying that there are lots of cities with higher murder rates. Perhaps true. But do you really want to say that Chicago's peer group is made up of places like Detroit, Flint and St. Louis? After all, Chicago aspires to be an elite global city, and it is against other elite global cities by which it should be judged. Thus places like New York and LA are the right peer group.
I don't claim to know the exact answers, but I explore some possibilities related to policing, demographics, and housing policy. Whatever the case, Chicago would be well served to do some detailed comparative analysis to figure out what it needs to do differently to stem the murder tide given that there appears to be little progress being made through the current approach. (This January was the deadliest in over a decade, for example).
One item I know I mis-worded. Talking about the NYT piece, my intent was to say that Chicago's gun laws are pretty tough and broadly comparable to NYC and LA, and so you can't blame Chicago's murders on differences in gun policies. That doesn't mean Chicago and America can't do better when it comes to guns, but to blame gun laws is really just blame shifting by people who don't want to take responsibility for what's going on on the streets of Chicago.
Telestrian Data Terminal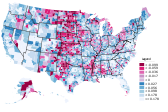 A production of the Urbanophile, Telestrian is the fastest, easiest, and best way to access public data about cities and regions, with totally unique features like the ability to create thematic maps with no technical knowledge and easy to use place to place migration data. It's a great way to support the Urbanophile, but more importantly it can save you tons of time and deliver huge value and capabilities to you and your organization.
About the Urbanophile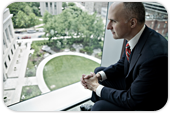 Aaron M. Renn is an opinion-leading urban analyst, consultant, speaker, and writer on a mission to help America's cities thrive and find sustainable success in the 21st century.
Contact
Please email before connecting with me on LinkedIn if we don't already know each other.
Twitter Feed
World Blogroll
Non-English Blogroll