Tuesday, February 12th, 2013
As we prepare to wrap up this series, let's review where we've covered to date.
In the first post, we set the context for Chicago's ambition to serve as the transportation center for the manufacturing and consumer economy; as symbolized by the 1933 World's Fair. Audaciously declaring Chicago's leadership during a deep depression, the economy that emerged had a policy stabilizer, the New Deal, that also was coined in 1933. That political economy peaked in the 1960s, as did Chicago. After Boss Daley died, the ensuing 15 years of political chaos threw Chicago's ego into a tailspin. Then almost miraculously as the largest example of Rust Belt revitalization, Daley's son righted Chicago as businesses and people started returning. Chicagoism — and its spirited ambition — had been revived.
The second post gives Daley credit for rebalancing the city with its suburbs and pioneering policies for "greening" America's cities. But as it turns out, "green" was not good enough for sustainability to grow. A "green" strategy could not balance the environment with economic growth. Equally bad, governments notorious for their corruption also became broke and dysfunctional. Despite revitalizing great swaths of Chicago, Daley suffered the fate of most mayors: he left a fiscal mess. It looks now as if broke governments are suppressing Chicago's economy; possibly explaining its poor performance in the 2010 Census. What is more, it neglected to update the infrastructure that made it made it the Second City.
In the third post…. Attacking key fiscal problems in January 2011, Rahm's campaign introduced the concept of fiscal sustainability. To keep that promise, his administration accelerated the reinvention of those public services that required little capital. Rahm impressed citizens — particularly during his first 100 Days– that their government could move Chicago forward again. Contrary to a century of evidence and folklore, Chicagoans began to think their government could be more accountable.
The after-affect of politicians who promise too much to get elected has been dubbed the sophomore swoon. Rahm beat his with a multi-benefit strategy that gave him enough two-for-one victories that kept his popularity high, despite budget cuts causing detractors. But with the low-hanging fruit largely harvested, Rahm had to break into new territory.
The fourth post analyzes two breakthroughs in September 2012. First was the announcement that Rahm had reduced the current budget deficit to less than any of the previous four years of red ink. For skeptics, fiscal sustainability went from a pipedream to the light at the end of the tunnel.
A day later, the second major innovation helped many more people see the Big Picture. The City published the Action Agenda, Sustainable Chicago 2015. Now, economic growth through new industries would aid environmental balance. Equally important, transporting people and goods became a higher priority than Daley's second decade.
These breakthroughs indicate that Rahm is synthesizing how sustainability works in the political sphere. This is our platform to answer this series' Big Question: Are we positioning to earn the fifth star on Chicago's flag? We explore that next.
How Chicagoism's Sustainable Update Suits the Flag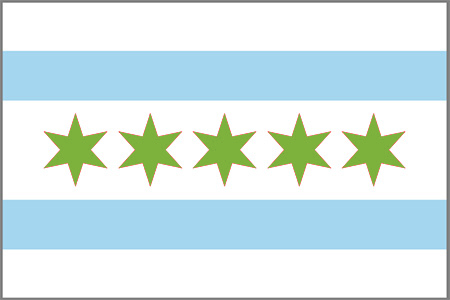 Before I dig into why Chicagoans deserve another star in their flag for rationalizing public services to fit a sustainable economy, you might link to a fun post on "Chicago's City Flag". It gives insight into why this flag is a prominent symbol of more than government and probably feeds Chicagoan's allegiance… and perhaps its windiness, too.
Consider the flag as a history of how Chicagoans sell a somewhat improbable future; but by dint of human will, the improbable somehow gets done.
That first star symbolizes humble beginnings. Fort Dearborn was an outpost on a swamp that Native Americans would not settle; complaining of the smell of onions. Building a transportation center on a swamp is proof positive of Chicagoan's entrepreneurial talents… and perhaps its windiness, too.
The third star was the 1894 Columbian Exposition when Chicago built this fantastic great White City within a dangerous and downright filthy factory town. (And to repeat a known fact, the pitch to The International Exposition Committee earned Chicago its "windy" moniker.) After convincing the world of its noble intent, Chicago was positioned to promote itself as the commercial center of a great continent.
The flag's fourth star represents the 1933 World's Fair that improbably boasted about Progress during the worst depression this nation had seen. For the next four decades, Chicago centered the melding of the nation's manufacturing and consumer economies. Ambition achieved.
Transcending all this improbability, that second star may be today's most useful analogy. It symbolizes Chicago's rebuilding after the Great 1871 Fire. Arguably the western world's greatest urban makeover, Chicago quickly introduced the steel-frame skyscraper, innovated modern building codes and vastly raised property values of what had become a glorified swamp. Three decades later, this fledgling town would hold 500% more people and became the nation's second largest city by the 1901 Census. Many 19th Century cities had fires and rebuilt. None did so with keener intent than Chicago.
Consider why this analogy offers insight today. The 20th Century's great domestic calamity was to hollow out America's cities, usually the locus of metropolitan prosperity. Sufficient research shows cities add value and create profit better than suburbs. Also seemingly unknown to our mistaken mid-century impulse to sprawl, cities are more environmentally sustainable. Merging these two facts into one strategy — to build new industries to improve the environment — should keep Chicago as The Second City for decades to come.
While possibly an exemplar to help other cities retool, the data shows Chicago has slowed to a crawl in today's real estate depression. We have discovered that broken governments are weak problem-solvers; aligned wrong to organize sustainable systems. Structured wrong, governments are ill-prepared to face a triple conflagration of dysfunction, insolvency and taxpayer rebellion.
This triple conflagration has obscured local government's chief obstacle. Politicians incorrectly assume the public is unwilling to rebuild services. Rather, politicians should test this premise: if taxpayers first can hold their government accountable, then they will invest.
Accountability improves the chances for financial protection. Sustainability's multiple benefits provide a reasonable return. Are we up to the task of rebuilding sustainably? Can we get multiple benefits with less?
Ingrained into its DNA, Chicago's ego carried into the Sustainable Century with this telling jousting. Recall that Daley's policy goal to be America's greenest major city was challenged by Mayor Bloomberg echoing similar goals. Daley became uncharacteristically mute. But in a display of hyper-chutzpah, Rahm resumes the ambition to make "Chicago the greenest city;" again using the goals in "Sustainable 2015" as a synthesizing manifesto.
In a big city, those changes get applied many ways. A telling example of Chicago's intent lives in the details of its October 2012 pronouncement that its Complete Streets program produced the "Greenest Street in America." This video shows how the main street of a 19th Century industrial neighborhood and run-down during the 20th Century is, now, being regenerated sustainably; investing public funds to reduce maintenance costs, creating a market for sustainable streetscape products built here and, as a multi-benefit, attracting other commerce to an area that needs it.
Despite all this progress, sustainability's weak link is government. Whether the problem is endless red ink or inadequate services or corruption, few politicians propose the missing part of the mix: we must raise new taxes. Taxpayers rightfully will resist; because they know their government is corrupted and new revenue only compounds that waste.
So what is the cure-all for government's ills? Consider that public financing of campaigns gets at the root cause and should be seriously considered as prerequisite to higher or, certainly, new taxes.
While I clearly am fueled by Chicago's long-winded boosterism, even I admit that fine sentiment about fiscal sustainability, realignment of Illinois' powers and public financing of campaigns will butt heads with entrenched interests who created the mess.
To make sense of this fine sentiment and keep believing in a sustainable update, this fifth star will be Chicagoism's best boast. To put time constraints on what otherwise could be constant improvement, let's work with Rahm's timeframe of achieving a sustainable framework by 2015.
That gives us three years. How do we make the most of this year just started?
Where Are the Pivot Points in 2013?
Rahm's January 2011 campaign promise to achieve fiscal sustainability looks out today on to an incoherent battlefield. Instead, our city needs a unified team to move forward. Frankly, Rahm hasn't had enough help from Chicago's constituent parts.
– Citizens' first impulse on a service cut is to complain, instead of figuring out how to do without or a new combination of doing something ourselves.
– Union officials negotiating labor contracts for the public's employees seem unaware that their employer is going down.
– The private sector, the masters of efficiency, have largely not addressed how to improve services with less; even though their businesses depend on services and infrastructure. And…
– The State of Illinois? Well, don't get me started. I've said an earful about them.
When Chicago's constituent parts are confronted with the enormous changes required to stay solvent, hard feelings could rule. While this anger will not change Rahm's reelection in 2015, his next big move will be to the Senate in 2016. As I view this context, Mayor Emanuel has two goals for 2013.
First Goal: Get Chicago on the path to Fiscal Sustainability. 2013 is a short window to make the toughest cuts and have contract disputes. Most of 2014 will mend fences, Furthermore, we cannot count on the next Mayor having either the force of Daley's power or Rahm's popularity. Or, look at it this way: based on its history, what are Chicago's chances of being run by three successive political geniuses?
Second Goal: Make peace with a new deal. By turning combatants into a constituent parts that work together, new social contracts make peace. Rahm will call it what he wants — whether it is The Sustainable Deal, The Third Way, or an appeal to constituent ambitions like Chicagoism. But all deals serve the same goal: satisfy enough people so they work together for a better future.
Rahm may know the next moves in his campaign for fiscal sustainability. But, we don't. And we are not in the discussion; unless we put ourselves there. So before the 2013 window of opportunity closes, let me suggest three practical next steps or Jobs.
Not surprisingly, each Job correspond to Chicagoism's 3R principles.
Job #1: Sketch The Deal for Infrastructure Updates. Rahm's Chicago Infrastructure Trust will do too little; unless it gets public capital. Since Uncle Sam has retreated and Illinois is broke, Chicago's taxpayers must fill the void to reverse the two decade backlog of maintaining what we have.
So as part of the deal with taxpayers, Rahm needs to propose a new Realignment of taxing authority. Research shows that if taxpayers get a tangible service, they are likely to vote for the increase. Illinois may resist and want their take so they can pay long overdue bills. If so, we got our chance to expose their abuse of their taxing authority and how it is paying past mistakes instead of fixing for the future.
Job #2: When Rahm's current Fiscal Sustainability Plan A does not work, propose Plan B. When Reinventing labor-intensive services doesn't reduce the red ink enough, then Reinventing Radically needs to be proposed. The most likely pressures making obsolete Rahm's Plan A will be the fiscal impact of unpayable retiree benefits. Fair or not, the popular perception is these benefits are making every public service hurt. It is further apparent from the teachers' strike that too little fiscal progress with existing employees can be made under current laws and using contract negotiations.
While a sustainable deal for retiree benefits probably will be settled in the courts, Rahm starts the political side of the renegotiation process — and a "Third Way" — with an aggressive Plan B that is believable enough to get us to Fiscal Sustainability.
Job #3: Propose campaign finance reform. There was a powerful tone-setting symbolism of Rahm's first actions in what I called "The 5 Ethical Executive Orders" and his Task Force on Tax Increment Financing. But, the storyline of a new-sheriff-in-town now needs its second Act.
Part of the deal for public capital could be to elect a subsequent CIT and have the election waged with public funds only used for rational, intelligent debate about how to maximize public investment for the public good. And as a grand coup for taxpayers and citizens alike, Rahm can really boost his popularity by having his successor also elected only by using public funds (certain Supreme Court rulings notwithstanding.)
If Rahm does all this, then we got our deal… and protection for our money's worth.
All three of the above proposals still need work. Since they have already been proposed in different form, try a succinct version and revisit The Urbanophile September 21 roundup for details.
While keen proposals are important, public perception is key. Made cynical by special interests freely buying government favor, citizens and taxpayers will not easily believe in a new deal. So, it had better be one that makes sense using public dollars.
A productive tool to detail the deal in 2013 is to update the recent Action Agenda and entitle it "Sustainable Chicago 2016." As discussed, the 2015 version merged environmental balance and economic growth; essentially proposing a Quality Of Life in the sustainable era.
The 2016 version should merge the following tactics into an updated Fiscal Sustainability. With the easy fixes done, Reinventing services now means sacrifice: deep budget cuts, causing noticeably fewer services and, importantly, new taxes for tangible improvements. These three components solidify the second leg of the tripod.
To make sacrifice politically palatable and strike a lasting social contract, the third leg of the tripod protects the deal: a major Reform of accountability measures… especially campaign finance. As stated, Rahm needs to finish what he started so well with his early ethical Executive Orders.
Rahm has assembled some very smart staff to write a deal's details. But for consistency, City staff are free to borrow that social contract graphic from my fourth article. As part of my civic duty, I'll even volunteer the deal's tripod specific to the above three Jobs for 2013 and their corresponding 3R principles.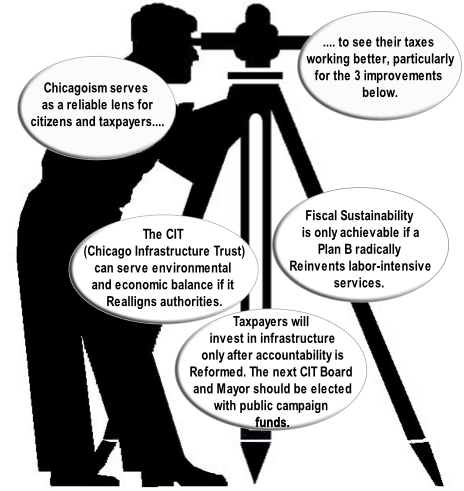 Does Chicagoism's update help other cities find their "Third Way?" This could make a fertile field for some productive arguments in 2013. I've just thrown my gauntlet at your feet.
What Local "Third Way" Works For Your City
As you know, every city is different. Chicago's "Third Way" depends on transporting people and goods more efficiently and, then, using that advantage to create value through new products and services. To build that infrastructure, Chicago also must overcome its greatest weakness: accountability to taxpayers.
But in most cities, that Catch-22 is similar: to get at your city's strategic advantage, you will need better public services. And until citizens trust local government enough to invest in more efficient programs, there is scant chance those services will be sustainable with new taxes.
Here's a quick example of the transition to sustainability from the place "Where the Rust Belt Started." That quotation is a common analysis of Duluth, Minnesota. It also serves as its residents' good-natured and transcendent boast. While visiting family near Duluth on the Thanksgiving just past, I was encouraged by how well Duluth has stabilized. It serves as an inspiration — and cautionary tale — for other small and mid-sized Rust Belt cities.
As background and interesting micro-analogy, Duluth boomed similarly to Chicago. Capitalizing on its proximity to raw resources, Duluth built North America's westernmost inland port that got its start shipping iron ore, coal, grains and lumber (much of it through Chicago.) But sixty years after its status as a turn-of-the-century boomtown, those mines and Duluth entered three decades of struggle; ending the 1980s with a depressing 16% unemployment in the years after U.S. Steel closed its plant.
Today, Duluth has stabilized at 89,000; dropping only 15% from their peak. (Most Rust Belt towns dominated by an industry dropped twice that percentage or more.) Duluth did better by starting with the "eds and meds" strategy that was on the cutting edge of the 1980s. Schools and hospitals became the biggest employers. The new century updated this strategy by developing Duluth as a home to several bio firms and adding diversification. More recently, Duluth utilizes its strengths as a transportation hub that adds value to manufacturing wind generators, increasingly important to a sustainable economy in the sparse, flat places west and north.
And just to prove that the formula works to convert manufacturing messes, Duluth had the moxie to remake itself as a center for year-round tourism, despite its wicked winters.
Another thing Chicago shares with Duluth is leadership in the treacherous terrain to achieve fiscal sustainability. To its credit, Duluth led an early fiscal honesty with taxpayers. In 2002, Duluth investigated the true costs of its generous health benefits for its employees and retirees.
Using this actuarial investigation as its lead, a 2005 article in "The New York Times" described a fiscal epidemic in which these costs would bankrupt Duluth and many other cities. The article further explains how the Duluth study prompted a change in government accounting that hid benefits as an off-balance sheet item and, instead, started telling taxpayers more truth about what they owe employees. These new national reporting standards have resulted, today, in taxpayers finally being able to see the pervasive spread of this fiscal cancer.
After several years of finger-pointing, the otherwise good service of two Duluth mayors got tarred by the popular conclusion that politicians gave away municipal solvency in exchange for their reelection which, in turn, depended on the City's employee unions.
Having tasted betrayal, Duluth's taxpayers — as part of a national trend — will need a new social contract before they invest again. Until they get a deal they trust, services can be cut and modest changes made. When that doesn't balance the books, Duluth also will need radical reinvention which, inevitably, requires taxpayer investment.
With health benefits symbolizing similar challenges throughout much of local government, other cities also need to map their transition to sustainability. To varying degrees, this sacrifice involves a deal. What is Duluth's?
What deal gets taxpayers to move your city forward?
Chicagoism Series Index
Part 1: Lessons from the 20th Century
Part 2: Starting the Transition to Sustainability
Part 3: Reinventing Services, Starting Accountability Reforms
Part 4: How Chicagoism Works Again
Part 5: Where Do We Go From Here? (this post)
Robert Munson sharpened his interest in regional planning while serving on the Citizens Advisory Committee for the metropolitan plan released in 2010. Out of that experience, he started the website CCC or Chicagoland Citizens Central where you can find his profile. Readers can contact him directly at robertmunson@earthlink.net.