Tuesday, April 23rd, 2013
SynergiCity: Reinventing The Post-Industrial City
edited by Paul Hardin Kapp and Paul J. Armstrong
University of Illinois Press, 2012
Feeling as if I over-indulged in intellectual feasts, I have watched urbanists debate for a decade. They can produce a working consensus that claims the near-miracle of solving two abstract problems (often related to cities' social and economic decline) with one repetitive effort (regeneration). But as these multi-benefits gain traction, a new problem pops up and… it's back to the proverbial drawing board.
So it is today. The post-industrial strategies sketched 40 years ago starting with sociologist Daniel Bell have been applied successfully mostly by urbanists. As a 21st Century update, SynergiCity proposes a helpful working consensus by synthesizing environmental and economic sustainability. In important ways, this book adds to the following three categories of proof that urbanism's multi-benefits work… but each gets challenged by new pop-up problems.
One proof is physical: bricks and mortar, often the physical rehab of run-down neighborhoods. This book chronicles how redeveloping warehouse districts in six midwestern cities created the added benefit of attracting cool, young people who have been coined the "creative" workers and entrepreneurs of a dynamic, "innovation" economy… that now sputters badly because the old macro-economic cures (deficit spending and regulation) no longer work well.
This book also adds to the second group of proofs: these dense neighborhoods have multiple environmental benefits that will give long-lasting hope to… our new century's protracted war against global warming and scary weather patterns.
"SynergiCity" adds to the third category of proof, real estate economics: revitalizing neighborhoods with certain formulas makes them such dynamic places to live, work, play and shop that their profits can be reinvested in nearby neighborhoods … up until the worst real estate depression of a lifetime struck.
Despite reality giving me a skeptical eye, I still could read this recent book and be filled with cautious hope for the new working consensus it offers. But as the reality of running cities encroaches on my happiness, I again wonder if the urbanist movement really can prove its permanence…. before I die.
If SynergiCity offers such a secret sauce that overcomes the real-world challenges thwarting urbanism's intoxicating ideas, it would be truly gratifying. After all, consistent profitability greatly improves the chances the high values that we attach to cities would be aggressively replicated in buildings and blocks and communities and, eventually, crises could be resolved.
Permit me to ask the impolite question directly: Is the practice of urbanism proving its theory? This book answers specifically by showing how decayed districts were converted into prospering neighborhoods. The book is convincing, too. Read this book and you will feel much better about our chances of convincing stingy people who make financial decisions.
But in fairness, their decisions are based on whether a large enough market will support redevelopment. Thus, urbanism must prove itself by raising the quality of life for ever-larger numbers of people. Recognizing this more popular story also must be told, the editors of SynergiCity collaborated with the Chicago Architecture Foundation to create an exhibit that — if you visit for 20 minutes — will help you feel-good, I hope, for a lifetime.
Dedicating a panel to one neighborhood each from Milwaukee, Saint Louis, Saint Paul, Minneapolis and Chicago, the exhibit shows how neglected warehouses were revitalized into destination districts; often mixing a few of the suitable older uses with new residential, office, and retail purposes including restaurants. The exhibit's introduction and a partial closeup of the code describing each neighborhood's mixing of uses is captured below.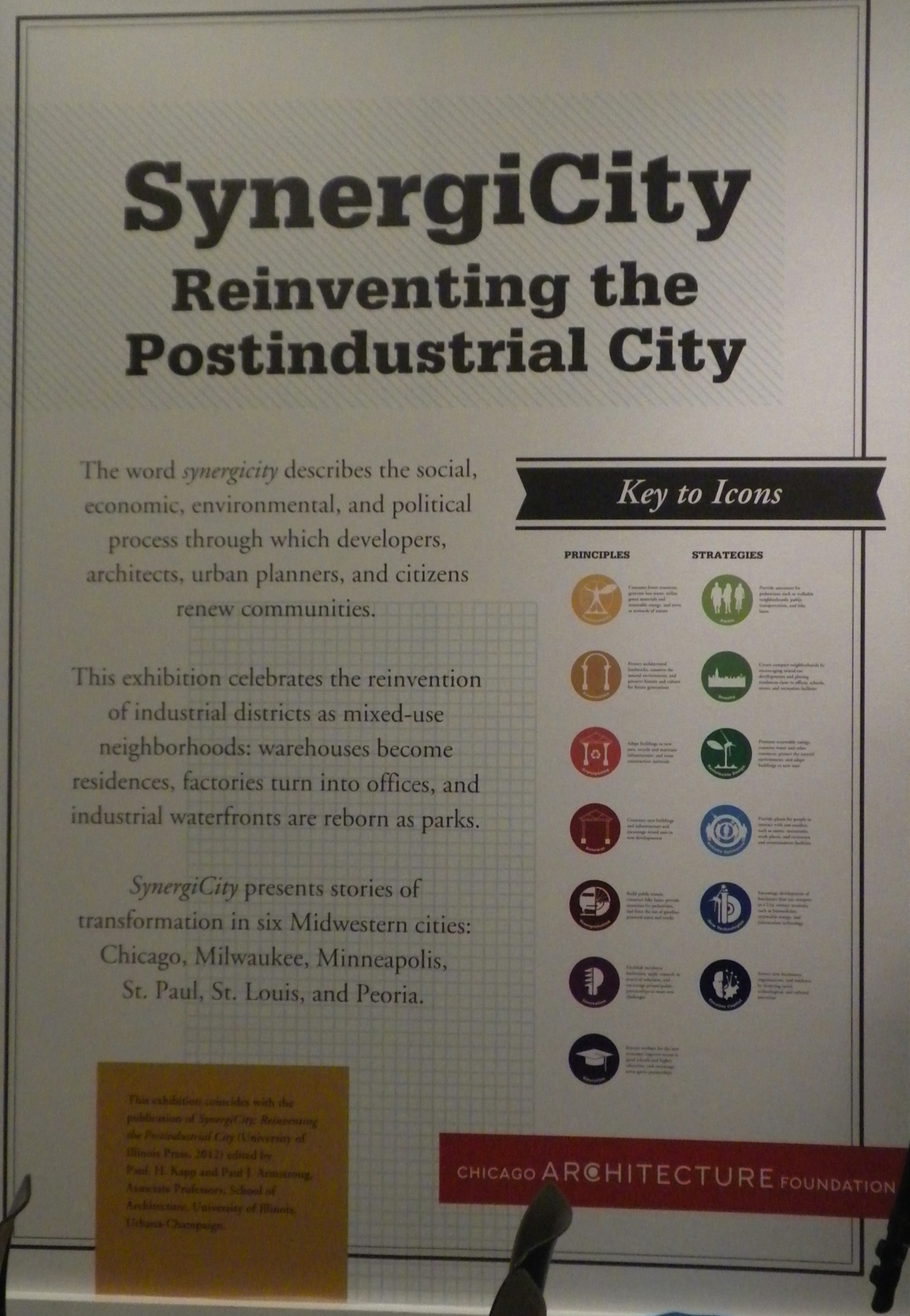 Along with a two-panel condensation of the prototype study of Peoria in which the editors marshaled several teams of graduate students, the exhibit helps you see the patterns that led to successful redevelopment there and the other five cities. What the exhibit also captures is applied urbanism's key: it brings out intrinsic value. If applied more widely than the exhibit's premier examples, the process of turning neglected neighborhoods into productive purposes also could help cities survive today's pop-up threats of mounting fiscal problems; discussed later in this review.

With the exhibit as backdrop, the CAF also organized a series of four lunchtime talks in April related to the exhibit. The first presentation came from the editors summarizing their synergicity concept. The second talk came from one of the book's twelve essayists, John Norquist, retired mayor of Milwaukee and, now, President of the Congress for a New Urbanism. That city also offers many prominent examples in the book. The third looked at Chicago's point-of-entry Pilsen neighborhood (also on-line). And the fourth, this Wednesday April 24, critiques Chicago's current planning as performing below its reputation.

The Movement Has A Moment of AHA!

While these multi-media methods help package urbanism for broad understanding, the importance of SynergiCity is it deepens urbanism's effectiveness by merging economics with environmental sustainability. While it is too early to know if a milestone has been made, SynergiCity, at least, constitutes two types of an AHA! First, it gives relief; telling urbanists they have economic proof as well. And secondly for optimists, SynergiCity indicates substantial progress in fitting a key piece in the puzzle of putting together cities for the 21st Century.

For me, this moment has both AHAs! With an improved handle on real estate economics, urbanism has a better discipline to grow to scale. Double bottom-line: SynergiCity tests the tools of urbanism and the results appear as urbanity.

The book's two editors are architecture professors at The University of Illinois who understand how their craft, again, is thinking broadly about the building blocks that help cities operate to foster healthy social and economic systems. Also setting the Big Picture, the editors orchestrate the essayists so they collectively synthesize a working consensus about how regenerating older neighborhoods is an important microcosm to guide us as we struggle through the larger challenges posed by a new century that requires sustainability.

The book's large stage is set with a Foreword from Richard Florida entitled "The Death and Life of Great Industrial Cities." A review of the impressive list of essayists gives clues this may be a special book. It proved so to me. Here is how.

After the Foreword and Introduction, the editors and essay writers collaborate to describe SynergiCity as a dynamic progression through its Parts.

Part 1 sketches the broad social foundation for SynergiCity as a sustainable city suited to today's dynamic, innovative economy. The first chapter — written by Donald Carter, one of urbanism's lights — often uses Pittsburgh as the archetypical, transformed post-industrial city (and candidate to be dubbed the first synergicity.)

Four remaining chapters test urbanism's tools for their capacity at physical and social transformation; focussing on the Illinois River town of Peoria. (Remember, "Will it play in Peoria?"). Also using other mostly midwestern examples, we see how transforming warehouse districts starts with preservation as a physical and economic strategy. Described well are the situational use of form-based zoning and other tools of the sustainable planner's toolkit. Part 1 provides detailed proof that the theories work reliably enough to adapt elsewhere.

This Part's concluding chapter was written by John Norquist, Milwaukee's mayor for 16 years until 2004. His book published in 1998, The Wealth of Cities, still serves me as a comprehensive analysis of what went wrong; cogently describing how municipal and federal policy drove cities down. Mr. Norquist's book also can be viewed as starting the case we today hear almost daily and SynergiCity supports: cities are the engine of the new economy. As I offer at the end of this review, failed policy and broken politics block us from this more dynamic, synergy city leading a sustainable economy.

Skirting the pop-up problem of politics and policy, Part 2 offers urbanism's case for environmental sustainability. Because it serves mostly to reinforce what we already have had the chance to read in urban blogs, Part 2's great value is seeing those ideas synthesized with today's more dynamic economy.

Part 3, "Making SynergiCity A Reality," organizes the tools of development economics with a chapter each on strategies (Milwaukee's town-gown model), efficient methods (how Peoria got lots done without too much) and even descriptive 'pro formas' (financial analysis from Emil Malizia, a dean of urban redevelopment.) While all this may be covered sufficiently in the industry's continuing education, Part 3 offers a novel package because it flows logically from urbanism's wholistic power of transformation (Part 1) and its tightening case for environmental sustainability (Part 2.)

In brief, SynergiCity is comprehensive and tight: it shows how converting undervalued buildings reintegrates urbanism's multi-benefits to create more sustainable communities that stimulate the emerging "innovation economy." AHA! The post-industrial society is reinterpreted anew for sustainability!

Synergicity, So What?

While I suggest no criticism of SynergiCity, we cannot ignore urbanism's new fatal flaw… many cities are insolvent (particularly in my state, Illinois.) Since their terrible condition only recently was revealed by more honest accounting standards, cities quite suddenly cannot provide the promised services to citizens and benefits to employees. Now amidst unyielding political confusion and fights over shrinking budgets, labor and social contracts must be remade.

Until citizens, taxpayers and employees get revised contracts they can live with, cities will bear badly the burdens caused by a two decade backlog to maintain existing infrastructure (mostly transportation and water.) Worse, attracting capital for new stuff seems very problematic; whether it is getting a decent deal from private capital, or giving a new deal to taxpayers that is sound enough that they believe in their government again.

Because most redevelopment projects use financing methods that reduce taxes of redeveloped properties below what they should be, the inner city achievements described in this book and throughout America will be even more difficult to finance in the future; given that cities now need those taxes. Nor can cities be trusted by redevelopers to support their investment and provide quality public services to homebuyers and tenants. The redevelopment methods described in this book, quite unfortunately, may not work soon… unless we chart a new course.

Today, urbanism must adapt its prescriptions to help resolve the 'de facto' fiscal collapse of local government.

Fixing holes in municipal fiscal hulls requires many thoughtful experiments. Consistent results eventually will win a new consent from the governed. My hope is that within a few years, new observers of the quality that organized SynergiCity will surface and their experts who currently are reinventing public services will describe how municipalities are using taxes wisely again. These future authors will have the credibility to synthesize another book that describes a strategy for fiscal sustainability; thus, recreating urbanism's tight multi-benefit formula for the future.

If we find a strategic calm amidst today's chronic budget battles, we will craft tools for fiscal sustainability that radically reinvent services so they are cheaper and better and grow the economy while protecting the environment. Then, the next generation will have its AHA!

But for today, let's consider ourselves at a rest point and reflect. Read SynergiCity. Go see its free exhibit at the Chicago Architecture Foundation that runs through this summer. (You can buy the book there, too.) Savor this satisfying moment of the synergy that redevelopers have built… and don't worry about the next pop-up problem. Cities are resourceful enough to find cures.

In answering cities' fiscal cry by crafting a new social contract tight enough to protect citizens and taxpayers, we will earn satisfaction… of a lifetime.

Robert Munson's last contribution to The Urbanophile was the Chicagoism series in which he digs around at the roots of environmental, economic and fiscal sustainability; searching out common themes suitable to test an urban social contract for the sustainable century.

-->