Subscribe/Feeds
Posts By Topic
Thursday, May 23rd, 2013
My latest post is up over at GoLocalProv and is called "How White Providence Really Is." I contrast the strong diversity of the city and some other urban core type places versus the extreme whiteness of the rest of the region. New England generally is lacking in diversity. Boston, for example, is by far the whitest tier one type city in America. I've got a chart on that as well. Here's an excerpt:
The city of Providence is a very diverse place. In fact, it's over 62% minority, making it a so-called "minority majority" city. However, the city of Providence is only a very small part of the overall state and region.

Metropolitan Providence is one of the whitest major regions in America. Looking at metro areas with more than one million people, Providence ranks third in the country for the total non-minority population. The percentage of the population that is "white only, non-hispanic" – Hispanic people can be of any race – is nearly 80%. Only Pittsburgh and Cincinnati are higher.
….
Minority population growth actually bailed out the entire region. During that 11 year period metro Providence actually lost over 81,000 non-hispanic white residents. Without minority population growth, the region would have actually shrunk in population.
Telestrian Data Terminal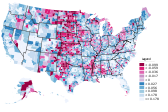 A production of the Urbanophile, Telestrian is the fastest, easiest, and best way to access public data about cities and regions, with totally unique features like the ability to create thematic maps with no technical knowledge and easy to use place to place migration data. It's a great way to support the Urbanophile, but more importantly it can save you tons of time and deliver huge value and capabilities to you and your organization.
About the Urbanophile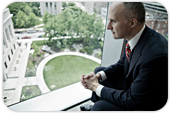 Aaron M. Renn is an opinion-leading urban analyst, consultant, speaker, and writer on a mission to help America's cities thrive and find sustainable success in the 21st century.
Contact
Please email before connecting with me on LinkedIn if we don't already know each other.
Twitter Feed
World Blogroll
Non-English Blogroll