Sunday, October 20th, 2013
A couple weeks ago I outline how the Ohio River Bridges Project in Louisville had gone from tragedy to farce. Basically none of the traffic assumptions from the Environmental Impact Statements that got the project approved are true anymore. According to the investment grade toll study recently performed to set toll rates and sell bonds, total cross river traffic will be 78,000 cars (21.5%) less than projected in the original FEIS. What's more, tolls badly distort the distribution of traffic that will come such that the I-65 downtown bridge, which is being doubled in capacity, will never carry just what the existing bridge carries right now anytime during the study period, and won't exceed the design capacity even slightly until 2050. Meanwhile, the I-64 bridge that will remain free will grow in traffic by 55% by 2030, when it will be 34% over capacity.
A nearly identical scenario is playing out in Portland with the $2.75 billion I-5 Columbia River Crossing. Joe Cortright of Impresa consulting unearthed the information through freedom of information requests looking into the investment grade toll study on that is being conducted for that bridge. You can see his report here (there's also a summary available).
I'll highlight some of his truly eye-popping findings. Traffic forecasts are inflated, of course. The toll study is suggesting traffic increases of 1.1% to 1.2% per year when over the last decade traffic has actually declined by 0.2% per year on average even though there are no tolls. But it's the addition of tolls that badly distort cross-river traffic and make a mockery out of the EIS. Here's the money chart for the I-5 bridge itself: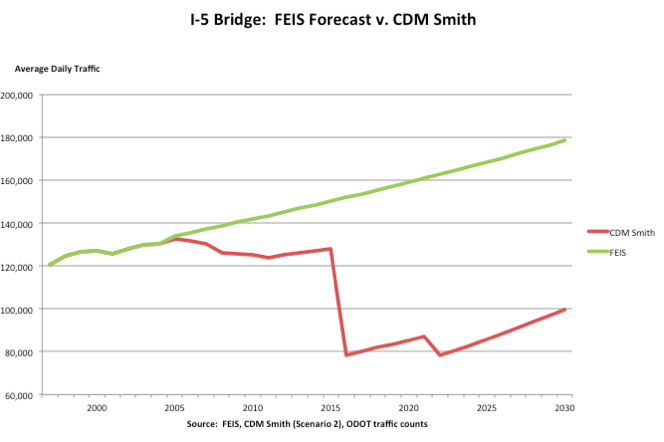 How is it possible that after building a gigantic multi-billion dollar bridge traffic declines? For the same reason as Louisville: tolling will cause huge amounts of traffic to divert to the I-205 free bridge. By 2016 traffic on I-205 would rise from 140,000 per day to 188,000 – and up to 210,000 by 2022 (full capacity).

This is so eerily similar to the Louisville situation, that someone suggested, only half in jest I suspect, that they must be having "how to" training sessions on this stuff over at AASHTO HQ.

Unlike Louisville, where a docile press is basically in cahoots with the state DOTs pushing the project, Portland's media started asking questions. And one local paper even caught a civil engineering professor from Georgia serving on the independent review board for the project labeling the tolling scheme "stupid." (Louisvillians take note).

Oregon DOT director Matt Garrett released a letter in response in which he says, "This work is fundamentally different than the traffic analysis completed for the Final Environmental Impact Statement, and with very different goals in mind." I agree. The FEIS was performed with the goal of getting this bridge the DOT wanted built approved. The toll study was designed to withstand financial scrutiny on Wall Street and be relied on in selling securities. I'll let you be the judge of which is more likely to be closer to the truth. What's more, Cortright addresses this very issue by saying in his report, "Neither federal highway regulations nor federal environmental regulations authorize or direct using multiple, conflicting forecasts for a single project, or using one set of traffic numbers for one purpose, and a different set for another." I might also add that the DOTs in Louisville have not to the best of my knowledge made similar claims to explain away an identical discrepancy there. Nevertheless, the rest of Garrett's letter acknowledges that I-5 will see a big traffic drop and there will be diversion from tolling. So he appears to just be doing the bureaucratic equivalent of "pay no attention to that man behind the curtain."

Again, want to know how it is that we spend so much money on transport infrastructure and get so little value? It's because far too many of our highway dollars go into boondoggle mega-projects ginned up through political pressure (watch this space as I have another example coming soon) instead of into projects that make transportation sense. It may well be that there are legitimate problems with the existing I-5 river crossing, but these numbers give no confidence that the Oregon DOT has come up with a good or cost-effective plan for dealing with them. Unlike some, I do think we need to build more roads in America. Unfortunately our system is set up to ensure the survival of the unfittest instead of projects that make actual transportation and economic sense.

-->