The Marion County Jail in Downtown Indianapolis. Source: indy.gov
The Indianapolis Business Journal reported that Mayor Greg Ballard is championing a plan to relocate the jail out of downtown. This is an idea I've been touting to anyone who'll listen since at least 2009, so obviously I'm a big fan of the concept. Though let me hasten to add I'm not endorsing any particular plan as I haven't seen one.
I've always encouraged people to think about public transit investments first as about transportation. But also to ask what it is that implementing an expanded transit system like IndyConnect would let you do that you couldn't do before. This is one of those things.
More about that in a moment. But first, this is only one part of what I see as a long term reconfiguration of city government space in downtown Indianapolis. I call it my "master plan to win the war" because I see it as game changing for the east and southeast parts of downtown. The components are:
Relocate the jail and criminal courts to a new complex on an old industrial site on the near West Side in proximity to the proposed Washington St. transit corridor. (I was thinking the former GM site originally).
Relocate the civil courts into a new downtown state judicial complex. (The state supreme court already wants one of these, so include the appeals court and local courts as well).
Renovate the old City Hall as, well, the new City Hall housing the Mayor, Council, and executive functions.
Move the rest of the office users into leased space. (I was thinking originally about using this to anchor the MSA site redevelopment and add an office component to the mix of use because the site was so close to the old City Hall).
Implode the City-County Building, demolish the jail, and redevelop Marion County Jail II and Liberty Hall. (I kid you not, one of the jail locations is called Liberty Hall. I think it is used for work-release today, so may be viable as that if managed properly and there's a particular benefit to locating it downtown for access to employment).
Put all the land used by these facilities back onto the tax rolls by selling for development.
The benefit of this is eliminating multiple significant barriers to development, ones that keep the various districts undergoing redevelopment from feeding off each other. And while it wouldn't fully pay for the projects, it would put large amounts of prime downtown land back to taxable use.
I'm not suggesting that the city should go do all this right away. Nobody has this kind of money laying around. Rather it's vision to be implemented as the components reach end of lifecycle and need replacement or hugely expensive upgrades. Though to some extent they are all already there.
First the jail. The sheriff claims a new modern jail could be run with his existing staff. This would save money by allowing the city to dump the private contractor that runs Marion County Jail II. (News reports have criticized the sheriff's spending. So if even the guy who is accused of spending too much money says it can be done for less, take him up on the offer).
And why put a jail on your city's most valuable real estate? That doesn't seem to make much sense today. New York and Chicago don't have their jails downtown. (In fairness I should note the federal government has remand facilities in both CBDs however). A message board commenter noted that even in Indiana, Evansville's Vanderburgh County Jail is away from downtown.
I actually got this idea when I was living in Chicago and was summoned to jury duty. The Cook County Jail and a criminal court building are located at 26th and California near Little Village. I had some time to kill while waiting around during a recess so I found myself walking down 26th St. spending money. I'm like, if I'm spending money, maybe other people are spending money too.
Downtown, jails inhibit development. But at an old industrial site near a transit served commercial street, a jail could actually inject life into a struggling neighborhood while still being reasonably centrally located. That's a win-win.
It's understandable why the jail would be downtown now for historical reasons. And downtown is the one area that's reasonable to get to with transit today. That's important when 10% of households don't own a car. Those families should not be burdened with an inaccessible jail and courts, particularly when the poor are alas too often involved with the justice system. That's why enhanced transit service on Washington is so important. It's the link that enables people to get to the new jail. In this case, transit actually facilitates de-centralization, not centralization.
Some will no doubt say this is a waste of money and the jail doesn't need to be replaced yet. It would not appear that there's a burning platform to do this immediately. And it's easy to point at Wayne County, Michigan as a cautionary tale of what can go wrong. But let's be realistic. Anybody who's been around Indy a while knows that there's always at least one nine figure public construction project going at all times. With the new Eskenazi Hospital just wrapping up, it's time for the next installment, and this looks like it's the one. If a nine figure project is going to happen regardless, it might as well be something that's actually great.
The merits of spending can of course be debated. But I'd like to suggest one benefit of these projects that's often overlooked. I'm totally speculating with this, I'll admit. But I see the implicit commitment to keep these construction projects going as a way to bind organized labor into the governing consensus. Indy has had remarkably few organized labor problems and I suspect this is one reason why. Labor is being taken care of. It also means labor is invested in keeping the city healthy, because a broke city means no more projects which means no more jobs for union construction workers.
Apart from purely debates about dollars, I suspect the most controversial part of my master plan is imploding the City-County Building. It's a classic modernist era structure on an entire city block much of which is devoted to a plaza (with I think underground parking). Notably, the gorgeous historic Marion County Court House was demolished when the CCB was built. Here's a picture: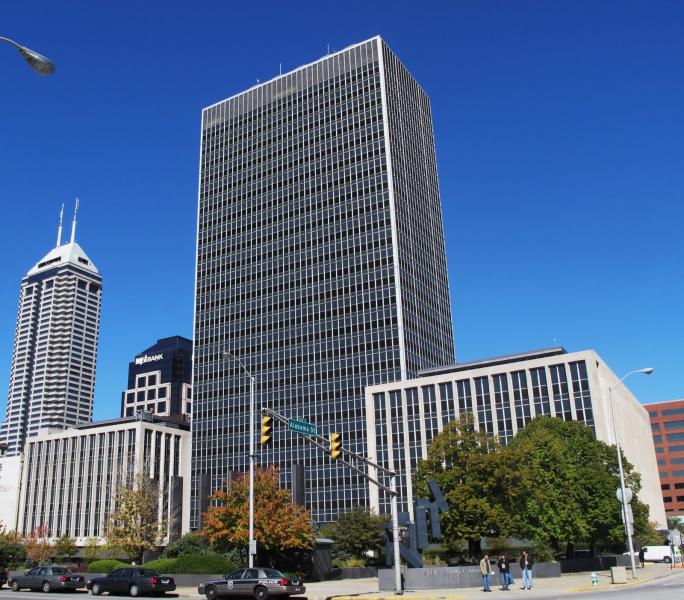 Source: wikimapia.org
There's not exactly a plethora of this type of modernism in Indy and demolishing it would be a loss. However, in my view it's not a great building. It's a massive development barrier/dead zone where it stands. And it needs huge money spent in renovations and is probably costly to operate. In the summer, even the 25th floor (where the mayor's office is located), has insufficient air conditioning, for example. I say implode it and redevelop the block in the private sector.
Here are pictures of some other buildings I mentioned:
Old City Hall, empty and with the windows closed up. Source: ibj.com
Marion County Jail II (Source: indy.gov)