Sunday, December 15th, 2013
Public Sector, Inc. pointed me at a very interesting study that just came out in the American Political Science Review. Called "No Strength in Numbers: The Failure of Big-City Bills in American State Legislatures, 1880–2000" by Gerald Gamm and Thad Kousser, the study looks at bills affecting big cities, and why they so often fail to pass the legislature.
The authors do their analysis by looking at what they call "district bills", that is, those that affect only a single city, county or other district, or a handful of such districts. Contrary to what you might think, most of these bills aren't about money. Only 9% of them involved transferring money to the locality. Rather, the bills are about empowerment. As the study puts it, "Almost always, district bills traffic not in funds or major programs but in authority, granting the locality the ability to conduct its business as its leaders and representatives define that business." The fact that such a bill is necessary suggests that indeed state legislatures like to keep localities under their thumbs, making cities come begging to be allowed to do things.
Looking at district bills, the authors discover that they do indeed pass at a lower rate for big cities than small ones. Here's their chart illustrating this: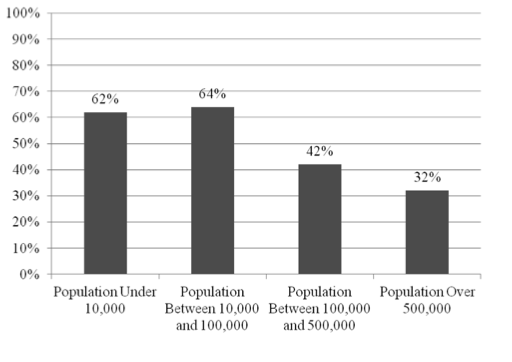 Passage Rates of District Bills by City Population. Source: Study, Figure 2
This validates the common belief that bigger cities face bigger hurdles in the legislature. As the authors put it, "Large cities do face special burdens in state legislatures, as scholars and urban leaders have contended since the nineteenth century, and the burdens grow with city size."
Having established that, the authors test a number of hypotheses about why that is. Among these are that legislatures have a particular hostility to the state's largest city, that having a dominant size relative to the state's population hurts a city's chance of getting its bills passed, "bill fatigue" from large cities proposing too much legislation, partisan hostility, and racial animus towards blacks.
None of these were found to be statistically significant.
What then accounts for the failure? The authors conclude that it is, ironically, the very size of big cities' delegations that work against them. These delegations are often divided, and those divisions lead to their bills failing. As they put it:
Bigger delegations create more opportunity for internal division and that internal division leads to legislative defeat. The tight link between delegation size and passage rates buttresses that argument. It also suggests an answer to the puzzle of why, even after the reapportionment revolution [i.e., one-man, one-vote], bills from big cities continue to lose more often than other district bills. Although the elimination of malapportionment gave big cities and other urban areas greater representation, it also saddled them with more representatives and thus increased the chances that their delegations might be internally divided.
In short, the likelihood of a city's bill failing is related to the size of its delegation. The bigger the delegation, the more likely it is to fail: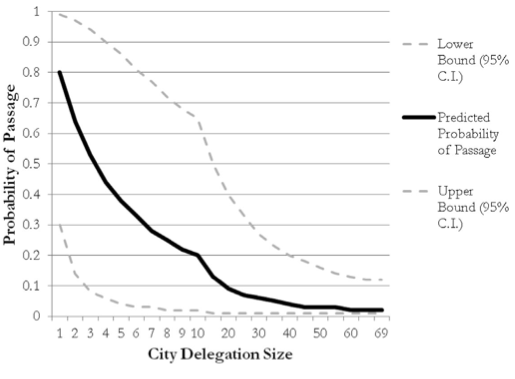 Substantive Impact of City Delegation Size on Passage Rates. Source: Study, Figure 5

Additionally, the authors found that while black population percentage did not impact passages rates, immigrant percentages did. The greater the foreign born population of a city, the more likely it is that its bills will fail. The authors say, "This variable helps explain why bills from cities such as New York and Chicago, hubs of immigration relative to the rest of their states, fare more poorly than bills from cities such as Richmond and Minneapolis, which are microcosms of their states." They stress that they did not prove this was specifically because of discrimination.

The takeaway from this is that at the end of the day, the problems facing cities in state legislatures may be self-inflicted. If they could promote caucus unity, they would be much more likely to get what they want. I use the term "caucus" loosely here as I don't often see references to any sort of official caucus representing cities or regions in legislatures. Perhaps it's time for that to change.

This study explains very well, for example, the travails of the proposed IndyConnect transit plan for Indianapolis in the Indiana General Assembly. It has not been rural legislators who have led the opposition, but local ones. These include people like Sen. Brent Waltz, who represents the south side of Indianapolis and would rather widen north side neighborhood streets than implement transit, and Senate Budget Committee Chairman Luke Kenley, who is from the north suburbs, representing the area where local officials have most promoted a rail line. They are both Republicans, but prior to his retirement, Democrat Bill Crawford, a long time African American political leader, had voiced skepticism as well. If local legislators won't vote for the bill, why should anyone else?

This immediately suggests a response for cities. Just as we've seen attempts to bring more regional unity among local leaders, such as Chicago's Metropolitan Mayors Caucus, local leaders need to invest significant effort into building delegational unity behind major legislative initiatives prior to trying to get anything passed. This is likely to be very difficult on a regional basis, but for the biggest cities that have multiple representatives even for the core municipality, it should hopefully be more doable (if not easy). Until that nut gets cracked, cities should perhaps resign themselves to continued legislative frustration.

-->