Tuesday, February 18th, 2014
[ Providence, Rhode Island was spared some of the worst of the urban renewal disasters and has a lot of intact neighborhoods. But there have still been some not entirely positive changes in the urban fabric in others. One such neighborhood is Olneyville. As you can see in this aerial, there's an old mostly intact neighborhood commercial center at the core, though with areas of demolition. The area is also cut off by a freeway.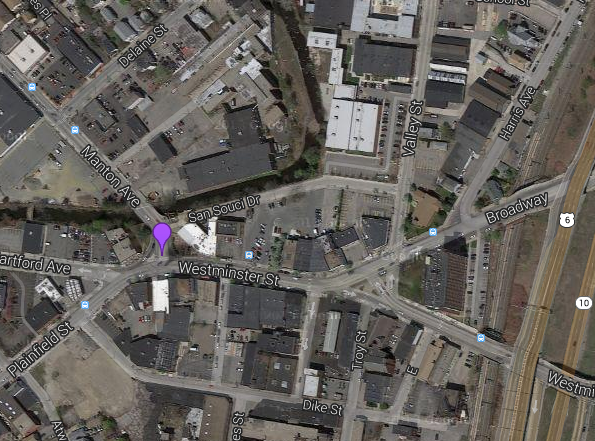 In the piece below Jef Nickerson discusses a proposal for a strip mall in the area that would further degrade the urban fabric. (It's near the bottom left of the photo above). This is sadly what happens in many struggling areas where a desperate city approves suburban style "redevelopment" that's actually destructive to the only things giving the neighborhood appeal in the first place.
As an aside, I believe this development is across the street from the legendary Olneyville New York System Wieners. Somewhat oddly, the term "New York System" actually means "Rhode Island style." Here's a picture of the classic, complete with cheese fries and coffee milk (like chocolate milk, but made with coffee flavored syrup – another Rhode Island classic).
– Aaron. ]
Rendering of proposed McDonald's and Family Dollar store on Plainfield Street in Olneyville.
After learning of plans for a drive-thru McDonald's proposed on Plainfield Street in Olneyville, I requested plans for the proposal from the Planning Department.
The developer is seeking master plan approval from the City Plan Commission for the construction of a McDonald's and Family Dollar store in a separate building on a site which was cleared of existing structures last year.
Per the CPC agenda, the applicant seeks relief from front yard setbacks (they are requesting to set the building further from the street than allowed) and also for a special use permit for a drive thru for the McDonald's. The applicant plans for a total of 56 parking spaces on the site (per the plans, 19 parking spaces in two rows between Plainfield Street and the Family Dollar Store). The McDonald's is situated on a corner lot (Plainfield and Dike) with the drive thru lane wrapping around the building between it and the sidewalk. Pedestrian access to the McDonald's is proposed to be via two crosswalks across the drive thru lanes and a third crosswalk from the Family Dollar store across the parking lot. Direct off-road pedestrian access to the Family Dollar store is only provided via crosswalks from the McDonald's or via sidewalks crossing a driveway entrance on the Atwood side of the parcel.

According to ProvPlan, as of the 2000 census (the most recent data available) 59.5% of households in the Olneyville area have automobiles this compares to 52.5% Downcity. With such low car-ownership numbers, the residents of Olneyville are highly dependent on public transit, walking, and bicycles. Buildings separated from these forms of transit by parking lots with drive thru lanes are not the best way to serve this population. Olneyville is a major traffic artery to points west where car ownership rates are much higher (~80% in Hartford and Silver Lake). The residents of Olneyville should not be further burdened with automobile infrastructure catering to people outside their community.

The removal of the buildings at this site has widened a widened a gap in the street-wall along the south-side of Plainfield Street and Olneyville Square which only had small gaps between the Route 6 overpass and the eastern end of the square. For generations Olneyville has fallen victim to the automobile, first the highways, them the retail mindset that set in in the middle of the last century with places like the former Price Rite plaza, the car wash on Westminster, the Burger King with a drive thru and 60 parking spaces, and the gas station across from this site.

The Olneyville community has been working hard to bring street-life back to the square and Olneyville Housing are providing homes for residents who can walk to this area. Allowing auto-centric design at the southwest side of the square will make that area dead to walkability for generations more, just as we're making progress on reversing prior generations of damage.

This isn't about the proposed retailers (though I'm sure we could have a long discussion about the food choices we have in lower-income neighborhoods), this is about their physical manifestation in the neighborhood.

This post originally appeared in Greater City Providence on January 15, 2014.

-->