Sunday, March 23rd, 2014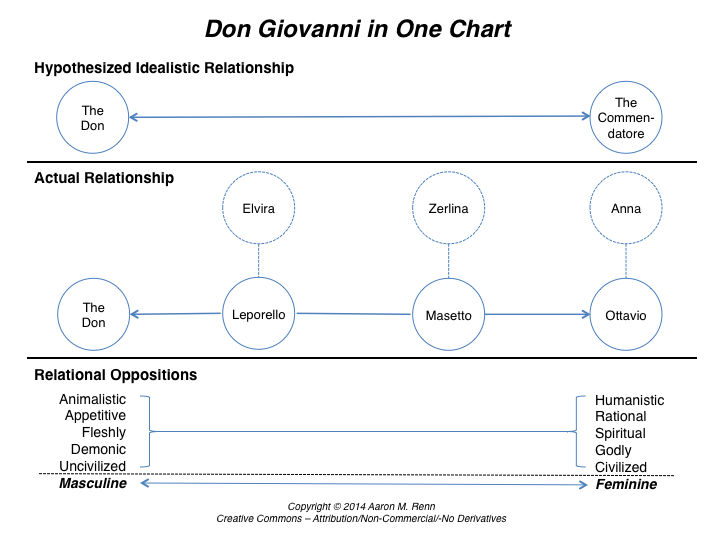 Don Giovanni in One Chart. See below for an interpretive essay about this opera.
Don Giovanni is considered by many – including Yours Truly – as the greatest opera of all time. It tells the story of Don Juan (Giovanni in Italian), the mythic Latin lover many of us have heard of, but may not know much about. In fact, Mozart's version has become the definite telling of the Don Juan myth. The music is also spectacular and easy on the ears. This makes Don Giovanni an ideal choice as a first opera to see, so this week is your big opportunity if you've never done it.
To get you in the mood, and to help you make sense of what you're seeing, I'll give a bit of an explanation of the opera. But first a musical sample, "Protegga il giusto cielo" (Protect us, O righteous heaven – click here if the video doesn't display for you).
The Plot
First the plot, which it helps to know in advance. (Adapted from Wikipedia)
After an ambiguous offstage sexual encounter, Donna Anna chases a disguised Don Giovanni from her home. Anna's father, the Commendatore (Commander) insists on fighting the Don. Reluctantly, the Don is forced to fight, kills the Commendatore, then escapes. Anna's boyfriend Don Ottavio arrives and Anna makes him swear vengeance against the at this point unknown Don Giovanni.
The Don and his sidekick Leporello come across a woman singing of betrayal by her lover. The Don decides she's to be his next conquest. But as they approach it turns out she is Donna Elvira, whom the Don had already used and discarded, and he's the one she's singing about! The Don bolts for the exits, leaving Leporello with Elvira. He tells her not to waste her time on the Don, singing the famous catalogue aria regaling her with the Don's thousands of prior conquests – 1003 in Spain alone! Here is a concert version (click here if the video doesn't display):
Elvira swears she'll get revenge. Meanwhile the Don and Leporello stumble across the celebration of a pending peasant wedding between Masetto and Zerlina. The Don decides to seize his opportunity, inviting everyone back to his castle to celebrate. He forces Masetto to depart with Leporello, leaving him alone to woo Zerlina with promises of marriage.
The Don is on the verge of closing the deal when Elvira barges in and steals Zerlina away. Then Anna and Ottavio enter. Not knowing that the Don is the one they are seeking, he persuades them he's on their side. As he leaves, Anna realizes to her horror that the Don is the one who killed her father.
Back at the Don's castle, Leporello informs him that everyone's there, but that Elvira had brought Zerlina back and had caused trouble. The Don is unperturbed, and anticipates the fun ahead with his so-called champagne aria (click here if the video doesn't display).
At the party the Don pulls Zerlina aside to continue his seduction. But Masetto is watching and when the Don discovers him, he's forced to back off. Meanwhile, Ottavia, Anna, and Elvira have put on masks and come to the party. (Their praying for God's help in their mission is the first trio above). While Leporello distracts Masetto, the Don drags Zerlina off to have his way with her. But she screams for help, and to cover himself the Don grabs Leporello as if he's the assailant. The masqueraders reveal themselves and tell the Don they know the real score, but he escapes again.
Act 2 opens with the Don convincing Leporello that they should switch identities. He leaves the disguised Leporello to try to seduce Elvira, while he goes off to try to find Zerlina again. It turns out that Elvira is still in love with the Don, and so responds to Leporello's serenades. Meanwhile the Don runs into Masetto who, not knowing who he's really talking to, reveals his desire to kill the Don. The disguised Don, offended at this, beats up Masetto and leaves.
Leporello dumps Elvira but ends up running into Masetto, Zerlina, Ottavio, and Anna who are going to kill him. Elvira arrives to try to protect her "lover", but Leporello unmasks his true identity, apologies, then escapes in the confusion. When Ottavio and Anna are alone, he begs her to marry him but she refuses to until her father is avenged.
The Don and Leporello regroup in a graveyard near a statue of the Commendatore adorned with an inscription promising revenge against the person who killed him. Leporello is freaked out, but the Don only laughs and tells Leporello to invite the statue to dinner. Much to their surprise, the statue accepts.
The Don and Leporello go back to the castle and throw a lavish banquet. Elvira shows up and tells the Don to change his ways. He only laughs and sends her packing. But as she's leaving she screams as she sees the statue of the Commendatore arriving for dinner. Leporello goes to investigate but likewise is terrified. So the Don himself goes to the door and invites in the statue.
The Commendatore takes the Don by hand and demands that he repent of his sins. The Don refuses multiple times, upon which with fires of hell erupt through the floor and suck him down to his doom. All of the characters rush in as Leporello explains what happened, and they sing a festive song of celebration explaining their future plans. Elvira will retire to a convent. Leporello says he'll go in search of a better master. Zerlina and Masetto are to be married. Ottavio wants to marry Anna, but she puts him off for another year, this time for mourning.
Interpretation
What then are we to make of the opera? At one level, it's simply supremely beautiful music, maybe the best ever written. French opera composer Charles Gounod said of it, "I regard it as a work without blemish, of uninterrupted perfection." GB Shaw said it was "eminent in virtue of its uncommon share of wisdom, beauty, and humor." Kierkegaard's Aesthete in Either/Or said, "Anyone who wishes to see Mozart in his true immortal greatness must consider his Don Giovanni, in comparison with which everything else is incidental, unimportant." This is all true even just considered as great music, to which you can simply listen and enjoy.
But opera is a dramatic medium as well, and there's much more to be gleaned from this opera than simply pretty notes. In fact, there's a nearly inexhaustible supply of things. As with all classic works – Hamlet, Plato's Republic, and so many others – Don Giovanni is pluripotent. It carries an infinitude of meanings. It's also highly problematic and impossible to decipher. Just as it's been said that there's never been and never will be a perfect singer in the role of the Don, there never will be a perfect interpretation.
My personal view is encapsulated by the diagram below, which I call Don Giovanni In One Chart: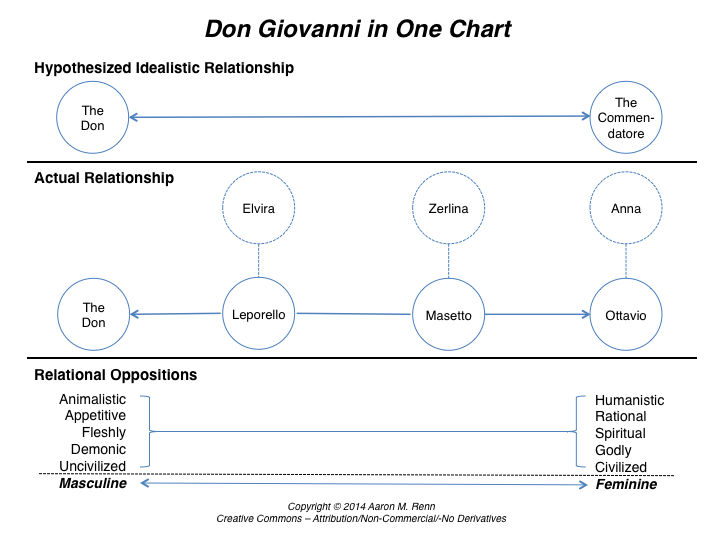 Don Giovanni is a contrast between the world as we would like it to be, and the world as it really is. In our idealized world, the contrast is between the Commendatore and the Don, between the honorable man and the rake. Alas, this is not the real world. In the real world the Don's opposite is not the Commendatore, but Ottavio, the pathetic, feminized man. This speaks to the nature of masculinity, but also to the human condition itself and the tragic dilemma we face.

Don Giovanni is a scoundrel. Some have tried to paint him as a sort of Enlightenment hero, one liberated from the prudish constraints of a more primitive age. And there is in truth some of that. The Don is living the Sexual Revolution well before his time, and maybe as a 1%er too. Yet, he is exploitative towards women, whom he treats as objects of his lust, he abuses his social status, he's a liar, he breaks any promise when it's convenient to do so, is a complete coward, someone who sucker-punches his opponents, and probably much more I don't recall at the moment. He is pure appetite, pure impulse, completely unreflective, with no self-denial and no self-control. He lives according to man's more elemental, animalistic nature. Kierkegaard's Aesthete sees the Don as representing the fleshly sensual nature of man within the context of medieval Christian though, and thus an embodiment of the demonic. Given that he was sucked down to hell at the end, it's hard to argue with this.

The Commendatore we know little of, but he appears to be a perfectly honorable man. He was a noble, had a prestigious position, defended the honor of his family, was fearless and godly (going to heaven when he died, presumably with his sexual fidelity intact), his quest for justice enduring beyond the grave. As the inscription on his statue shows, he was a man who made plans, ones rationally conceived and patient in their execution. Like a genuine Christian, his first call is to repentance, not judgment.

The Commendatore then is what a man should be, the Don what he should not. It's tempting them to see them as opposite potentialities within the heart of man. Choose wrong and become the Don, right and become the Commendatore.

However, this is not the case. Except at the very beginning and end, the Commendatore is absent from the scene. He's literally a ghostly, otherworldly figure. Instead, we are treated to three other men who exist along a continuum extending from the Don. There's Leporello the sidekick, a potential Don in training though with a conscience. There's Masetto the peasant. And there's Ottavio, the pathetic, feminized suitor of a reluctant Anna.

These men display progressively lower levels of masculinity, awareness, and power. Leporello knows the score and is capable of taking action, if only within the Don's parameters. Masetto also knows the score but is impotent to do anything about it. Ottavio is clueless. Each of these is paired with a woman in the opera – Elvira, Zerlina, and Anna, respectively. Notably, while the Don is irresistible to women and has power over them (even Elvira is still in love with him), these women have progressively greater degrees of control over the other men. Elvira is a somewhat loose match to Leporello and exerts but little influence. But Zerlina has Masetto wrapped around her finger. And Anna is actively deceiving, exploiting, and abusing the hapless Ottavio as an almost inverted female version of the Don. Whereas the Don takes what men stereotypically want from women – sex – without marriage, Anna takes what women stereotypically want – loyalty, support, protection,and commitment – without marriage. Clearly in progression from the Don to Ottavio, there's a progressive increase in bonding to, dependence on, and control of the men by women.

Of these additional male characters, who comes closest to being in the mold of the Commendatore? Clearly Ottavio. In fact, Ottavio, with his half-drawn sword, excessive devotion to Anna, and promises of revenge, is almost a parody of the Commendatore.

Given that the Commendatore is absent and Ottavio is present, what does this say? It tells that Ottavio is what happens when we try to civilize the rake. In taking away what's bad from the Don, one also takes away what makes him great. He even loses his attractiveness to women at a sexual level. Anna may sleep with the Don, but she's never going to marry Ottavio.

Looking at the chart, the oppositions at the bottom are those between evil and good, except for the last. Masculinity and femininity are different but not opposites and don't map to good and evil. There's no obvious reason why as we move from evil to good, from appetitive to rational, from the flesh to the spirit that the Don would become Ottavio instead of the Commendatore. But that's what happens. And therein lies the tragedy. It's impossible to remove the worst in a man without also removing the best. They are too deeply intertwined one with the other. Civilizing a man is tantamount to unmanning him. It's why stereotypically nice guys (boring) finish last, and women want to date the jerks (exciting).

This dilemma is also made manifest in the incompatible existences of the Don and the Commendatore. When they come into contact they obliterate each other like matter and anti-matter. They aren't capable of inhabiting the same universe. It's not just that in the first encounter the Don killed the Commendatore and in the second vice versa. Rather, both were destroyed in the first encounter, of which is the second was but its completion. The Don never put another entry in his famous catalog of conquests after it. His power was finished. Like the proverbial chicken with its head cut off, he was already dead, he just didn't know it yet.

But what makes this more than a male tragedy but a human one is that the Don represents more than just the male gender. He represents here our more primitive, beastly nature as a species. In that regard, Don Gionvanni tells us it's not just a man like the Don who becomes enfeebled and pathetic through civilizing, it's also humanity as a whole.

It's been observed that the Don is the animating force of the entire opera and all the characters in it. As Kierkegaard's Aesthete put it, "With the exception of the Commendatore, all the characters stand in a kind of erotic relation to Don Giovanni." When the Don is removed from the scenes, the wind goes out of the sails of the other characters. Elvira is off to the convent, her life figuratively finished. Leporello becomes a wanderer in search of a mythical better master. Anna and Ottavio enter a type of stasis. Only Zerlina and Masetto seem to have a normal future in view, albeit an utterly pedestrian one – no more adventures for them. One wonders how happy these people will be with the Don no longer around. (I think this point would have been made less ambiguously had the opera ended with the Don being pulled into hell, as Mozart originally wanted it to).

How many over civilized and decadent empires have fallen to barbarians? It is not because the life force of humanity comes from its barbarian nature, not its civilized side? Shorn of its more primitive nature, how long will any society endure? This is the reality that underpins Machiavelli's famous dictum that, "A man who wishes to act entirely up to his professions of virtue soon meets with what destroys him among so much that is evil. Hence it is necessary for a prince wishing to hold his own to know how to do wrong, and to make use of it or not according to necessity."

Especially in the modern age of technological wonder we have this conceit that we can perfect humanity, that if we can only eliminate the bad, we can achieve a just society and human flourishing. Don Giovanni says not so fast. It doesn't go quite like that. But the opera does so in a way that goes even beyond the Christian concept of original sin. Whereas medieval Christianity says damned if you do, Don Giovanni says damned even if you don't. Even if you live righteously or successfully repent, the results won't be what you're imagining. The defect is too deep in our natures and in the cosmos to be eradicated even by truly walking the straight and narrow. Humanity is caught between the Scylla of its savage animal nature, and the Charybdis of the enfeeblement of over-civilization. Only a new heavens and new earth indeed can ever truly resolve this dilemma.

-->