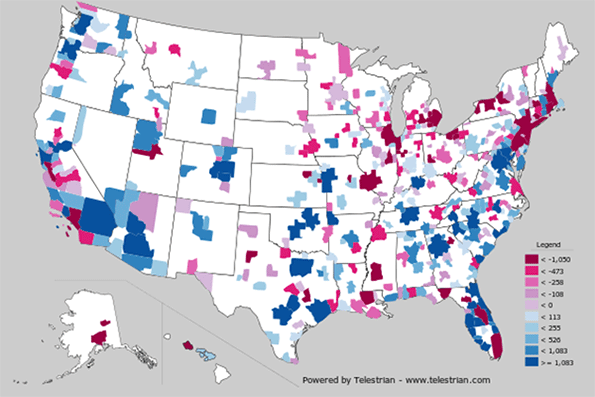 Net domestic migration of adults age 25+ with a bachelor's degree or higher by metropolitan area. Source: 2007-2011 ACS with rollups and mapping via Telestrian
Many of you know I've got the best place to place migration data from the IRS in my Telestrian system. Well, the Census Bureau also releases migration data as part of its American Community Survey. This has a lot of limitations and quirks, but one thing it lets you do is track migration, both overall and place to place, by demographic characteristics such as age, sex, race, educational attainment, and income.
I've now added this data to Telestrian. As with the IRS data, I've aggregated it to the metro area level (not just county) so you can look at things like where you are getting college grads from and where you are sending them to. As with the IRS data, this is so painful to work with, I've seen next to nothing done with it. I've solved that problem for you, so be sure to check it out.
I'm just starting to explore this data myself, but it's a gold mine of information. I just took a first quick look at net migration of people with college degrees over at New Geography.
You won't be surprised to hear that fast-growing Austin, Texas is #1 in attracting migrants. Or that the 90s dreamland of Portland is #5. But not everything is exactly what you'd expect, so click over to see how your city fares.