I want to highlight a couple of recent studies by Joel Kotkin for which I provided some research support. The first is a report on global cities from the Singapore Civil Service College called "Size Is Not the Answer: The Changing Face of the Global City." As the name implies, it suggests that size is not necessarily correlated with global heft.
There are a lot of different ways of looking at cities. For example, the Economist just released its 2014 Global Liveability Index. But this study tries to focus in on specifically global economic power and influence. Thus it is somewhat like Loughborough University's well-known survey, but looks at more than just producer services.
In particular, it looks significantly at industrial influence, or being a "necessary city" in the global economy that you just can't help but deal with. For example, the San Francisco Bay Area often gets short shrift in most global city surveys even though it is the overwhelmingly dominant location of the technology industry, a key enabler of globalization and arguably the most powerful economic force at work today. By contrast, some traditional measures like total GDP that may indicate more domestic rather than global influence were not included.
Maybe the biggest surprise to me was the stability of the top ranks of cities, despite using different criteria from other studies. London and New York easily crushed everyone else. I'd expected that cities I thought of as more "domestic champions" like Tokyo, Paris, and Chicago might not fare as well. As it turns out, while Chicago is a bit lower in this survey, Paris is actually #3 and Tokyo #5. Both cities' rankings are actually slightly higher than in Loughborough's survey.
The Problem With Megacities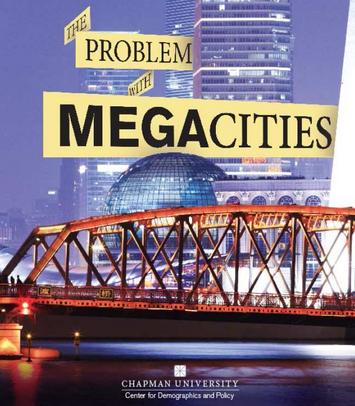 You also know that I've written skeptically of megacities in the developing world in terms of their ability to fulfill the aspirations of their citizens.
The second study I contributed to is called The Problem of Megacities and takes a look at the growth of megacities – a very new phenomenon in human history – and the problems that face them. An excerpt:
The megacity is increasingly a phenomena of countries that are struggling to find their way in the modern world economy. Size used to be more correlated with economic and political success and dominance on a global scale. Today, some of the largest cities are disproportionately poor, and seem likely to remain that way for the foreseeable future. Such problems are often ignored or minimized by those who inhabit what commentator Rajiv Desai has described as "the VIP zone of cities", where there is "reliable electric power, adequate water supply and any sanitation at all". Outside the zone, Mr. Desai notes, even much of the middle class have to "endure inhuman conditions" of congested, cratered roads, unreliable energy and undrinkable water.

These conditions reflect the inabil- ity of such megacities to handle rapid growth. Places like Dhaka, which gains as many as 400,000 new migrants from the villages annually, grows mainly in its slum, whose residents move to the megacity not for the bright lights, but to escape hopeless poverty, and even the threat of starvation, in their village.