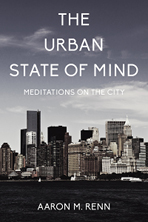 Those of you who are already on my list know that I send out occasional exclusive articles via email.
I am planning to make a more regular monthly email newsletter out of this that includes a collection of curated links to interesting articles I've found (sort of like my old Urbanoscope posts), links to some of my own pieces from the month, urban data sets of potential interest (as they are released), and personal updates on what I'm up to.
This is free and no risk to you – cancel anytime.
If you're not already signed up, do it now and you'll get a free PDF copy of my eBook The Urban State of Mind. I'll forward along a copy in the next newsletter to all my existing subscribers too, for those who don't have it.
Also, don't forget to follow me on Twitter and Instagram.
Just enter your email address below and click the button. To protect your email from abuse, you will receive a confirmation email with a link to click verifying that you really signed up.
If you'd like, you can also get every single blog post sent to you by email. To do this, just click over to my subscribe by email page. You'll automatically get both every post and my exclusive content.
Widget not in any sidebars