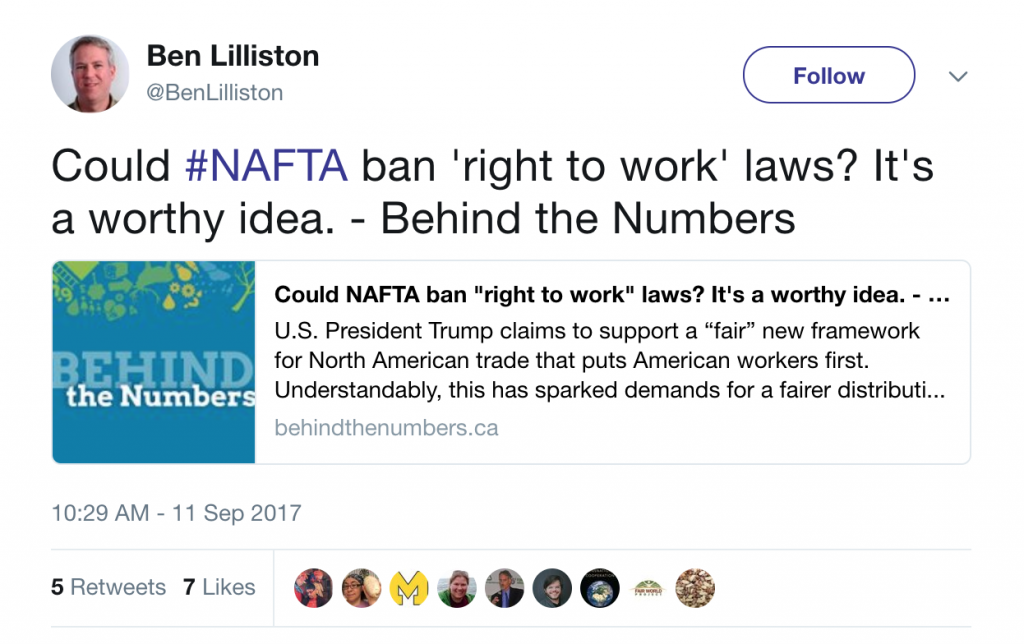 I like trade, but these "trade" deals not so much.
A couple of tweets illustrate why. Ben Lilliston tweeted that a NAFTA renegotiation should try to ban right-to-work laws. Richard Florida chimed in wondering if the same could be done for banning local economic development incentives.
These were posted in the spirit of twitter, but give an insight how these deals seem to work in real life. Vast numbers of lobbies try to insert provisions to achieve through a trade deal something that is really a domestic policy they would prefer anyway, or to otherwise circumvent the traditional democratic process.
The Trans-Pacific Partnership was supposedly something like 5,500 pages of text. Nobody could possibly read that whole thing. Something tells me you don't need 5,500 pages to zero out tariffs, which is what most people probably think of when they think of free trade.
Instead these deals are full of all sorts of special provisions to favor influential domestic lobbies. They also include things such as special dispute resolution tribunals, which basically allow transnational groups of arbitrators to overturn domestic policies.
It is true that trade is about much more than simply shipping products around. One of the great attractions of doing business in China, for example, has been regulatory arbitrage. By utilizing subcontractors in China, developed world multi-nationals can avoid their own domestic labor an environmental standards.
But attempting to fix all this through incredibly long, baroque treaties would seem to be a fool's errand. Maybe if we want to do trade deals we should stick to simpler agreements on things like tariffs instead of trying for some grand, sweeping agreement.