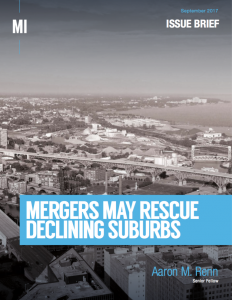 One of the emerging issues in urban policy is how to assist aging inner-ring suburbs that have fallen on hard times.
The scope of these challenges, the weaknesses of potential solutions, and the possible role for merging with an adjacent stronger central city as a tool are explored in my new Manhattan Institute report "Mergers May Rescue Declining Suburbs."
I provide an overview of report in a column over at City Lab.  An excerpt:
In some ways, struggling inner-ring suburbs are harder to revive than central cities. For one thing, they are often "out of sight, out of mind." Downtowns have the spotlight of the local media on them, and they attract attention from business and community leaders and local and national lawmakers. Inner-ring suburbs rarely get much attention until some serious problem emerges, as in the police shooting in Ferguson, Missouri, or the pay scandal in Bell, California.

These communities are also seeing increases in concentrated poverty and isolated minority groups. Black residents leaving central cities in the Midwest and Northeast often end up in these suburbs. As with previous moves into urban areas that were once off-limits, what originally seemed like the American Dream becomes a mirage or a nightmare as opportunities recede.

But unlike inner-city neighborhoods, inner-ring suburbs often have additional serious structural challenges. They often lack of good transit access, for example. They also sometimes are dominated by older, smaller Cape Cod or ranch-style housing that in need of repairs and out of favor in the market. And they don't have the distinctive assets of central city downtowns to draw on. Central cities are frequently the regional seat of government, either a county seat or state capital. They have major institutions like universities and hospitals; they contain regional attractions such as zoos, museums, and sports teams; and many still boast legacy corporate headquarters, among other assets. This is true even in struggling places like Detroit and Cleveland.

But inner-ring suburbs usually don't have these. As former East Cleveland Mayor Gary Norton put it, "A smaller place can do very, very well if the right elements are within its borders, or it can do very, very poorly if the right elements leave. The right elements left our borders, and without all the assets that a big city has, without the diversification, that's a bad situation."
Click over to read the whole thing. And be sure to check out the report, which includes data on all the suburbs contiguous to the central cities in various Midwest and Northeastern post-industrial cities.
Note that this is not a call for a one size fits all solution of merger. Nor is it an endorsement of large scale city-county mergers or "big box" regional governments.